A delicious spinach pear salad topped with Gouda cheese, toasted hazelnuts and pomegranate seeds, all tossed in a tangy vinaigrette. Perfect for Thanksgiving or Christmas.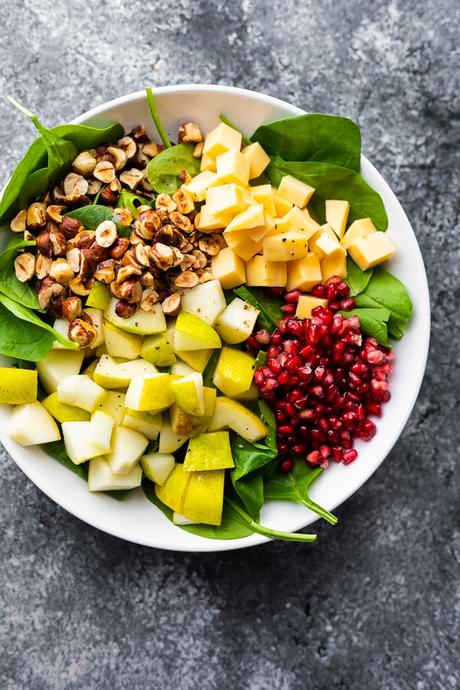 This recipe was originally published in 2014. It has been updated with fresh photos, tips and a video in 2019! Same delicious recipe.
When it comes to salads, I'm unapologetically opinionated. It must have something sweet, something savory, something crunchy and something creamy.
This spinach pear salad has all of the above and gets bonus points for the pretty factor. The red + green means it would be perfect to grace your holiday table!
With the toasted hazelnuts and gouda, it feels special, but it can be our secret that it's incredibly easy to prepare 😉
Reasons you'll ♡ this spinach pear salad
it's simple to prepare but is perfect for a special occasion
it tastes amazing!!
it looks beautiful and would be great for a holiday meal
Continue reading:Spinach Pear Salad with Gouda and Hazelnuts