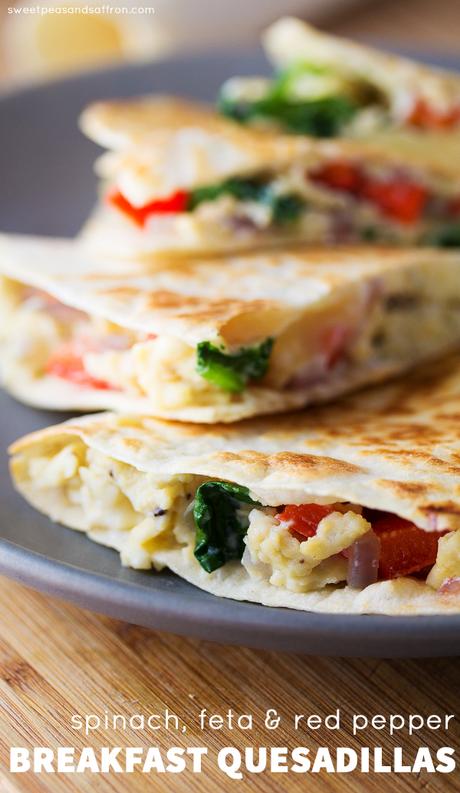 Make-ahead breakfast quesadillas filled with scrambled eggs, feta cheese, spinach and red peppers.  An easy, healthy week-day breakfast!
Even though my kiddo isn't school age, seeing anything that has anything to do with back-to-school makes my heart sink.
The only thing about back to school that I ever looked forward to was the fun new school supplies…fresh paper, new pens, new binders and pencil cases…  To this day, going to the stationary section kind of makes my heart race in a weird nerdy way, especially those post-its…I just can never have too many post-its.  And highlighters!  Ahhh!
Well.  I suppose back to school is eventually going to be here.  And I know how hard it is to get myself and Kai out the door in the morning, I can't even imagine how challenging it will eventually be to get multiple kids dressed, fed, and out the door.  Props to all you parents who do so!
And here's a breakfast quesadilla that can be made ahead and frozen for an easy breakfast…perfect for school (or work) mornings!
Continue reading: Spinach, Feta & Red Pepper Breakfast Quesadillas (Make Ahead)