Spinach bacon salad delivers BIG on flavors with simple ingredients. Crisp granny smith apples, spicy maple walnuts, salty feta cheese and a tangy apple cider vinaigrette come together to make magic!
No boring salads allowed here! When it comes to salad, I'm all about the add-ins: cheese, nuts, something sweet, and something salty. This formula never fails me: this spinach pear salad with gouda and hazelnuts and autumn apple farro salad are proof!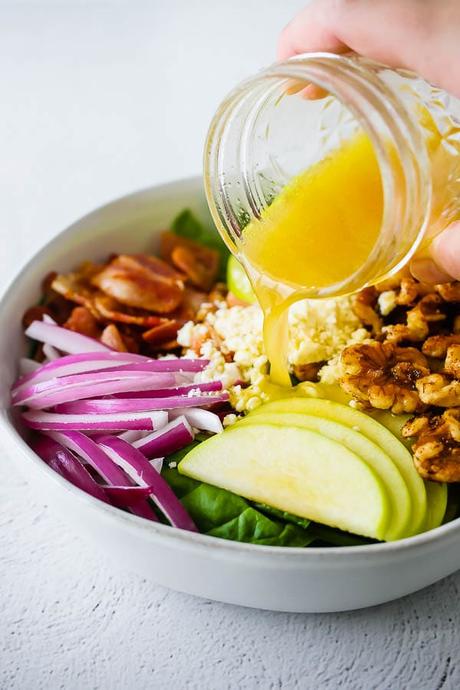 Spinach bacon salad takes things up to a whole new level thanks to bacon and spicy maple walnuts! Whether you serve this at a holiday feast, or for a weeknight dinner, you're going to love the layers of flavors and textures in this salad.
Reasons to ♡ spinach bacon salad with apples and walnuts
it's simple to prepare but delivers big on flavors
it would be great for a holiday side salad or for a weeknight dinner
it's gluten-free and can be made lower in carbs
Recipe video
Wondering how this recipe comes together? Watch this 1-minute video to see how easy it is to prep! You can find more recipe videos on my YouTube channel.
Continue reading:Spinach Bacon Salad with Apples and Walnuts