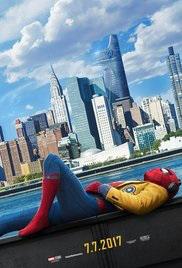 Director: Jon Watts
Writer: Jonathan Goldstein, John Francis Daley, Jon Watts, Christopher Ford, Chris McKenna, Erik Sommers (Screenplay) Stan Lee, Steve Ditko (Comic Book)
Starring: Tom Holland, Michael Keaton, Robert Downey Jr, Marisa Tomei, Jon Favreau, Zendaya, Donald Glover
Plot: Several months after the events of Captain America: Civil War, Peter Parker, with the help of his mentor Tony Stark, tries to balance his life as an ordinary high school student in Queens, New York City while fighting crime as his superhero alter ego Spider-Man as a new threat, the Vulture, emerges.
There may be spoilers the rest of the review
Verdict: Easily the Best Spider-Man Movie
Story: Spider-Man: Homecoming starts as we learn how Adrian Toomes (Keaton) has be learning to develop the alien technology from the first Avengers battle in New York City, he has learnt how to make highly powerful weapons which he sales on the black market. Peter Parker (Holland) on the other hand must return to his quiet life in Queens after his work fighting Captain America for Tony Stark (Downey Jr), with Happy Hogan (Favreau) reluctantly looking over him.
Peter builds his weapons at school and turns into Spider-Man out of school to fight off small time criminals, when Peter stumbles upon Adrian's men and weapons he tries to get help but no one would listen to him so he tries to stop him, himself, here is where Peter must learn the responsibility of being a superhero all while trying to get good grades at school.
Thoughts on Spider-Man: Homecoming
Characters/Performance – Peter Parker is the geeky high school student who has shone through classes, getting heckling like bullying from Flash but is easily a background student. Outside of school he gets all of his excitement fighting crime waiting for the call to be part of the Avengers. Peter has one of the better superhero arcs in recent years he learns about responsibility, friendship and sacrifice to become the masked hero. Adrian Toomes is a man who knows how to make the most of a difficult situation, he takes his demolition/removal men and turns his enterprise into an arms dealership that produces the most high tech weapons on the streets from the alien technology. The best thing about this character is, that he is human, there is no superhero abilities he has just mastered the technology to be the threat, he wants money over destruction which is refreshing. Tony Stark is mostly used as the mentor and is there for all the important decisions Peter must make. Aunt May is younger than before but is mostly used as the concerned parental figure in Peter's life. Happy is also in like a reluctant guardian role mostly on the other end of the phone. In the school we have Ned the best friend he always puts Peter's foot in it, Michelle the quiet one that stays out the way, Liz the one Peter has a crush on and Flash the bully like character but it is mostly whittled down to heckling.
Performance wise, Tom Holland is excellent at Peter Parker, his enthusiasm shines through but we also get to see the range of emotions Peter goes through during the film, he does also make a great Spider-Man being original enough after the previous two actors turns at him. Michael Keaton makes a devilish villain and one you can enjoy watching because of the simple desire he has. Robert Downey Jr, Marisa Tomei and Jon Favreau are good through the film giving us the comic timing we need at times but also the serious talks when needed. Jacob Batalon gets the most laughs, Zendaya, Laura Harrier and Tony Revolori also are great in the roles they play.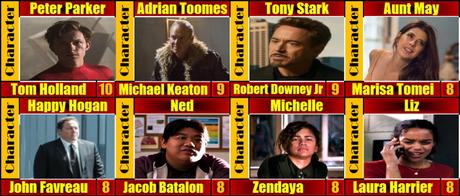 Story – This is the third first solo chapter of Spider-Man, we have been introduced to this version in Civil War so, we can skip he got bitten and slowly learn he is mutating which is great. We know have a young superhero (15) that has been giving a glimpse of the battles he could be having, (See Civil War) but must return to a normal high school life. The best way to describe this feeling is traveling to a beautiful country only to need to return to a dead-end job. The story focuses on the growing up process, if you want this is a coming of age superhero film because Peter must learn his place in the world, not every day is going to be battle the save the world and most of all enjoy the youth he currently has. We have strong elements of a high school comedy coming through here and people will all say if John Hughes made a superhero movie, well this would be it.
Action/Adventure/Sci-Fi – The action is good with each battle increasing in size, starting with a small car chase before escalating up to the ferry scene which we saw in the trailer and beyond. The adventure comes from seeing how Peter tries to solve these crimes by himself learning about his enhanced suit. The sci-fi element of the film comes from the idea that Toomes has learnt from the alien technology left from the battles that destroyed the city.
Settings – The settings are mostly New York but we do also end up in Washington because we need big landmarks for the battle or saving people scenes to take place in.
Special Effects – It would be hard to fault a single side of the special effects being used in this film, that all make the action sequences look fantastic.


Final Thoughts – This has been a brilliant year for comic book movies and we seem to have learnt the formula, give a small introduction in an ensemble film before stepping out giving us the solo film instead of origin this origin that. I would say this is know the best Spider-Man film I have seen and I would be happy to suggest people to watch and even watch again myself.
Overall: Marvel throws us the best teen comedy superhero movie to date.
Rating

Advertisements