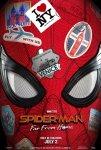 Following the events of Avengers: Endgame, Spider-Man/Peter Parker must deal with his grief whilst also stepping up and protecting the world which has been changed forever.
⭐️⭐️⭐️⭐️
I must put a warning in place that this review will contain spoilers of Endgame, but at the end of the day if you haven't seen that yet and decide to read something about Far from Home then it is always going to happen.
The blip.
That is what we are referring to the five years that some people were lost for and we start in the High School where some people now have a younger sibling who is older than them! Peter Parker and his classmates are going to Europe on tour during the summer and that makes for his plan to eventually tell MJ how he feels about her, looking for a romantic spot to do just that.
However, that was never going to go to plan when Nick Fury keeps contacting him, but Peter decides to ghost him until after his trick. Happy does warn him not to ghost Nick Fury, and that it won't end well. This leads to Fury and Maria Hill tracking him down as they need his help with some alien type monsters, this introduces Mysterio/Quentin Beck.
I had been really looking forward to this film since seeing the trailer and the mourning of Tony Stark. We get so many amazing and lovely moments. But a slight warning of how brutal the opening credits are with a particular song being played. I then feared the worst in terms of emotional trauma but that didn't hit until towards the end. Again this had a song in which made my heart break a little bit but then smile at the same time with the comment from Peter.
At the plot twist time I was a little bit concerned that it was going to be fully Iron Man 3 style, but it then came back and redeemed itself after that. So it does take a small dip in quality but not for very long. Nick Fury is even more angry than he was and that was a lot to do with the blip and that he is no longer in control of things he used to do. So the character development is continuing in the good Marvel fashion.
Tom Holland is the perfect Peter Parker and Spider-Man I really do think he has made the role his own and firmly my favourite for this character. He has the charm and naivety in perfect measure and that is something he really brings to this universe. Working well with Jon Favreau as Happy, who does get quite a lot of screen time which is always welcomed. Samuel L. Jackson stealing scenes as usual, although not that many. Then we add in Jake Gyllenhaal who is a very welcome addition to Marvel and is an outstanding character within this film. I know everyone was happy with his inclusion before even seeing the film because of how good an actor he is and that is certainly shown in this film.
A very good first Marvel film since Endgame and manages to capture the loss we are all feeling for the heroes we no longer have, this helps us emotionally link with Peter and really feel for him from start to finish. Will he become the hero Tony Stark saw the potential in him? I look forward to following Spider-Man's journey.