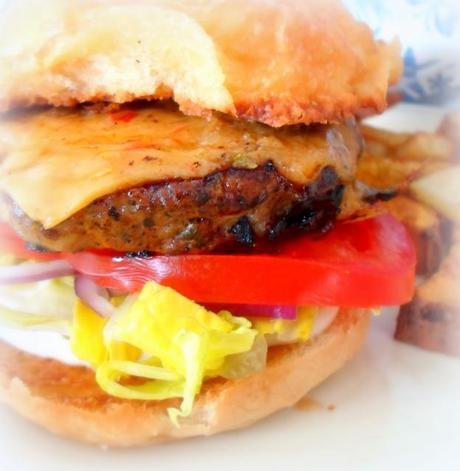 I have a confession . . . I love turkey burgers.  I would choose a turkey burger over a beef burger any day of the week.  Seriously.  Well . . . unless it was an A&W Prime Rib Burger that is.  Those are flippin' gorgeous.  I've only had one of those in my life time and I've been thinking about it ever since!  (Must have been loaded with fat, that's all I can say!)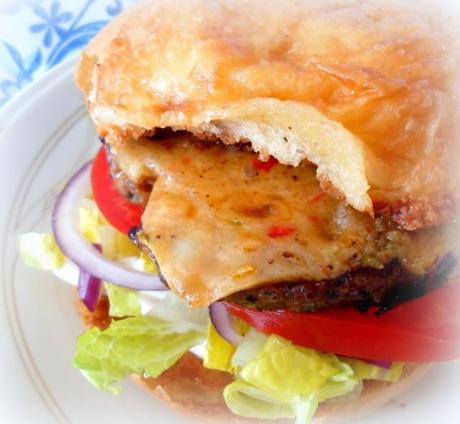 I used to make a Spicy Turkey Burger for my boss when I worked at the Manor all the time.   They were really good.  I have also made Thai Turkey Burgers which were fabulous . . .  Buffalo Turkey Burgers which were stupendous . . .  and Turkey Burgers with Cranberry Catsup, fabulous Catsup . . . that last one was someone else's recipe and the burgers themselves were just so so . . . but the catsup that I came up with was just wonderful.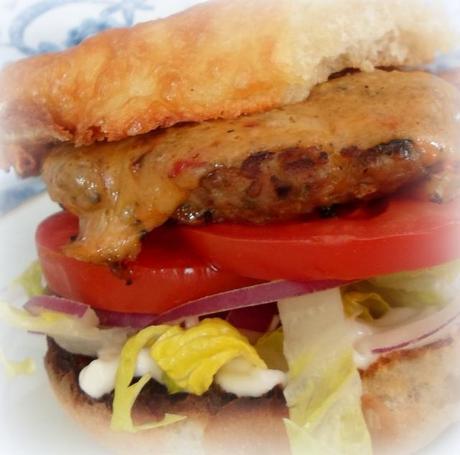 I had some ground turkey in the house yesterday and I was craving a turkey burger and so I decided to come up with something a tad bit different than the ones I used to make at the Manor.  I wanted them really kicked up a notch and this is what I came up with.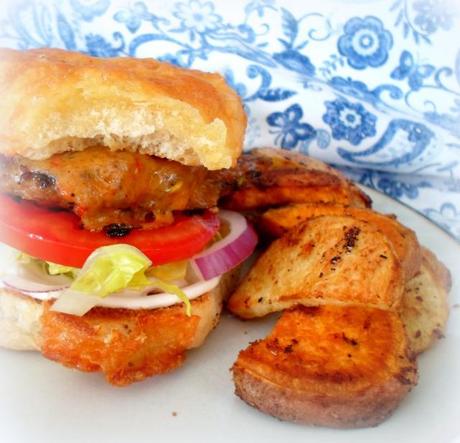 Fabulously moist turkey burgers, low in fat and flavoured with garlic, onion, shallots, and chipotle chili paste . . . with a nice slice of spicy mexican flavoured cheddar melted on top . . . tucked into a toasted cheese roll, on a bed of garlic mayo . . . with shredded lettuce, red onions and sliced tomatoes.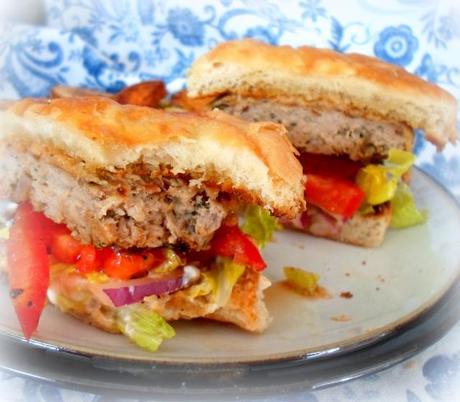 TO ---- DIE ---- FOR!
'Nuff said.  Make them.  NOW!   I'm not kidding.  No way.  No how.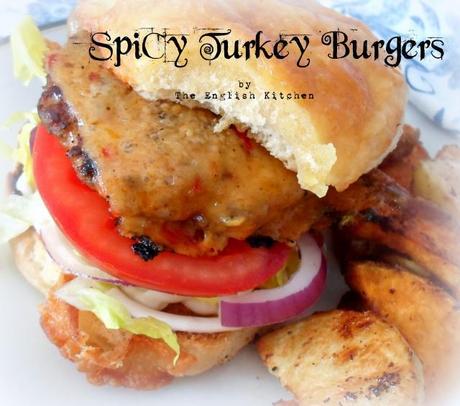 *Spicy Turkey Burgers 2*Makes 4Printable Recipe  

Something a little bit different than the other turkey burgers I make.  No less delicious though!   We both loved these!  They had a nice kick without going over the top. 
1 pound lean ground turkey1/2 medium sized red onion, peeled and finely minced1 shallot, peeled and finely minced1 tsp garlic powder1 tsp onion powder1 tsp seasoning salt1/4 tsp black pepper2 TBS chopped fresh coriander1 tsp chipotle chili pastespicy cheese slices (I used the Mexican spiced ones you can get at Aldi)split and toasted cheese bunsshredded lettuce
thinly sliced red onions
garlic mayonnaise
sliced tomatoes 
Crumble your turkey into a bowl.   Add the onion, shallot, garlic powder, onion powder, seasoning salt, black pepper, fresh coriander and chipotle chili paste.  Mix everything well together with your hands, making sure it is well combined.   Shape into 4 flat patties.  Heat a large grill pan.  Spray with some non-stick cooking spray.   Add the burger patties and grill them for about 4 minutes per side, until nicely browned and cooked through.  The juices should run clear.   Turn off fire under the grill pan.  Top each with a slice of cheese, pop a lid on and leave for a few minutes while you toast the buns.   Top the bottom halves of the toasted buns with some garlic mayonnaise, shredded lettuce, red onion slices, and a few slices of tomato.  Place the cheese topped turkey burgers over the tomatoes and place the top bun over all.  Serve immediately.