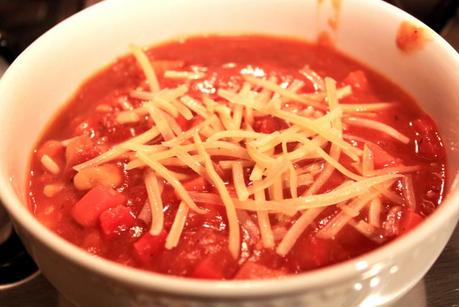 There are five words to describe this soup: hearty, delicious, spicy, healthy, and husband-approved!
I made this soup for the first time over a year ago, when I first started blogging and cooking. The husband, who at that time was skeptical about the extra veggies I added to the recipe, said "I wish my stomach was bigger so I could eat more of this soup!"
It was a nice endorsement from someone who used to live on Taco Bell and Frozen Pizzas, to say the least

The reason I love this soup is because it's super easy to make, takes only 30 minutes, and it's a great vehicle for "sneaking" extra veggies into your diet. The tomato and white bean base makes it conducive to adding just about any vegetables into the soup. I chose carrots, bell peppers and red onions – in keeping with the "red" color scheme.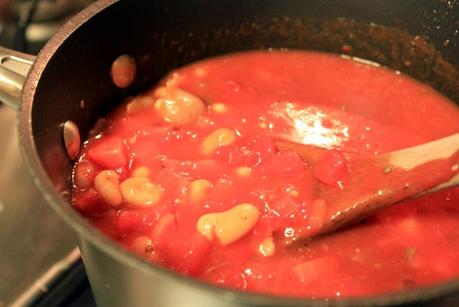 I was originally inspired to create this soup by none other than Giada De Laurentiis. I'm a Food Network addict so of couse, I know who Giada is. But for anyone that doesn't watch Food Network – she is one of my favorite cooks. She has great recipes and is super fun to watch on TV. I made a quite a few modifications to the recipe, but the base and spice mixture is all Giada.
I topped the soup with a sprinkle of Parmesan Cheese, and served it with Alexia's All Natural Garlic Bread.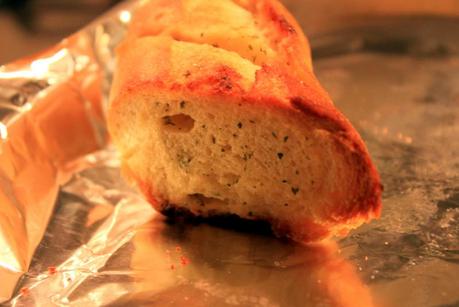 I love Alexia's frozen products – they don't have any weird ingredients in them, and they taste delicious. This garlic bread tasted like it was fresh out of a bakery – I don't know how they do it!
And now, on to the soup. My modified recipe is below and the original is here. Hope you enjoy it!
The Ingredients
3 tablespoons olive oil

(NOTE – I only used 1 Tbsp and it was totally enough. You don't need the extra 2 Tbsp!)

2 carrots, peeled and chopped
1 small onion, chopped

(I used a red onion)

1 red bell pepper, chopped (I added this because I had a red pepper left over, and it gave a great crunch and flavor to the soup)

1 clove garlic, minced (I actually used about 3-4 cloves of garlic)

1 (26-ounce) jar marinara sauce (recommended: San Marzano brand)

(Instead of marinara sauce, I used a 28oz jar of crushed tomatoes with Italian spices – gave the soup an amazing flavor)

2 (14-ounce) cans chicken broth

(I used vegetable broth)

1 (15-ounce) can cannellini beans, drained and rinsed
1/2 teaspoon red pepper flakes

 (I used 1/4 tsp. 1/2 tsp was WAY too spicy for my taste)

1/2 cup pastina pasta (or any small pasta)

(I used whole wheat shell pasta for added fiber)

1/2 teaspoon salt
1/2 teaspoon freshly ground black pepper
The Directions
Step 1: Warm the olive oil in a large soup pot over medium-high heat and chop your veggies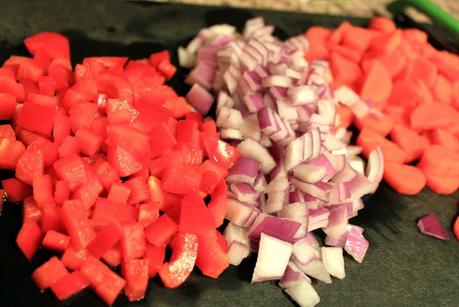 Step 2: Add the carrots, red pepper, onion, and garlic and saute until soft, about 2 minutes. I let the veggies saute a bit longer, like 5-10 min on medium heat. Gave them a great crunch but still were cooked through.
Step 3: Add the jar of marinara sauce (crushed tomatoes for me), broth, cannellini beans, red pepper flakes, pasta, salt and pepper.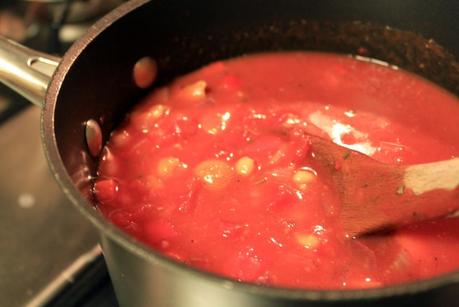 Step 4: Simmer for 10 minutes. I simmered it for a bit longer, maybe 15-20 min. Ladle into bowls, let it cool for a bit and then…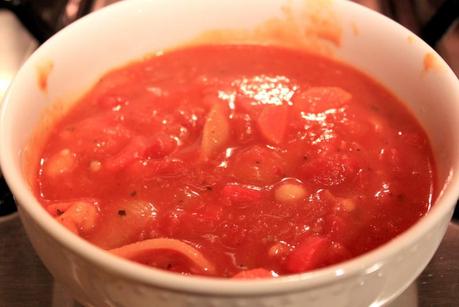 … top with freshly grated parmesan cheese!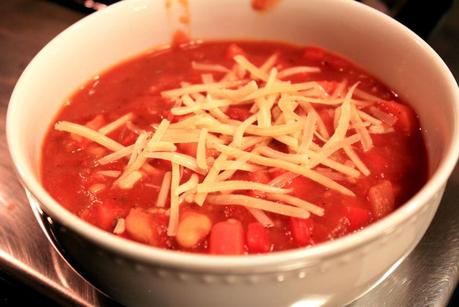 This is a healthy, balanced meal that even the most die-hard junk-food lovers will enjoy!