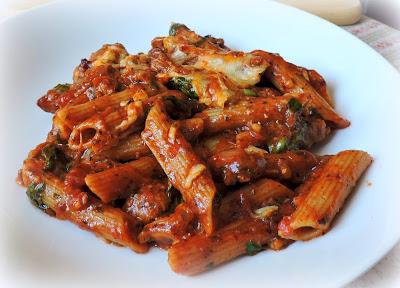 I took a break from salads yesterday, cooking a simple pasta dish that is not only quick and easy, but quite QUITE delicious!  Spicy Tomato and Sausage Pasta.  Its a bit of a cheat in that it uses jarred marinara sauce, which is quite time saving.  If you use a really good quality one however, it won't really matter.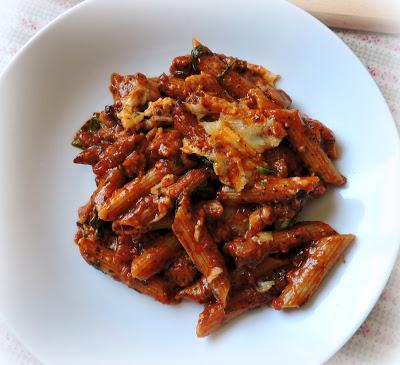 You begin by browning off some Italian sausage meat.  Just push it out of the casings and crumble it into a heated saucepan.  I used the Riverway Foods Hot Italian Sausages that you can get at Costco.  They have a lovely flavour  that I really like. So you brown them off, breaking them up a bit. (You won't need them all, but you can freeze the rest for another time.)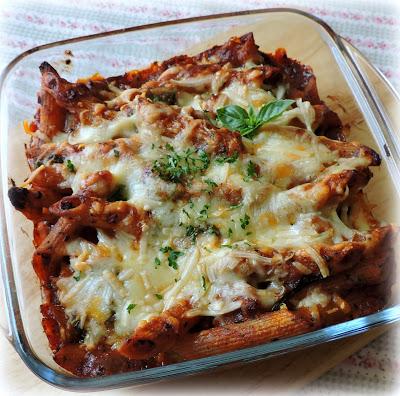 You add some chopped onion and let them soften, finally adding some garlic.  The original recipe (from  Seriously Simple, by Diane Rossen Worthington) called for 3 cloves of garlic. You can cut back on that a bit. The Italian sausages I used are plenty garlicky so I only used 2 cloves of garlic and small ones at that.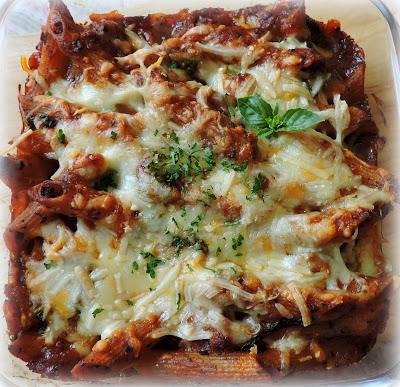 Then you add the marinara sauce and let it simmer for 10 to 15 minutes, upon which time it should have thickened up a bit.  I used the Lloyd Grosman Tomato and Basil Marinara Sauce which is really nice.  Just use whatever kind is your favorite.  At the end of that time you stir in some prepared Basil Pesto which gives the sauce a really nice basil kick.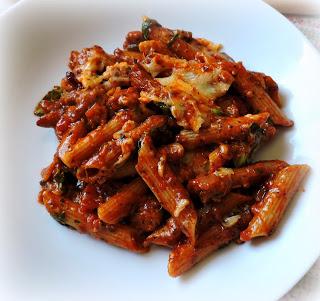 Spoon a thin layer of the sauce into the bottom of a large shallow baking dish, and then stir your cooked pasta into the remaining sauce along with some fresh baby spinach. I like to remove any thick or long stems from the spinach. Its a texture thing really.  I don't like a lot of stringy stuff in my sauces, so I just remove them.  The heat from the sauce and the pasta will cook the spinach.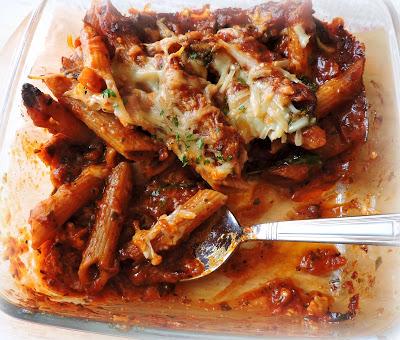 I also like to use whole wheat pasta.  Seriously I can't really tell much of a difference between regular and whole wheat.  If anything, to me, the whole wheat pasta tastes better!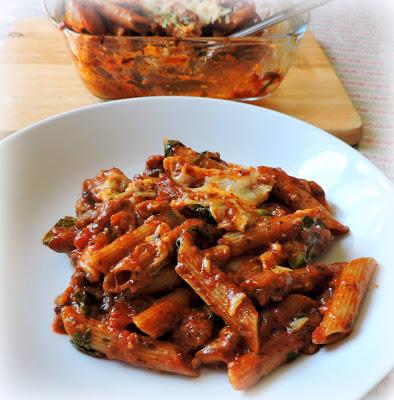 Then you stir in a quantity of Mozzarella and Parmesan cheeses.  Coz you JUST got to have cheese  . . .  its Italian.  Pour it into your prepped baking dish and scatter the remaining Parmesan on top.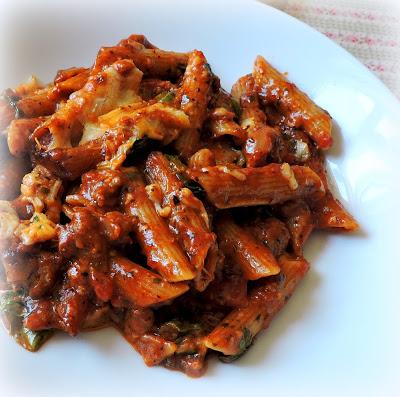 Bake for half an hour in a hot oven, upon which time the cheese will have melted and the top will be golden brown.  And that's all there is to it!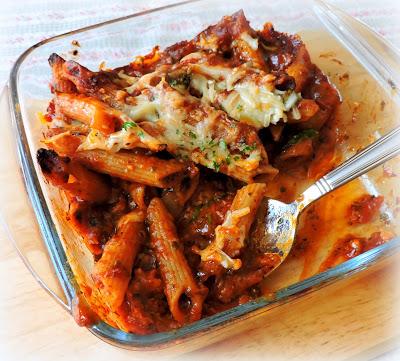 You can divide it up and bake it in two smaller dishes, freezing one for a later date . . .  I made mine in one really small dish and one larger dish, which I sent down to Ariana and Jose.  Ari will be having her baby any day now.  I thought she would appreciate having a meal delivered.  It has been so hot and I know she is feeling a bit exhausted with the pregnancy and everything.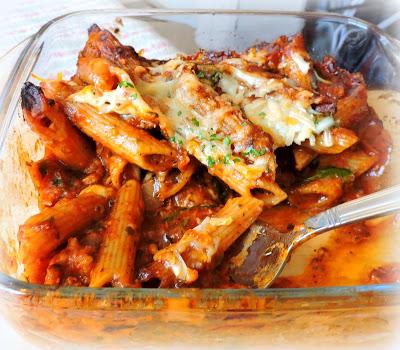 It was very much appreciated. She texted me later to tell me how good it was.  And Jose works in a premium Italian restaurant, so if he thought it was good, then you know it was really good!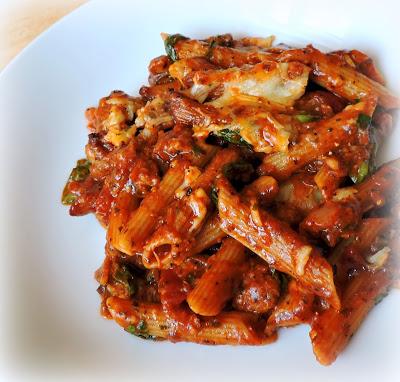 This has so much going for it flavour-wise.  I have fallen in love with it and I know I am going to be making it for the Missionaries one day as I am sure they will also really enjoy it!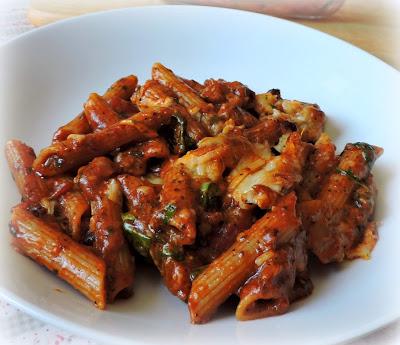 I love dishes like this that go together quickly without much fuss or faff.  To me they spell winner/winner!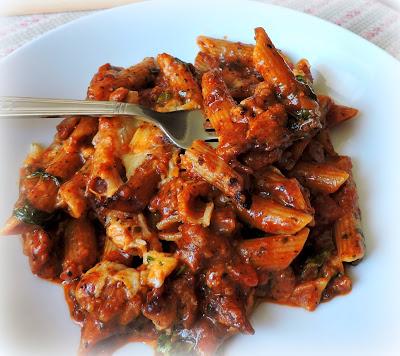 *Spicy Tomato & Sausage Pasta Bake*Serves 6 to 8Printable Recipe  
I cheat a bit with this by using a good jarred marinara sauce, but I think you will agree that this dish is fabulously tasty!  Quick, easy and delicious! 
For the sauce:splash of olive oil
1 pound Italian sausage links, casings removed and discarded1 medium onion, peeled and finely chopped3 cloves garlic, peeled and  minced2 730g jars/cartons of good marinara sauce (2 26-ounce jars)6 TBS of good Basil Pestosalt and freshly ground black pepper to taste 
You will also need:450g penne pasta, uncooked (1 pound)230g of finely diced or grated mozzarella cheese (8 ounces)180g grated Parmesan Cheese (1 cup)170g baby spinach leaves (6 ounces)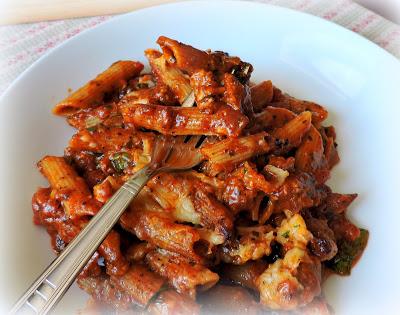 Heat a large heavy bottomed pan over medium high heat. Add a small splash of olive oil, then crumble in the sausage meat.  Cook, breaking up with a spoon, until the sausage is evenly browned and no pink remains.  Add the onion and saute for about 5 minutes longer.  Add the garlic, cook for 1 minute and then add the marinara sauce.  Reduce the heat to medium.  Simmer for about 10 minutes, then stir in the pesto, salt and pepper.  Taste and adjust seasonings to your taste.  Set aside.
Cook the pasta according to package directions in a large pot of lightly salted water.  Drain well.
Preheat the oven to 190*C/375*F/ gas mark 6.  Butter a 9 by 13 inch baking dish.  Spoon a thin layer of sauce over the bottom of the dish. 
Combine the pasta with the remaining sauce, the spinach leaves (I like to try to pick off and discard any large stems), the mozzarella cheese, and 60g of the Parmesan cheese (1/3 cup)  Mix well to combine and then spoon into the prepped casserole dish.  Scatter the remaining Parmesan cheese over top.
Bake in the preheated oven for about 30 minutes, until the casserole begins to bubble and the cheese is golden.  Serve hot.
Note - you can also bake this in two smaller casseroles and freeze one.  Defrost thoroughly before baking as above.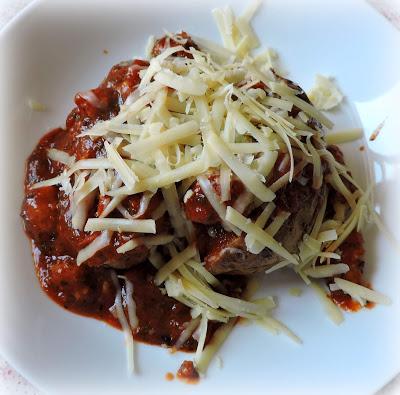 I saved some of the sauce out and Todd had it on a baked potato with some cheese on top.  He, as you know isn't overly fond of pasta, although he will eat it when push comes to shove.  He really enjoyed it on his potato. The sauce itself would also go very well on spaghetti, or even ladled over polenta!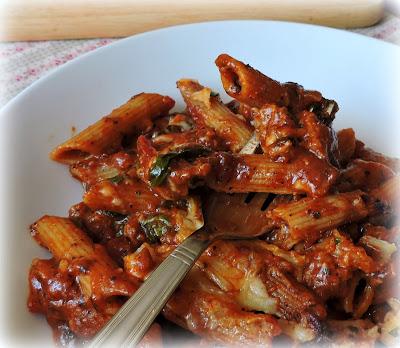 However you choose to enjoy it I am sure you WILL enjoy it.  This is . . .  simply put  . . .  quite fabulous!  Bon Appetit!