This post may contain affiliate links. Please read my disclosure.
This sweet potato breakfast hash is packed full of flavor, and makes a great brunch, side dish or even main meal! Packed full of veggies and plant protein this is a one pan meal that's easy to make.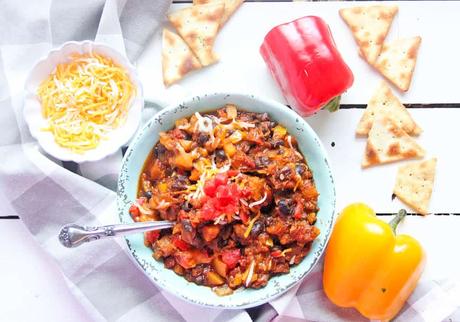 Sweet Potato Breakfast Hash is such a classic brunch dish, and my version is vegetarian and healthier with a hit of spice! It's hearty enough to serve as a main meal or a lazy Sunday brunch.
Most breakfast hash recipes are made with meat (typically sausage or bacon), and use the animal fat to cook the rest of the ingredients (which adds tons of unhealthy fats to the recipe! This hash recipe stands out from lots of others because it is a well balanced, tasty, plant-based and healthy stand alone meal. Lots of fresh veggies add vitamins and minerals to the dish and the beans add fiber and protein. Thanks to a variety of spices it's full of flavor too. It's the perfect way to start the day!
Kitchen Tools and Equipment You'll Need to Make This Spicy Sweet Potato Breakfast Hash
How to make this Spicy Sweet Potato Breakfast Hash - Step by Step
Step 1: Heat a large skillet over medium-high heat. Add oil to pan; swirl. Add chopped sweet potato, oregano, and 1/2 teaspoon salt; cook 3 minutes, stirring occasionally. Add cumin, cinnamon, red pepper, and garlic; cook 1 minute. Add 1/2 cup water; cover, reduce heat, and cook 5 minutes. Uncover; cook 2 minutes. Remove pan from heat.
Step 2: In a separate saucepan, add onion and peppers. Sauté 5-10 minutes on medium heat until cooked through. Add to potato mixture and cook another 5 minutes, stirring to combine.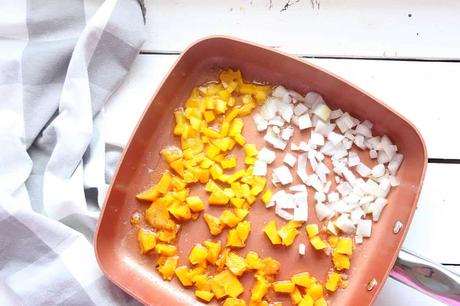 Step 3: Add remaining salt, black beans, adobo sauce and brown sugar.
Step 4: When serving, top potato mixture with 1 tbsp cheese, 1 tbsp pumpkin seeds and diced tomato.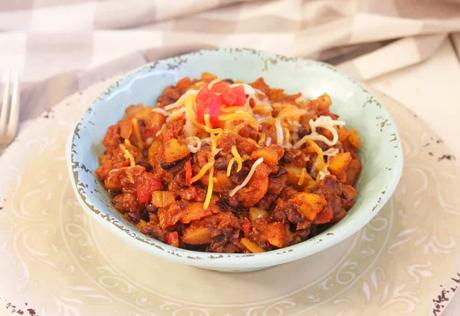 What makes this Spicy Sweet Potato Breakfast Hash healthy?
Low in Fat and Calories: One serving of this sweet potato hash has only 170 calories and 7 grams of fat.
High in Vitamins and Minerals: Sweet potatoes are a healthier alternative to white potatoes because they are packed with vitamins and nutrients. They are high in vitamins A and C, B6, contain antioxidants, and are a good source of calcium, magnesium and potassium.
High in Fiber: Both sweet potatoes and black beans are high in fiber which helps with digestions and feeling fuller longer.
Loaded with Heart Healthy Ingredients: This hash is chock full of vegetables with the yellow peppers, onions, tomatoes, and sweet potatoes. These ingredients help lower your risk of heart disease.
Good Source of Plant-Protein: The black beans in this hash give it an extra protein boost.
Will kids enjoy this Spicy Sweet Potato Breakfast Hash?
This colorful, delicious and healthy meal is a great way to get the kids to eat their veggies! My kids are crazy for sweet potatoes and black beans, but this is a spicy dish. When I make it for the kids I take out a portion for them before I add the adobo sauce and cayenne pepper. That way the kids still enjoy eating this dish, and the adults get to enjoy the spice!
Can you eat sweet potato skin?
Sweet potato skin is perfectly edible. In fact, it's extremely high in nutrients. When making this hash, I generally leave the skin on which saves an extra step, and provides extra nutrients. If you choose to leave the skin on your sweet potato be sure to scrub it well and remove any brown spots.
Can you dice sweet potatoes ahead of time?
Yes, you can dice and peel sweet potatoes ahead of time. Unlike russet potatoes, sweet potatoes (especially garnet yams) do not turn brown or lose texture when exposed to air. After peeling and dicing the sweet potatoes keep them in an air tight container in the refrigerator. If you're not planning to use them for a couple of days, then keep them in cold water and refrigerate.
What to Serve with this Spicy Sweet Potato Breakfast Hash
This really is a meal in a bowl, but you can always serve it with a side of crusty whole wheat bread, whole wheat garlic rolls, sprouted wheat tortillas, chips, or even corn tortillas. For something on the lighter side serve with a side salad or steamed vegetables.
For an extra protein boost, top with an egg, cheese and pumpkin seeds.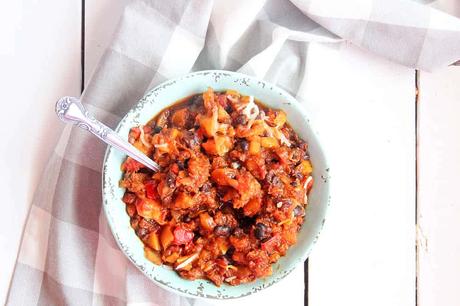 Top tips to make spicy sweet potato hash
Look for small to medium sweet potatoes, which are sweet and creamy. (The larger ones tend to be starchier.) The skin should be firm, smooth, and even-toned. The deeper the color of the potato, in general, the richer it is in the antioxidant beta-carotene.
Properly stored, raw sweet potatoes will last for 1 to 2 weeks at normal room temperature. To maximize the shelf life of sweet potatoes, store in a cool (45-55° F; warmer than the refrigerator, but colder than normal room temperature) dark area; under those storage conditions, sweet potatoes will last about 1 month.
To make this dish vegan, simply omit the cheese topping.
To make this dish spicier, add a little more red pepper and adobo sauce; decrease it for a milder dish.
Before using, scrub sweet potatoes with a Produce Brush while rinsing under cool water. Cut off any bruised parts.
For added fiber, leave the skin on. Just like regular potatoes, you can eat the skin.
Top with cheese and pumpkin seeds.
Leftovers can be kept in the fridge in an air tight container for 3 to 4 days.
Be sure to check out these other delicious sweet potato recipes!
If you have tried this Spicy Sweet Potato Breakfast hash recipe, or any other recipe on my blog, then please rate it and let me know how it turned out in the comments below! You can also FOLLOW ME on FACEBOOK, TWITTER, INSTAGRAM and PINTEREST to see more delicious, healthy, family friendly food!
Spicy Sweet Potato Breakfast Hash