This post may contain affiliate links. Please read my disclosure.
This spicy potato corn chowder is packed full of fresh ingredients and a blend of delicious spices. Dairy-free, and low in calories it's a decadent soup to be enjoyed without the guilt!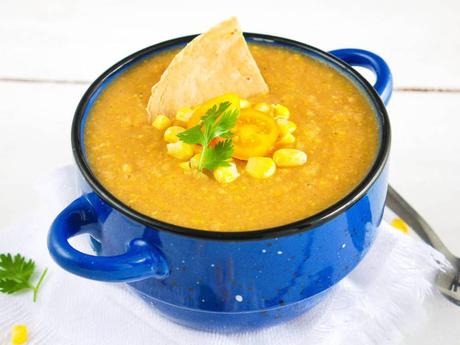 I've never been a huge fan of corn soup.
While I love the sweetness of fresh corn, I've often found corn soups to be too heavy (with all of the cream and butter), and a little too bland for my taste.
My husband, on the other hand, absolutely loves creamy soups of all kinds - corn chowder or creamed corn soup being one of his favorites. Whenever he has a choice between a cream-based soup and a broth-based soup, he always chooses the cream-based soup.
So I decided that I was going to make-over the traditional creamy corn chowder without using any actual cream in the recipe, to see if I could make a healthier version that my whole family would enjoy!
Instead of cream, I added vegetable broth and potato for that "creamy" feeling, warm spices like cumin and chili powder, and fun toppings like tomatoes and cilantro for some texture and flavor.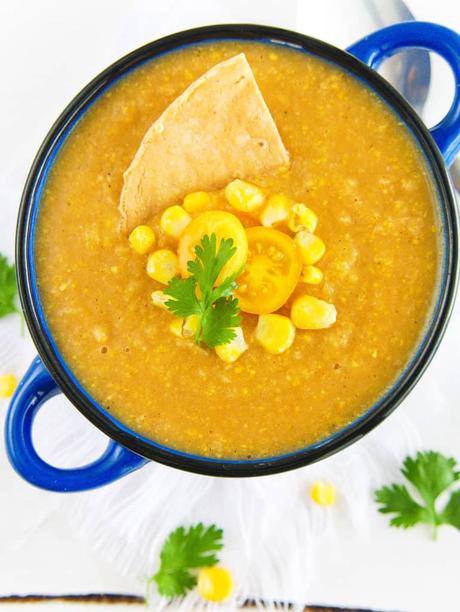 Tools and Equipment You'll Need to Make This Recipe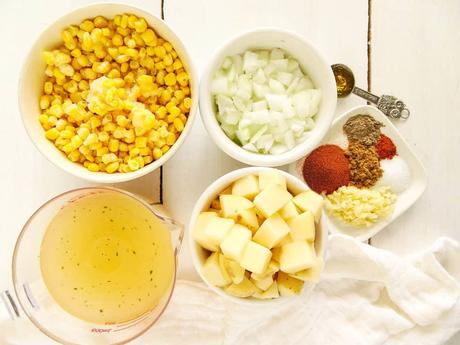 How to Make Spicy Potato Corn Chowder - Step by Step
Step 1: Cut the onion, potato, and trim the corn kernels off the 5 ears of corn. Heat the oil in a large pot over medium heat. Add the onion and garlic, sauté for 5 minutes until the onion is translucent.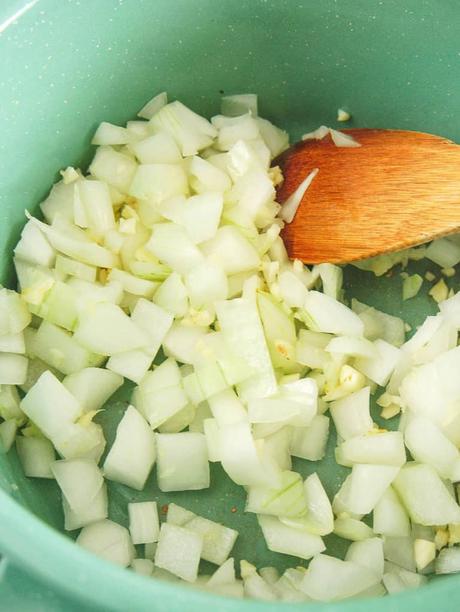 Step 2: Add the potato and broth, bring to a boil and cook until the potatoes are very soft - about 10 minutes.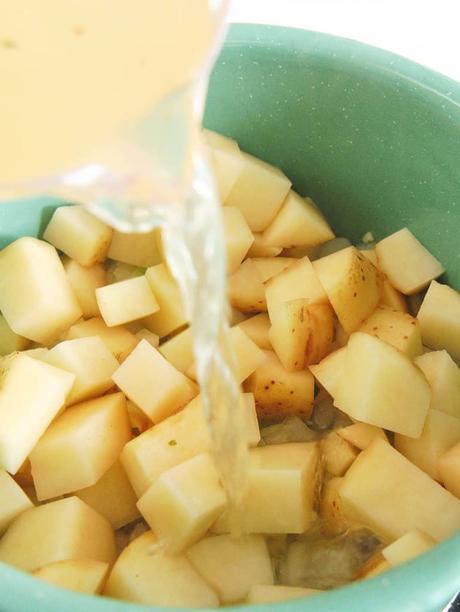 Step 3: Then add the fresh corn and cook through for a couple minutes more.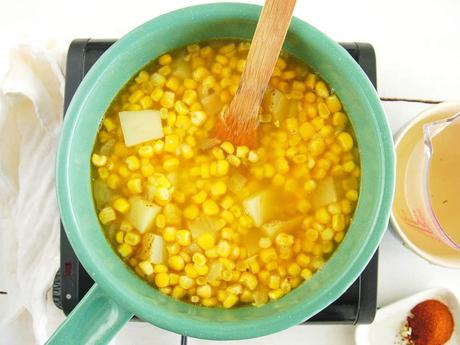 Step 4: Add a bit more vegetable broth if your soup mixture looks too thick. Add all of your spices (cumin, chili powder, cayenne, black pepper).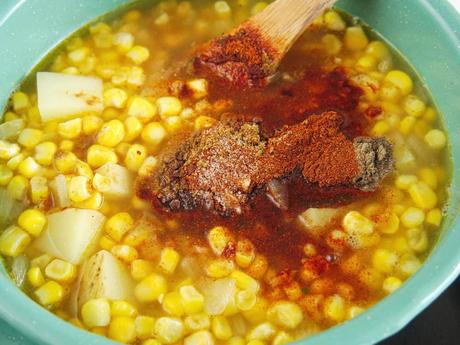 Step 5: Puree with an immersion/hand blender, or with a regular blender/food processor.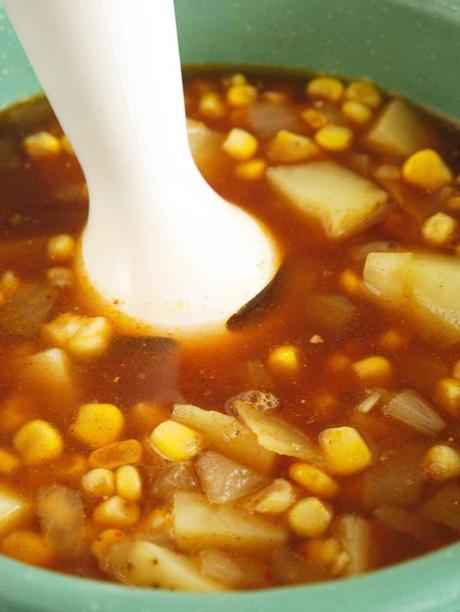 When your soup is done, it will look like this: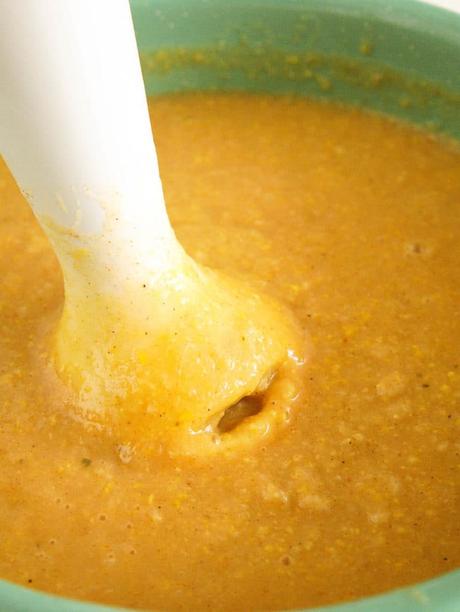 Step 6: Top with a variety of toppings: cilantro, tomatoes, fresh corn, crushed corn chips, avocado, or anything else you can think of!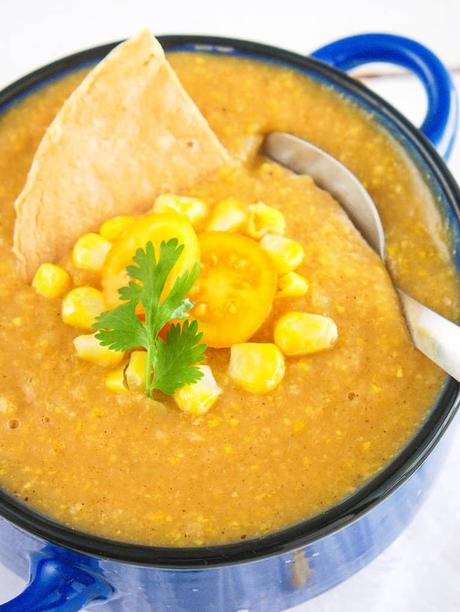 What makes this Spicy Potato Corn Chowder healthy?
Low in Fat and Calories: It can be enjoyed guilt-free with only 128 calories and 2.3 grams of fat per serving.
Dairy-Free and Gluten-Free: This soup is rich and flavorful without any butter or cream. It is naturally gluten-free. Whether you follow a special diet or not everyone will enjoy this soup.
Fresh Seasonal Ingredients: This soup uses fresh seasonal ingredients. Unlike canned soups you won't find any processed ingredients.
Low Sodium: Many canned soups are very high in sodium. This soup uses low-sodium vegetable stock which helps keeps the sodium levels low.
High in Fiber: Sweet corn is loaded with fiber which aids in digestion, and helps you feel fuller longer. Fiber is also known to lower cholesterol and help control blood sugar.
Rich in Vitamins and Nutrients: Fresh sweet corn is a good source of B vitamins, iron, potassium and plant protein. It's also a good source of the antioxidants, lutein and zeaxanthin, which promote eye health.
Will kids enjoy this Spicy Potato Corn Chowder?
This is a smooth and delicious soup. Kids will enjoy customizing their own toppings with ingredients such as tomatoes and cilantro. Some kids might find this soup a bit too spicy. I recommend transferring a few ladles of the soup to a small sauce pan before adding the chili powder and cayenne. That way the kids can enjoy the soup spice free!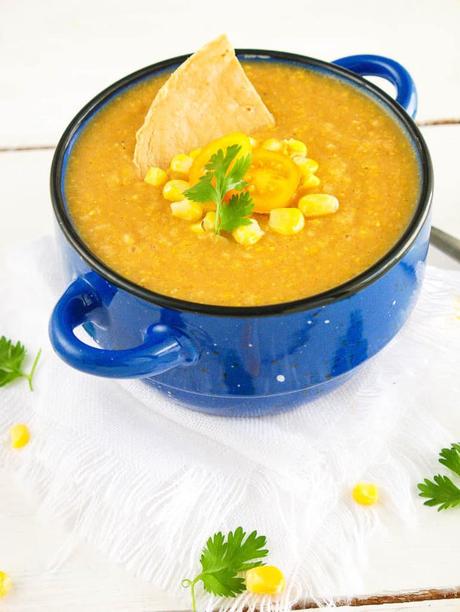 What are the best potatoes for chowder?
I used Yukon Gold Potatoes for this chowder. They are naturally creamy which is perfect for this soup, and gives it that nice creamy texture without the need for cream. They also blend nicely with the immersion blender.
For a chunkier chowder I recommend red potatoes or russet potatoes. They are firmer and hold up well in a chowder.
Can Corn Chowder be frozen?
The soup can be frozen for up to 3 months. Simply let the soup cool completely after cooking and then pour into a sealable freezer container or portion into ziplock bags. Defrost the soup in the refrigerator for 12 hours and then reheat it on the stovetop over medium heat until hot.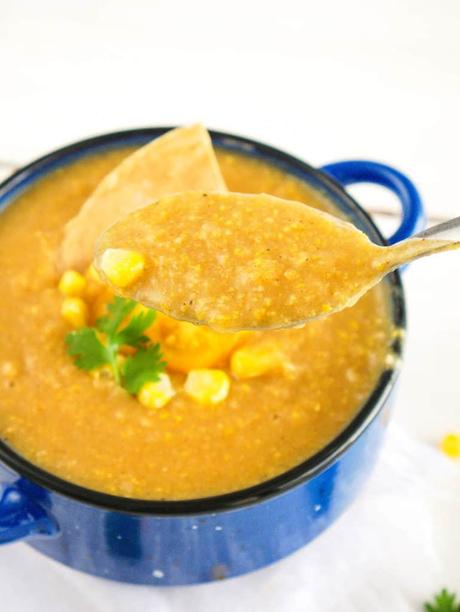 What to serve with Spicy Potato Corn Chowder?
Serve with a side of corn bread or crusty whole wheat bread and a green salad with vinaigrette dressing, topped with toasted pecans or almonds.
Try these soup toppings for more texture and flavor...
Cilantro
Diced tomato
Crushed corn chips
Diced avocado
Fresh sweet corn
What is the best season to make Potato Corn Chowder?
Fresh sweet corn is in season during the summer and often into the fall. While summer is the ideal time to enjoy sweet corn, and recipes using sweet corn, you can also use frozen sweet corn to make this soup into the winter. The rich warm spices and creaminess make this a comforting soup to make in the winter.
Top Tips for Making This Recipe
If you can't get fresh corn, you can use frozen.
Use a low sodium vegetable stock.
If you are using a stand blender, it's best to blend the soup in batches.
If using fresh corn, steam and prepare just before making the soup.
Dial back the cayenne pepper and chili powder if you want a milder flavor.
Reserve a few ladles before adding spices to make a kid friendly spice free version.
Add some long grain brown rice, if you want it extra hearty. You can even puree it with the brown rice cooked in the soup for a thicker, creamier texture.
For additional protein, add 1 15oz can cannelini beans into the soup while it's cooking (at the same time you add in the corn). And then follow the rest of the directions through the puree stage!
Get creative with toppings such as cilantro, avocado and corn chips.
Serve with some crusty bread or corn bread and a light crunchy salad.
Soups freeze well, make a big batch and freeze the rest for easy meals!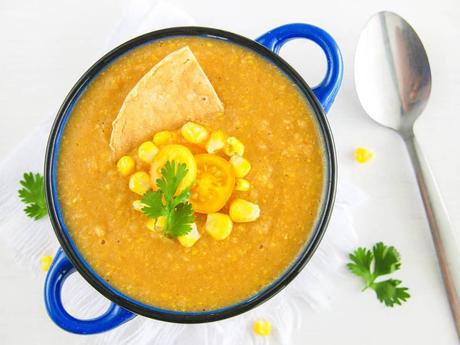 Be sure to check out these other healthy soup recipes!
If you have tried this Spicy Potato Corn Chowder recipe, or any other recipe on my blog, then please rate it and let me know how it turned out in the comments below! You can also FOLLOW ME on , , and to see more delicious, healthy, family friendly food!
Spicy Potato Corn Chowder | Dairy-Free