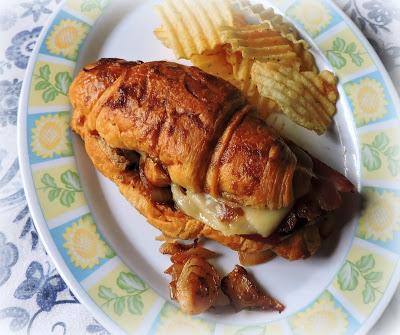 I really love blogging about food.  I am often asked how can I do this every day.  My response?  I eat and cook every day so why not share!  If I didn't love doing it I wouldn't do it. Its as simple as that!  One thing that I also love about it is that I occasionally get to try some new things and stretch my cooking abilities by coming up with new ways to use familiar products.  I was recently contacted by the Heritage Brand Branston Pickle and asked to try to come up with a recipe using their products.  As you know I do love a challenge and I adore Branston Pickle, so what else could I say but "Sign Me Up!"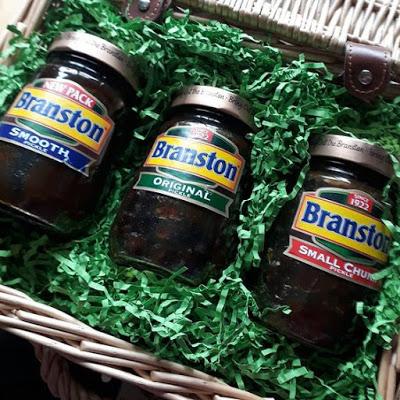 Branston Pickle is one of the nation's most beloved  pickle products.  It has a flavor that is a tiny bit hard to describe.  I could say moreish but that wouldn't be doing it justice.  It is a rather unique flavor.  It is sweet and tangy and spicy and crunchy and goes wonderfully with cheeses and pies and in sandwiches etc.  I love a "Cheese and Pickle" sandwich and when I am talking pickle here I am talking Branston's!  I was sent a hamper with three samples of the iconic pickle containing a jar of the original large chunk, a jar of the small chunk and their new smooth version!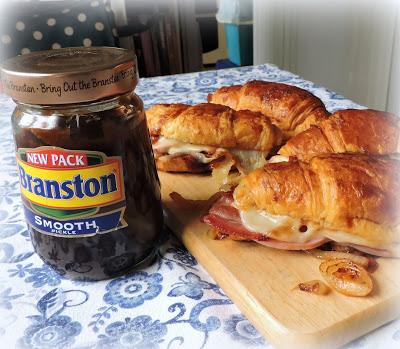 Made by Crosse & Blackwell, Branston Pickle has been gracing the UK's tables since 1922. A firm favorite it is still made using the same recipe and in the same manner as always in Suffolk's Bury Saint Edmunds.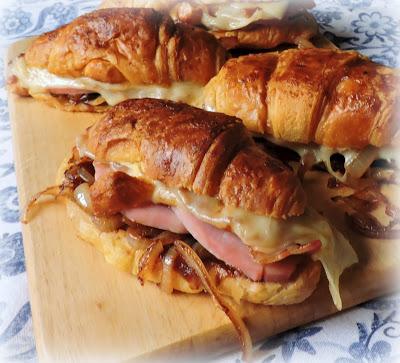 I decided to use the new smooth version in my favorite ham and cheese croissant sandwiches.  I thought it would add an exciting twist not only spread as a thin layer on the bottom slice, but by including it in the buttery glaze that is a part of this recipe which makes these sandwiches so special and delicious!  I normally use a mixture of butter, Worcestershire, mustard and honey, but I thought why not use Branston!  It would be perfect!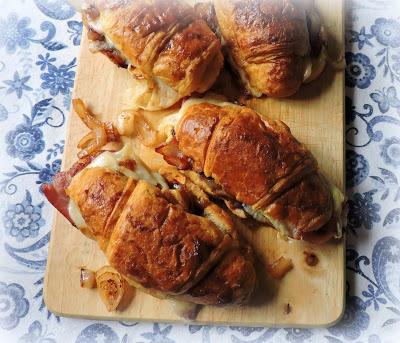 And it actually ended up being a bit easier than my original versio as well as there was only the two ingredients for the glaze.  Branston and melted butter, whisked together and brushed on the outsides of the croissants, and on the inside upper portion of croissant.  Other than that there is layers of pure Branston, caramelised onions, sliced ham, crisp bacon and a Swiss style cheese!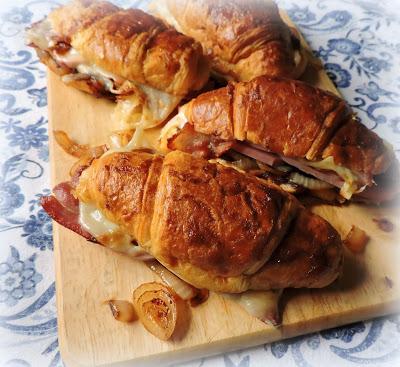 Every mouthful is a delight . . .  the outsides all flakey and crisp and buttery with a slightly moreish tang that is very appealing!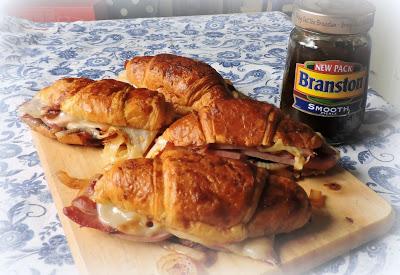 The sweetness of the caramelised onions atop a thin layer of the smooth  tangy Branston pickle  . . .  yumm . . .  then the saltiness of both the ham and the bacon . . .  the richness of that creamy Swiss cheese . . .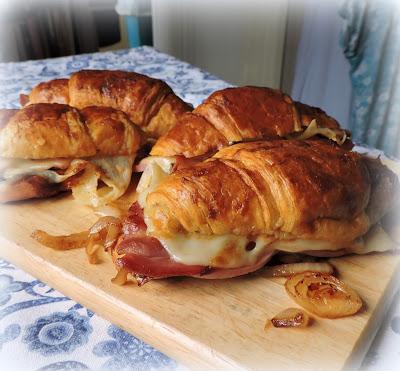 Altogether very, very nice indeed.  Actually I can see me using this smooth Branston pickle a lot.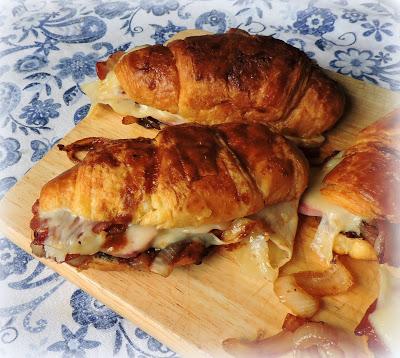 A dollop here, a dollop there it is sure to enhance the flavours of my savoury soups and stews . . .  my Bolognese . . . Mac and Cheese . . . spread on hot dogs . . .  in gravies . . . I really can't think of anywhere it couldn't be used except for maybe desserts, but give me time . . .  I have an idea it would go really well with apples and raisins!  (Sort of like mincemeat . . . )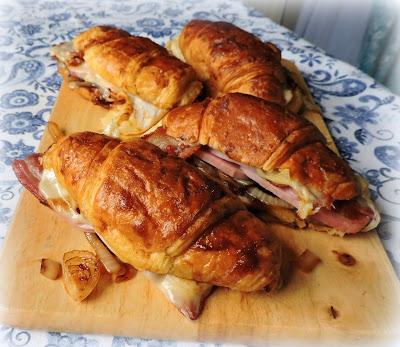 Oh boy the wheels are really turning now.  I wish I had more time!  But for now  . . .  enjoy these tasty sandwiches.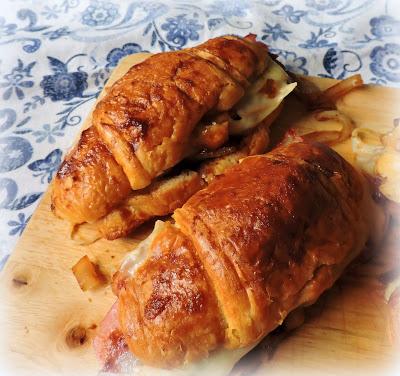 Perfect on their own, or accompanied with some crisps or a salad, they are sure to go down a real treat!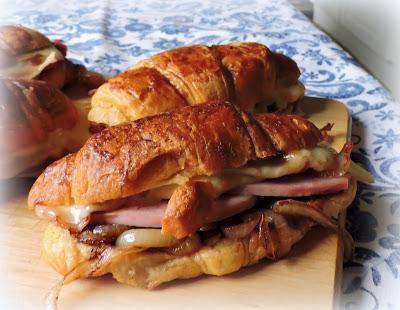 I think they would also be a great hit on Game nights when you are watching the footie or the rugby!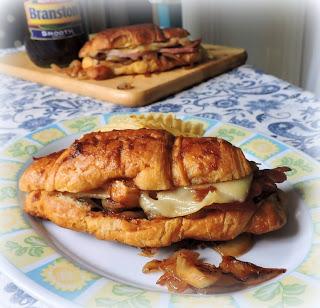 Yield: 6
Author: Marie Rayner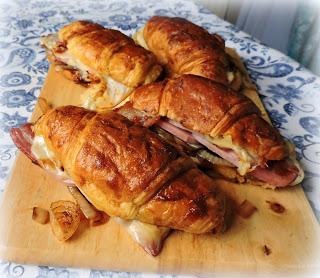 Spicy Ham & Cheese Croissants
prep time: 15 mins
cook time: 20 mins
total time: 35 mins
Simple hot ham and cheese croissant sandwiches, made extra yummy with a butter and Branston glaze, bacon and caramelised onions.  Just plain good.
ingredients:
6 slices of streaky bacon, cooked until crisp and drained on paper towel1 large onion, peeled and finely sliced8 TBS butter, divided3 tsp smooth Branston pickleAdditional Branston for spreading on the croissants6 medium sized croissants12 slices of deli ham6 slices Swiss style cheese
instructions:
Melt 1 TBS of the the butter in a skillet.  Add the
sliced onions.  Cook over very low heat for 30 minutes until
caramelised, stirring occasionally. 
Preheat the oven to180*C/350*F/ gas mark 4. 
Melt
 the remaining butter and whisk together with the Branston pickle
until smooth. Have ready a large enough baking dish to hold all of the
croissants in one layer.  Cut each croissant in half through the middles
 horizontally. Brush the bottom side of the bottoms of each croissant
with some of the butter mixture.  Lay out in the baking dish in one
layer.  Spread a bit of Branston pickle on the cut side and then
divide the caramelised onions between each evenly.  Top with the sliced
ham, two slices of bacon and a slice of cheese, folded to fit.  Brush
the cut sides of the top halves of the croissants with half of the
remaining butter mixture and place on top of the cheese. Drizzle the
remaining butter mixture over top of each. Cover with aluminum foil and
 bake in the preheated oven for 20 minutes. 
Serve hot.Created using
The Recipes Generator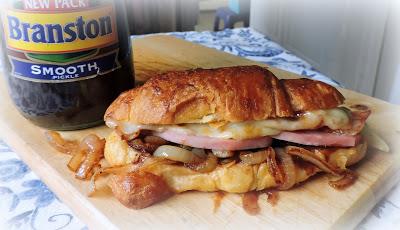 Branston Pickle is available at all grocery shops and convenience stores across the UK.  Do be sure to check out their
website
for more information and a host of other recipes and ways to use, along with information about their other products and pickles.  
Follow them on
Instagram
Follow them on
Twitter
Follow them on
Facebook 
Note
- I was sent free product for the purpose of developing a recipe.  Any and all opinions are my own.
Bon Appetit!