I've been waiting for a chance to do an update on my herb garden, as it has changed a lot in the last year. The big change is that almost everything is growing in pots now, instead of in the ground. 
Now is the perfect time for the update for two very good reasons. The first is that it's spring, so everything is growing well and looks nice for photos. 
The second reason is that a new book on herbs and spices, by Don Burke, is going on sale next week, and as I worked behind the scenes helping Don to put the book together, I want to tell you all about it. Pictured below is the book cover, but I'll tell you all about it at the end of this blog post. Before my not-very-amateur burst of rampant commercialism, it's onto my potted herb garden show-and tell.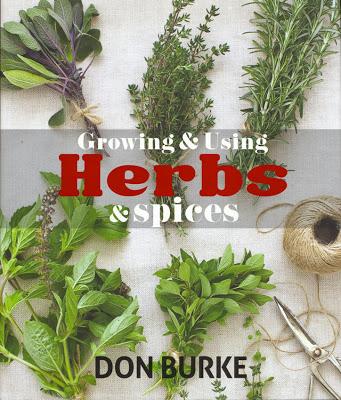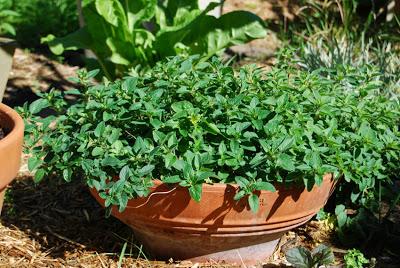 Oregano, grown from seed just on a whim, looking lovely
right now. It was looking straggly about six weeks ago, so
I cut it back all over and now it's at its finest. That's the big
secret with herbs in general, but potted herbs in particular:
cut them back often, a light cut once a month works wonders.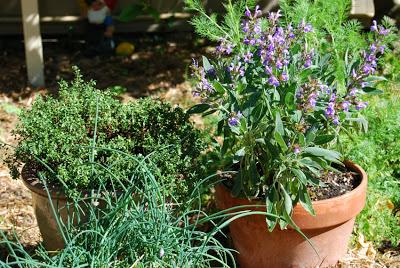 Chives in front, lemon thyme left and sage in flower, right.
The sage is from my original in-the-ground mother plant. I dug
up a section with a rootball and potted that up. It took a while to
bounce back, but it's happy now in its terracotta pot.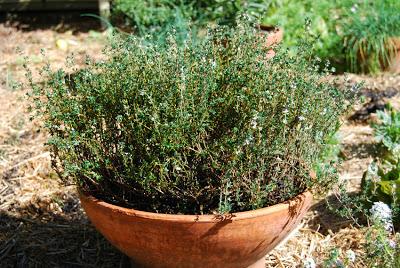 Another 'sprog of mum' plant, my common thyme is a roots-
and-all chunk of the former large mother plant, replanted and
doing well in a wide, shallow pot. This is one plant that I
cut back very regularly, to keep it low, dense and bushy.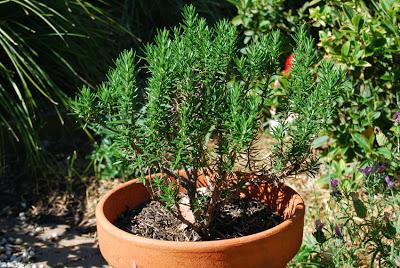 The rosemary is a cutting grown from the monster size parent,
and I am cruelly trimming it to encourage dense, low growth,
as it can grow to silly sizes if you let it go unchecked. Rosemary
has such a strong flavor you never need much in any dish.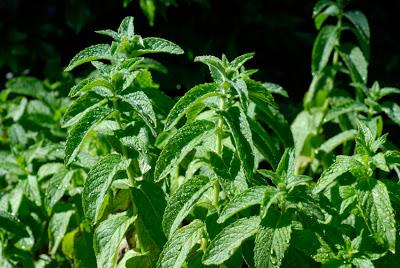 Moist mint is happy mint. I have two pots here, one with common
mint, the other with spearmint, and both need major cutbacks
about three or four times a year. I cut the whole plants down
to pot-rim level, back to just stumps, then give it a good feed.
I love the look of the two pots when they're in their pomp.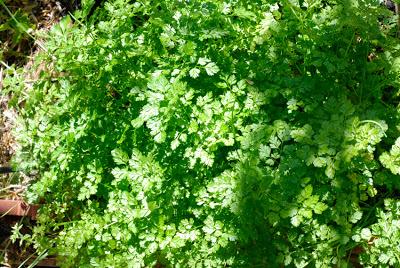 I still have a few herbs in the ground, including this chervil,
which I didn't plant here. It turns out that chervil is so happy
here it's behaving like a weed and self-seeding all over the
place. It has a lovely, light aniseedy flavor.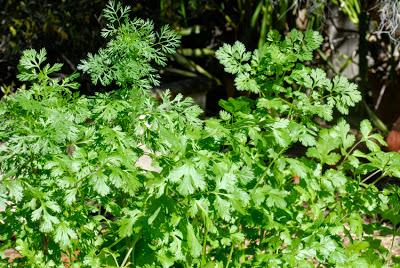 Also in the ground and "on the way out" is this patch of
coriander, which is starting to go to seed as the weather
warms up. The patch has been here for a few months now,
as coriander loves our mild winters the best. That's the
time to grow it here in Sydney. If you grow it in summer,
you'll have to sow, grow and harvest three or four crops
each summer season, as it goes from leafy to seedy in
no time at all during steadily hot summer weather.
That's enough for my own personal update on the herb patch. It's time to show you Don's new book, priced at $29.95 in hardcover, which goes on sale next Monday, October 1. It's published by New Holland Publishers, is 304 pages long and has entries on virtually every useful herb and spice you can think of, plus lots that you might not have heard of. Here's the cover.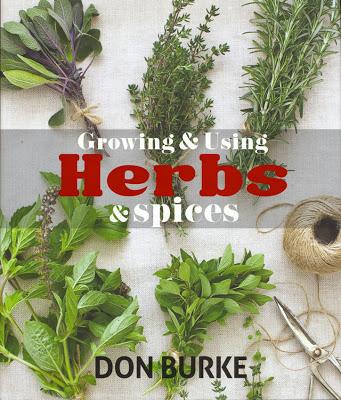 With only a few exceptions, each herb is covered in what's called a 'double-page-spread' of two open, facing pages. Pam did some of the illustrations used in the book, and my wide-ranging contribution to Don's text goes under the heading of "editorial consultant". Don loves to get down to the practical nitty-gritty of gardening, so he offers tips on how to grow each herb, best varieties, how to harvest and dry or prepare it, then how best to use it in the kitchen. He also quite frankly tells you whether it's worthwhile trying to grow each herb or spice in the garden (as some are hopelessly impractical to grow in backyards while others are dead-easy). 
And Don loves a good debunking of myths, too. This is a no-mumbo-jumbo book! Instead of mindlessly repeating all the ancient myths about herbs and spices being good for curing ague, plague or whatever, he's gone straight to modern scientific research to find out whether each herb really is beneficial or not. (The good news is that many are extremely useful.) However, this info is also where Don's book is full of new, fresh info that might contradict some of the very unscientific mumbo-jumbo that has been long attributed to the healing powers of various herbs and spices. Some traditional 'medicinal' herbs are actually unsafe for human consumption.
And did I tell you it's full of delicious recipes and gorgeous color photos? And if you like to brew interesting cups of tea we've got the tea brewing recipes for you too.
OK, so I am a bit biased, but it's a new kind of herb and spice book, a deliciously practical one. A few enjoyable months of my working life went into helping Don research and prepare the text for this book, and I am very pleased with how it has turned out. Go check it out if you can. 
I've noticed that while it doesn't 'officially' go on sale until next Monday, October 1, it's already up and available for pre-order on websites such as Amazon, the ABC Shop site here in Australia, and numerous other book sellers' websites. Just search for 'Herbs & Spices' by Don Burke and you'll find it.