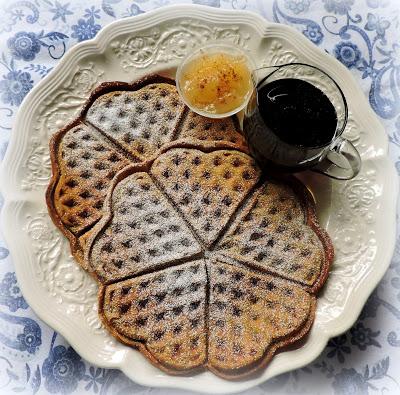 If you are looking for a simple and yet delicious breakfast to serve for the holidays, look no further!  Spiced Pumpkin Waffles fit the bill on all counts!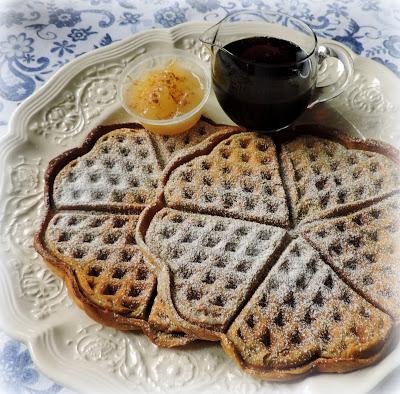 Quick and simple to make, these are absolutely the tastiest, and the smell when you are cooking them is amazing!  I don't know about you, but this is the time of year that I love pumpkin anything!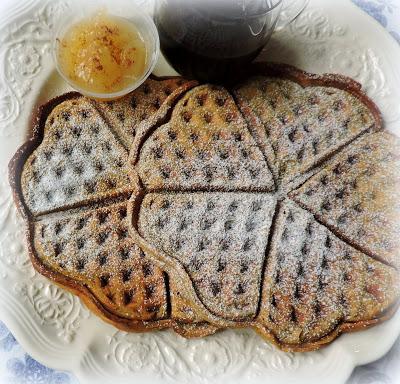 They are fabulous served for breakfast with some warmed Maple Syrup and homemade
applesauce
.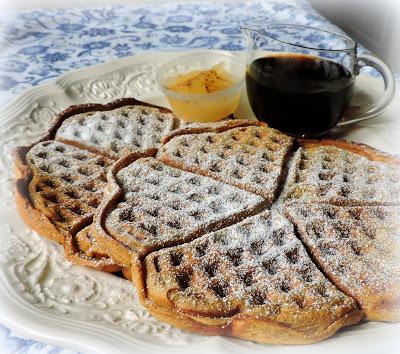 I will sometimes add a bit of spice to the apple sauce to give it a bit of flavour, and sometimes I even do a mix of pears and apples which is really tasty!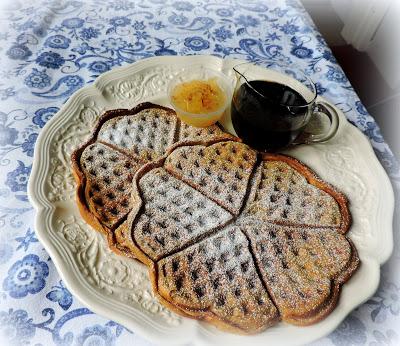 You can cook some sausages and bacon curls on the side to go with them as well, especially if you are serving them for a holiday brunch!  Yum!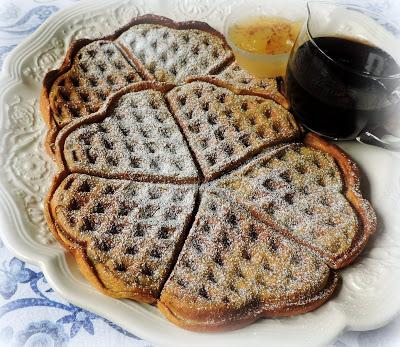 You could also serve tinned fruits, or a
fruit compote
on the side.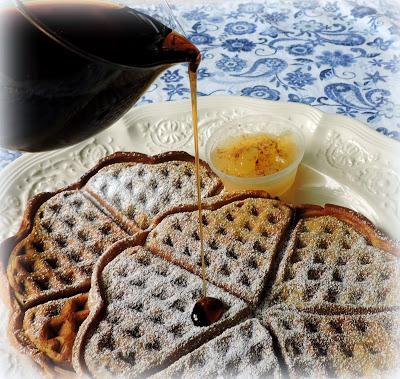 I like to warm the syrup   . . .  its really nice warmed, and I always buy amber grade.  It has more flavor.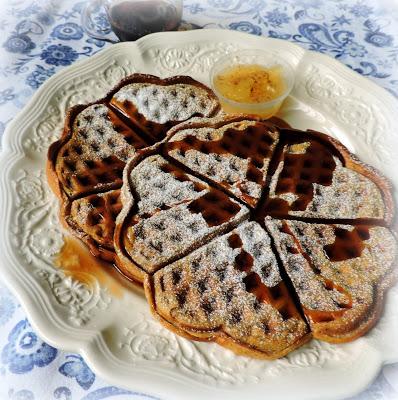 These are not only great for breakfast however, they also make a great holiday dessert!!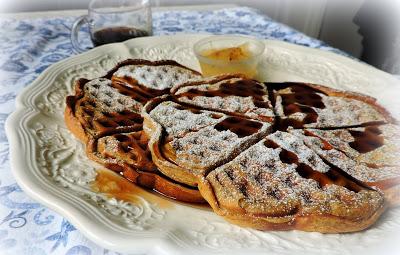 You can serve the warm waffles topped with a scoop of vanilla ice cream  (Or maple walnut!)  . . .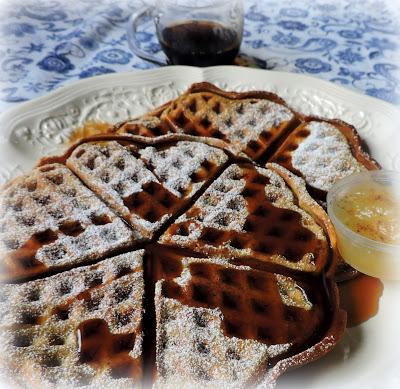 and a drizzle of warm caramel sauce  . . .  now doesn't that sound delicious!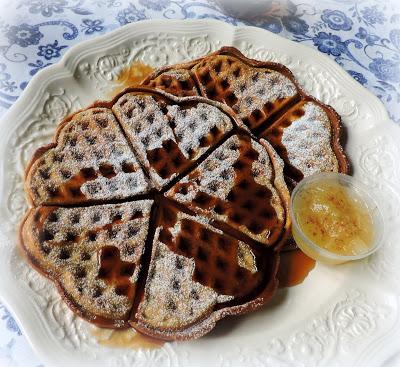 Another great thing about this recipe is you can make the batter up to one day ahead and store it covered in the refrigerator.  Just bring it to room temperature for half an hour prior to using.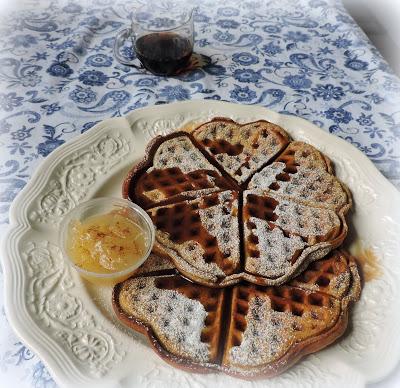 If its thickened up a bit upon standing overnight, you can whisk in a bit of milk to loosen it up a bit without any making any difference to the finished result.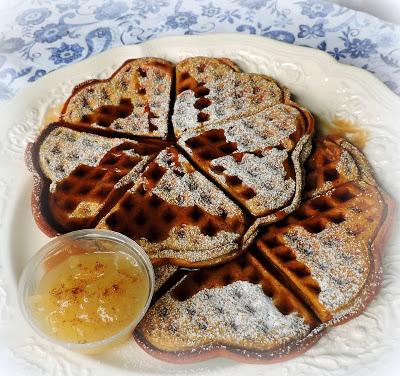 Another thing which makes these perfect for the holidays, or indeed any time is that you can bake and freeze them for up to a month, just taking them out when you want to serve them.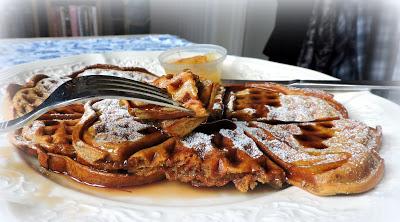 Smaller sized ones can be reheated briefly in the toaster, or you can warm larger ones in a moderate oven (180*C/350*F) for about 10 minutes to warm them through!  Easy peasy! 
Yield: 4 - 6
Author: Marie Rayner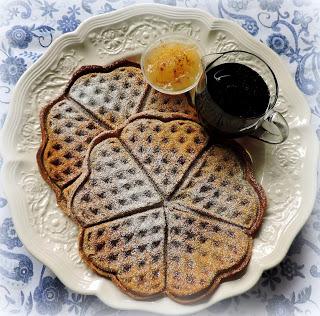 Spiced Pumpkin Waffles
These waffles are light and airy, crisp on the outsides with a lovely warm spicy flavor.  Serve with some warmed maple syrup and a pot of applesauce on the side for a fabulous holiday breakfast!
ingredients:
350g of plain flour (2 1/2 cups)1 TBS baking powder1/2 tsp baking soda1/2 tsp salt1 TBS pumpkin pie spice (see my sidebar for a recipeon how to make your own)pinch freshly grated nutmeg4 large free range eggs100g soft dark brown sugar (1 cup, packed)180g pumpkin puree, not pie filling (1 cup)60g butter, melted (1/4 cup)480ml buttermilk (2 cups)1 tsp vanillanon-stick low fat cooking spray
To serve:
(all optional)icing sugar to sprinkleapple saucewarmed maple syrupwhipped creamvanilla ice creamwarm caramel sauce
instructions:
Preheat your oven to 200*C/400*F/ gas
mark 6.  Have a baking tray ready. Heat waffle iron according to
manufacturer's directions.
Whisk together the
flour, baking powder, soda, salt, pumpkin pie spice and nutmeg in a
bowl.  Whisk the eggs, brown sugar, pumpkin puree, melted butter,
buttermilk and vanilla together in another bowl.  Add the flour mixture
to the wet mixture and stir to combine until smooth.
Spray
 you waffle iron with a bit of cooking spray.  Pour in enough batter to
just fill the waffle iron, spreading it out evenly.  Close the iron and
bake until the waffle iron opens easily, stops steaming and the waffles
are golden brown on the outside.  Remove to the baking tray and keep
warm in the oven while you cook the rest.
Serve warm, sprinkled with some icing sugar and your chosen accompaniments.  We like maple syrup and applesauce!
Note
 - You can make the batter up to 1 day ahead.  Cover and keep in the
refrigerator, removing from the refrigerator half an hour prior to
cooking them.  Whisk before using. If the batter has thickened up too
much, whisk in a couple TBS of milk.  You can freeze the cooked waffles
for up to a month, reheating in a moderate oven until warmed through to
serve.
Created using
The Recipes Generator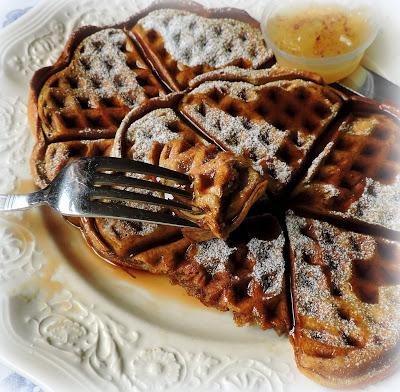 So that's my holiday breakfast sorted  . . . I love this time of year, don't you?  Bon Appetit!