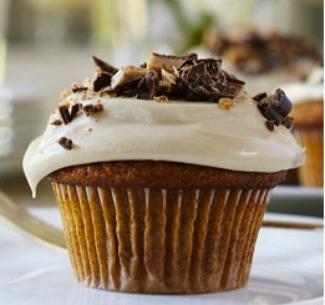 Source: Ina Garten
When October arrives I can hardly contain myself. Fall is officially here and that means pumpkin anything can be found! Pumpkin lattes from Starbucks (a personal pumpkin favorite of mine), pumpkin scones, pumpkin donuts…it's pumpkin mania throughout the holidays and I like to be front and center in the pumpkin frenzy! So, in honor of pumpkin, here's an amazing cupcake recipe. The brown sugar, spices, and maple frosting combination are out of this world (honestly, I could eat a vat of the frosting all by itself)! These scrumptious cupcakes will inspire you for the Fall holidays. Let the pumpkin carving begin!
Ingredients
1 cup all-purpose flour
1 teaspoon baking powder
1/2 teaspoon baking soda
1/2 teaspoon kosher salt
1 teaspoon ground cinnamon
1/2 teaspoon ground ginger
1/2 teaspoon ground nutmeg
2 extra-large eggs, at room temperature
1 cup canned pumpkin purée (8 ounces), not pie filling
1/2 cup granulated sugar
1/2 cup light brown sugar, lightly packed
1/2 cup vegetable oil
Maple Frosting (recipe follows)
1/2 cup coarsely chopped Heath bars, for serving (2 1.4-ounce bars) – optional*
*I tried a cupcake with and without the Heath topping and, hands down, I preferred the cupcakes without the chopped Heath. The spice of the cupcake and creamy frosting is so delicious it doesn't need anything else. Purely subjective. Try them both ways and you decide!
Directions
1. Preheat the oven to 350 degrees. Brush or spray the top of 10 muffin tins with vegetable oil and line them with 10 paper liners.
2. Into a medium bowl, sift together the flour, baking powder, baking soda, salt, cinnamon, ginger, and nutmeg. In a larger bowl, whisk together the eggs, pumpkin purée, granulated sugar, brown sugar, and vegetable oil. Add the flour mixture and stir until combined.
3. Divide the batter among the prepared tins (I use a level 2 1/4-inch ice cream scoop) and bake for 20 to 25 minutes, until a toothpick inserted in the center comes out clean. Set aside to cool completely.
4. Spread the cupcakes with the Maple Frosting and sprinkle with the chopped toffee bits.
Maple Frosting
6 ounces cream cheese, at room temperature
3 tablespoons unsalted butter, at room temperature
1/4 teaspoon Boyajian Natural Maple Flavor (or maple extract)
1/2 teaspoon pure vanilla extract
2 cups sifted confectioners' sugar
In the bowl of an electric mixer fitted with the paddle attachment, cream the cream cheese and butter on low speed until smooth. Stir in the maple flavoring and vanilla extract. With the mixer still on low, slowly add the confectioners' sugar and mix until smooth.
Makes 10 cupcakes