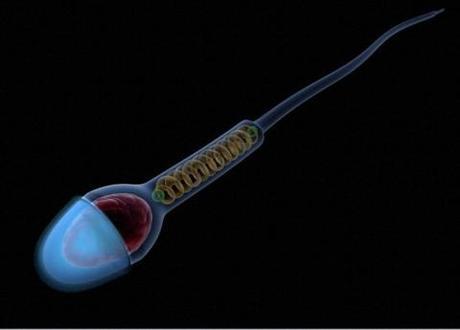 A sperm cell. Photo credit: Anna Tanczos. Wellcome Images
In a move that takes the phrase 'designer baby' to a whole new level, it has emerged that the London Sperm Bank is launching an online database which will allow women to pick their choice of sperm in relation to a man's dress sense and personality.
Men who donate will have their appearance assessed by the clinic's staff, reported Jessica Laurence at AOL Lifestyle, who described the move as "good news for the more discerning amongst us."
Sperm donors are not allowed to be identified by law, and, at present, sperm donor recipients are usually only given a basic description of the donors height, eye and hair colour.
Under the pioneering scheme, men who donate have their appearance assessed by the clinic's staff. One example on the work-in-progress database is described as: "Very individualistic, quirky and artistic in nature. He has a unique 'rock star image' in terms of appearance but not at all in lifestyle or confidence." Another donor is said to be "softly spoken, introspective, deep thinking," and dressed in a "neat, relaxed style."
Gucci-wearing dads. "The more descriptive database is sure to raise questions over whether we're getting closer to being able to choose designer babies – complete with Gucci-wearing dads of course – by sharing information about their dress sense," noted Laurence. "However, a donor-conceived child looking for more information about their donor parent might be delighted to find out that their father was deemed to have great style."
Shopping online for sperm. "The database is revolutionary in the sense that it does not require women to enter a clinic to choose their donor. Rather, they can do it from their own homes," reported Tabatha Leggett at MarieClaire.co.uk.
Click here to view the catalogue.
Sperm donation on the rise. The London Sperm Bank's move follows statistics that show the number of British sperm donors is on the rise. Latest figures reveal there were 396 in 2008 compared to just 251 in 2005, noted Luke Sakheld at The Daily Mail. Clinics had feared men would be put off by laws brought in six years ago that allowed children of donors to trace their biological fathers.
More on parenting

Should fat kids go into care?
Parents who hack their kids
Want to win a baby?
Mother-in-law from hell
Smoking mum starts debate