When London Walks guide Kim emailed us her thoughts on pedometers last week (catch up with that post HERE), she added the following P.S…

"[I] really want to put a  marker down for something much more basic [than pedometers]: LOOS.

Think I've mentioned this before but there are some great ones (some grotty also) in London and I was reminded again over Christmas when I visited The Prince Regent pub in Marylebone High Street."
Thanks, Kim.
So here we go. Our new series: London's Loveliest Loos…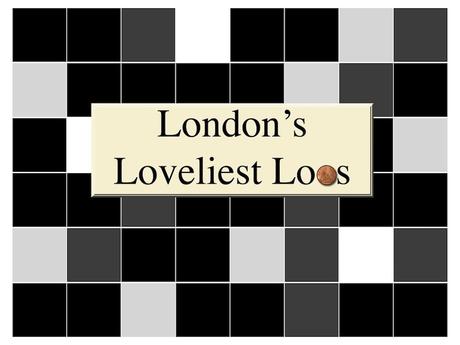 Kim writes…
At the Prince Regent pub in Marylebone, the sign for the ladies was accompanied by one for the Opium Lounge and I ventured upstairs with great interest.  
The Opium Lounge turned out to be a very ordinary private hire room with a private family party taking place but the loos were something else – see photo below.  
Fabulous paintings on the outside of the cubicles only (inside turned out to be standard and boring), a luxurious pink recliner and pink basins with a urn? (birdbath?) full of pink pot pourri. Very unexpected and others in the party were urged to make a visit.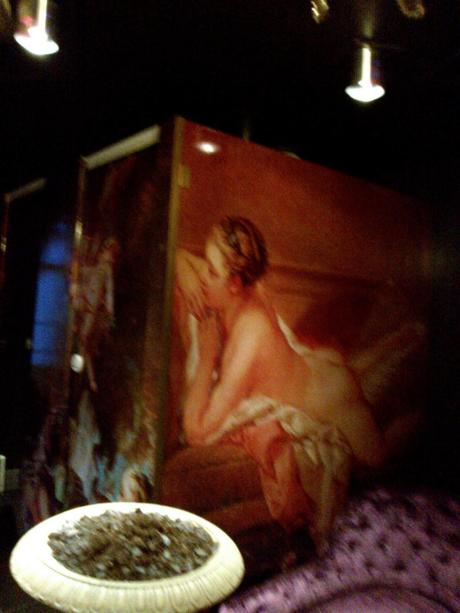 I will continue to photograph other loos that are worth it over the year and let you have the details.  I know there are others out there and  it should be our mission to give our walkers a good place for relief.  Unfortunately, this will only tell half the story as I am not going to get myself thrown out of any establishment because I've been loitering around and photographing the mens' loos so if you want to include these you'll have to find another willing participant in the hunt.

In terms of walks for The Prince Regent I'm now very sorry that I don't have the opportunity to point my walkers in its direction but I'm sure that anyone walking Old Marylebone on Saturdays at 2pm  will not be too far away to pay a visit.
As usual, we want to hear from you – drop us a line at the usual address, Tweet us @londonwalks or leave a comment below. Kim Kim, who has worked in the House of Commons and the European Parliament, is another 24-carat Blue Badge Guide: she won the London Tourist Board's Guide of the Year award in 2001.
A London Walk costs £9 – £7 concession. To join a London Walk, simply meet your guide at the designated tube station at the appointed time. Details of all London Walks can be found at www.walks.com.