It would pain one to see the way our currency notes are handled by people, the multiple folds, keeping it in awkward places .. .. and scribbling on it~ currency notes of some other Nation do look smart – Australian currency is of polymer .. .. .. but would our plastic ban and global outcry against polymers apply to this ?? – AUD is in news !!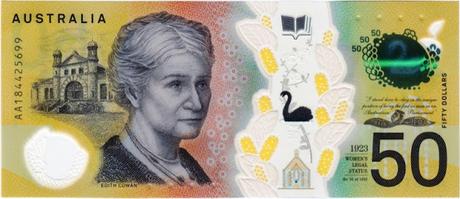 Australia's national currency is the Australian dollar (AUD) which comes in polymer (plastic) notes of $5, $10, $20, $50 and $100. The discovery of gold in the country in 1851 led to the coinage of gold coins, stimulating the development of the banking system. Commercial banks issued their own banknotes, backed by gold, although people did not completely trust them, especially after several banks filing for bankruptcy in 1893. The Australian Notes Act, passed in 1910, assigned the responsibility of issuing banknotes to the National Treasury and introduced the Australian pound as the official currency. During the first three years subsequent to its introduction, several private banknotes already existing were reprinted by the Treasury as a temporary measure until the designs were ready to use.
Slowly plastic notes replaced the paper currency.Polymer banknotes are banknotes made from a polymer such as biaxially oriented polypropylene (BOPP). Such notes incorporate many security features not available in paper banknotes, including the use of metameric inks. Polymer banknotes last significantly longer than paper notes, causing a decrease in environmental impact and a reduced cost of production and replacement.
Edith Dircksey Cowan OBE ( 1861 – 1932) was an Australian social reformer who worked for the rights and welfare of women and children. She is best known as the first Australian woman to serve as a member of parliament. Cowan has featured on the reverse of Australia's 50-dollar note since 1995
. She and the currency is in news !!
Cowan's mother died when she was seven, and she was subsequently sent to boarding school in Perth. At the age of 14, her father, Kenneth Brown, was executed for the murder of her stepmother, making her an orphan. In 1894, Cowan was one of the founders of the Karrakatta Club, the first women's social club in Australia. She became prominent in the women's suffrage movement, which saw women in Western Australia granted the right to vote in 1899. Cowan was a key figure in the creation of the King Edward Memorial Hospital for Women, and became a member of its advisory board when it opened in 1916. She was made a magistrate in 1915 and a justice of the peace in 1920. In 1921, Cowan was elected to the Legislative Assembly of Western Australia as a member of the Nationalist Party, becoming Australia's first female parliamentarian. She was defeated after just a single term, but maintained a high profile during her tenure and managed to secure the passage of several of her private member's bills.
Back home, as you would know, there are

  

22 official languages mentioned in the 8th schedule of the Indian Constitution are as follows1. Assamese;

  

2. Bengali; 3 Bodo; 4 Dogri; 5 Gujarati; 6 Hindi;7 Kannada; 8 Kashmiri; 9 Konkani; 10 Maithili; 11 Malayalam; 12 Manipuri; 13 Marathi; 14 Nepali; 15 Odisha; 16 Punjabi; 17 Sanskrit; 18 Santhali; 19 Sindhi; 20 Tamil; 21 Telugu and 22 Urdu.The Indian bank note (Rupee currency) bears 17 of them – on theobverse or front, the denomination is written in English and Hindi.On the reverse is a language panel which displays the denomination of the note in 15 of the 22 official languages of India
. The missing six languages are:Bodo; Dogri; Maithili; Manipuri (Meitei); Santhali & Sindhi.
On Nov 8, 2016, PM Narendra Modiji announced demonetisation and immediately thereafter the highly "secure" new currency notes came into use. It is another matter that some fools in their zest to cricitise the Govt in every measure started circulating fake news that the new notes hastily printed has spelling mistakes and repeat of the same language (everyone becomes a language expert !) .. .. sad !.. .. now read this -
Australia's central bank is taking
"responsibilty"
– or rather,
responsibility
– for a microscopic typo on 46 million bank notes.
An Australian radio station posted a photo on social media Thursday showing the 50 Australian dollar bill ($35 USD) with the word

"responsibility" missing its last "i"

in the three times it appears on the note. The Reserve Bank of Australia confirmed the error on the notes printed in October and said it will be corrected in the next print run.Australia's $50 bill shows Edith Cowan, the first Australian woman elected to parliament. The misspelling occurs in a printed excerpt of her first speech to the Western Australia state Parliament in 1921.
"Responsibility" is misspelled three times on the note. "It is a great responsibility to be the only woman here, and I want to emphasize the necessity which exists for other women being here," the correct quote reads.
"The process of designing and printing a banknote is complex and iterative," a bank spokesperson said, according to Australian broadcaster ABC. "We have strict quality assurance processes, but like any manufacturing process, errors can occur. We have reviewed our processes to remove the likelihood of such an error occurring in the future."
Interesting !
With regards – S. Sampathkumar
10th May 2019.