Or just say "Amazing!" Because Kurt Wenner's art is exactly that. Though it's no longer plain trompe l'oeil ("a style of painting in which objects are depicted with photographically realistic detail," according to Merriam-Webster) but Wenner's signature anamorphic sidewalk art--because he paints on street pavements, in a style that's incredibly lifelike, but whose effect is apparent only when viewed from a certain angle. The optical illusion is, to say the least, astonishing. I'll let Grand Illusions do the rest of the explaining: [Click on images to enlarge]
Kurt Wenner is an artist who originally worked for NASA as an advanced scientific space illustrator. He became very taken by the abilities of artists from the Renaissance, and he left NASA and moved to Rome to explore the works of the great masters.
He now works in a variety of forms, and even designs houses, but one art form he has become famous for is street painting. This tradition is supposed to have started in Italy in the 16th century, where artists would use chalk and pastel to create images on the ground. They were originally known as Madonnari, since many of their images were of the Madonna. Passers by would throw coins, which is how the artists would make their living.
Kurt Wenner has combined traditional street painting techniques together with his interest in classical art, to create an art form all his own. Many of the images use anamorphic techniques as well as trompe l'oeil, in order to create a world where fantasy and reality combine.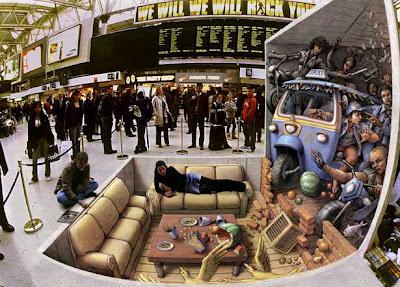 This image was created at Waterloo train station in London. The woman, although she appears to be lying on a very convincing sofa, is in reality just lying on the ground.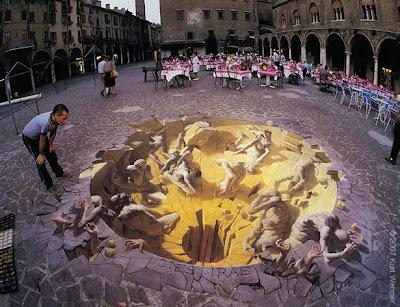 This amazing street painting, called "Dies Irae", was created by Kurt Wenner in a medieval town square in Italy. Again, note that it is an anamorphic image - it only works from this viewpoint. If you walked around to the other side of the painting, it just would not work at all. Here, the human figure gives a sense of scale, as he peers into the abyss.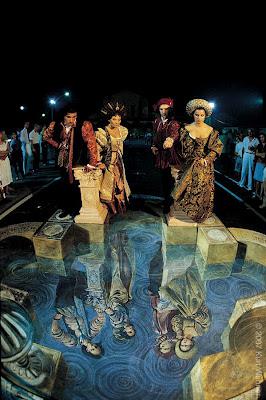 In another street painting, called "Reflections", the four human figures are an essential part of the image, as they look into their painted reflection...
More Kurt Wenner: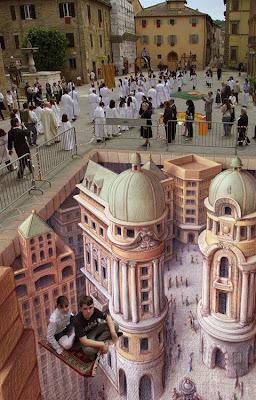 The Flying Carpet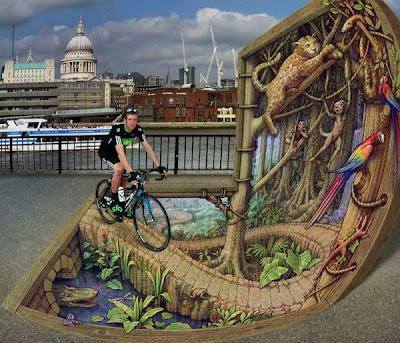 Rain Forest on the Thames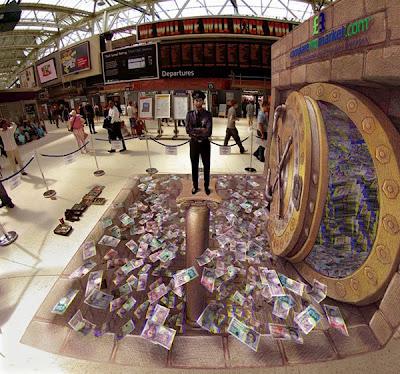 The Moneypit
Kurt Wenner's website here.