I remembered a veteran blogger, Angie's Recipe has lots of spelt flour recipes and when I googled, the first photo that captivated me with her Spelt Flower Bread.
As I still have balance of spelt flour left and I was game to try because I knew I can pull this one off as I have done a similar design before using prata.
Next time, I will use chocolate but since I found a bottle of Speculoos Cookie Butter in the fridge that my friend gave me, I guess it is time to clear off the last bits.
So let's hope this Speculoos Spelt Bread will captivate my kid.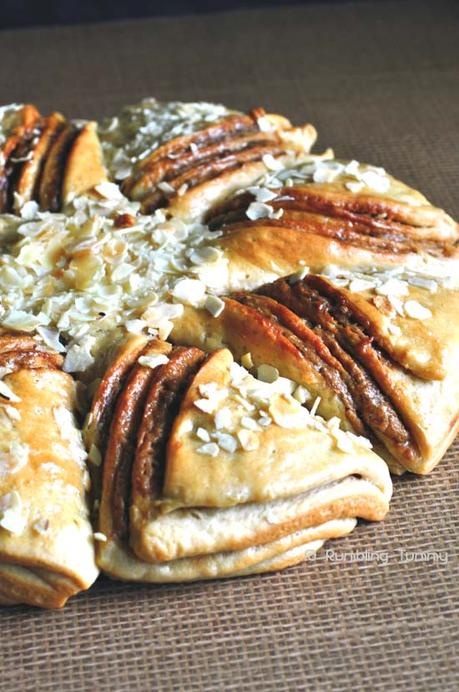 Findings: As my family loves nuts, I added lots of it into this recipe.


Source


What you need:
6g instant yeast175ml fresh milk, lukewarm10g sugar
365g spelt flour
20g sugarPinch of salt30g butter, soften2 egg yolks
150g Speculoos spread1 tbsp almond, toasted and chopped
Egg white for glaze
Method:
Mix instant yeast, fresh milk and sugar together.  Set aside for it to turn frothy.
Combine spelt flour and salt in a mixing bowl.  Make a well in the center.
Add the yeast mixture and egg yolks.  Mix to form a soft dough.
Turn onto a lightly floured surface and knead until smooth (approx 5 min).
Knead in butter pieces until dough is elastic.
Transfer to an oiled bowl, clingwrap and set aside to proof for 1 hour or double in size.
Punch down the dough and knead shortly on a lightly floured surface.
Divide the dough into 4 even portions. Roll out each portion of dough into a 10" disc.
Place the chocolate spread into a small bowl and warm it in the microwave for about 30 sec for easy spreading.
Place a disc of dough on a piece of baking paper and spread 1/3 of chocolate spread over.  Layer with the next disc of dough and repeat the process until the last disc of dough is on top.
Transfer it to a baking sheet or a springform pan.
Take a small drinking glass and place that in the center of the dough as a guide.
Use a sharp knife and cut the dough into 12 or 16 wedges. Take each section of dough and twist. You can leave them as they are or pinch two sections of twisted dough together.
Now cover the dough with a piece of parchment or kitchen towel and leave to proof for 30-40 min.
Preheat oven to 180°C.
Once the bread had risen, brush the surface with egg white and sprinkle the center of the dough with the chopped almonds.
Bake the bread for 20-25 minutes until nicely golden brown.
Enjoy!


If you have enjoyed this post by Rumbling Tummy, be sure to follow her on Facebook, Instagram, Pinterest, Twitter and Google+ .