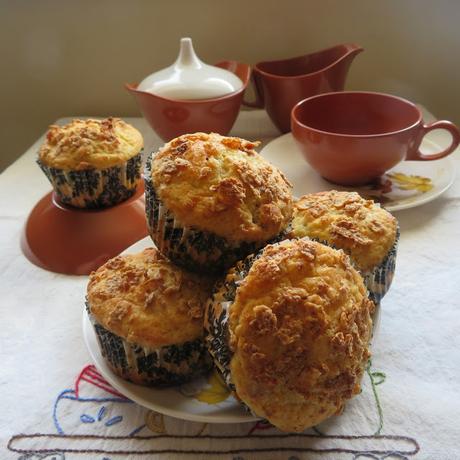 Special K Breakfast Muffins.  I love baking muffins that can be made with breakfast cereal.  Bran Muffins, Oatmeal Muffins, etc.  I love them all.  
I had bought myself a box of Special K cereal with the red berries a month or so ago, and then I went and fell on it. (Don't ask!)  Okay, I was tidying my room up  and I tripped over something.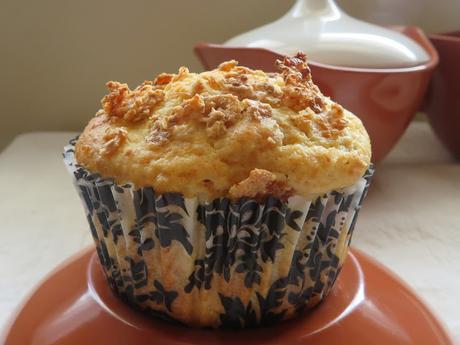 Anyways, I am no light weight, as you can clearly see, and I crushed the cereal somewhat.  I decided to look for a recipe that I could use some of it in today and I found
this one
.    
I actually found quite a few, but this was the one that I thought looked the soundest.  It rang true with me and I think I can tell if a recipe is going to be any good or not after all the experience I have had through the years. 
I also loved that it only made six muffins.  She shows 5 on her page, but mine made 6 medium sized muffins.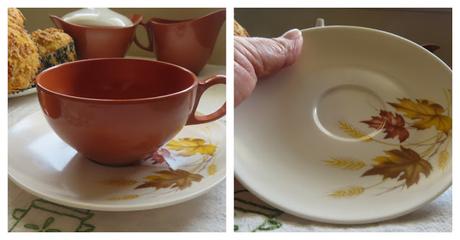 I also wanted to showcase this dinner set that was my mothers. Not this set IS mine.  And I just love it. No, its not worth a fortune.  It is an old melamine set that my mother received back in the 1960's.
It consists of 6 dinner plates, cups, saucers, fruit nappies, roll bowl, and a cream and sugar set.  I do not know the pattern. The plain pieces are brown and the plates are printed with autumn leaves and wheat sheaves.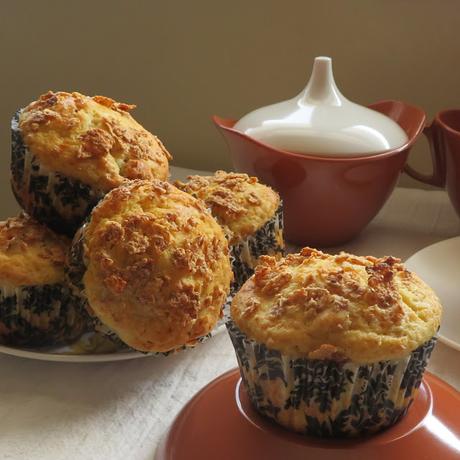 Used only for special occasions I can remember exactly when my mother got this set. We had gone with my father to Winnipeg for one of his business meetings.  He had a TV Arial and Television Repair business that he did on the weekends for extra money.
He had a meeting with a supplier in Winnipeg and we went into the city with him as my mother wanted to do some shopping.  We had to wait in the car while he was in his meeting and it went on overly long. It seemed we were in the car for hours.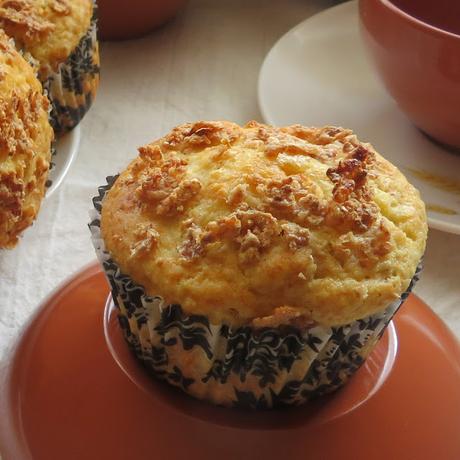 Finally my father must have said something to the client about us waiting in the car because the man was very apologetic.  He came out to the car to apologize and gave my mother this dinnerware set to sweeten up the apology.
I can remember mom using it on special occasions like Christmas and Easter. For some reason she was really proud of it, even though it was plastic.  None of it ever broke. The set is entirely intact and I love it.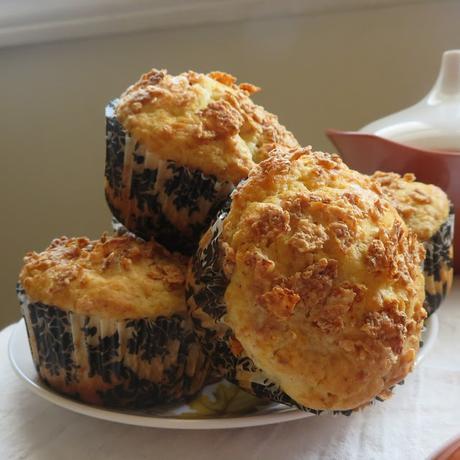 The set is mine along with my mother's teacups.  My mother promised me her tea cup collection many, many years ago, and in fact, had already given them to me when my second marriage broke up.  She got them back from my ex's house one day for safe-keeping (he wouldn't let me take anything.)
And she saved them for me.  There are quite a few and I love each of them. There are even several clear bubble glass ones. I know I don't drink regular teas, but I do love herbal teas and I do enjoy drinking my tea from a cup and saucer.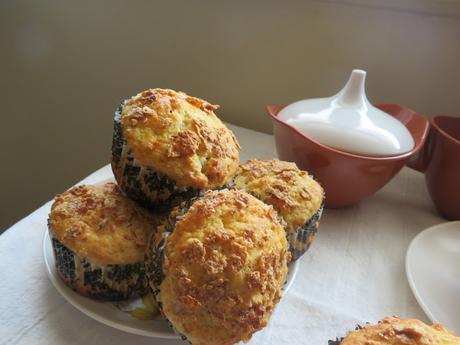 Anyways, this set is mine, along with the cups and saucers. And I am grateful to have them and for the memories they contain.
Now back to the muffins.  I do like to make us something special for the weekend.  I've always been like that Saturday has always been a bit of a treat day in my home.  I would either be making muffins or pancakes or some such for breakfast on Saturdays.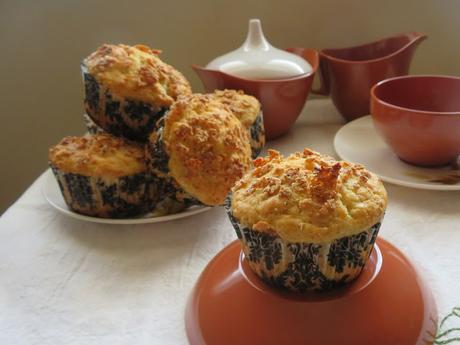 Oh, I baked during the week also, but usually just cookies and the odd cake now and then.  Weekends were reserved for muffins and pies . . .  pancakes.
On Sundays we would have bacon and eggs.  But Saturday breakfasts were a bit lighter.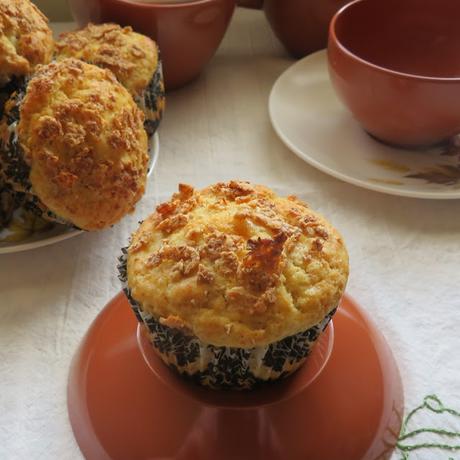 I adore muffins, especially muffins that are not like cake.  When I eat a muffin I don't want a piece of cake, or muffins that are like eating cake. Overly sweet . . . 
I want a muffin as it is supposed to be.  Slightly raised with rounded pebbly tops.  The insides filled with nice holes. Perfect for spreading with a tiny pat of butter.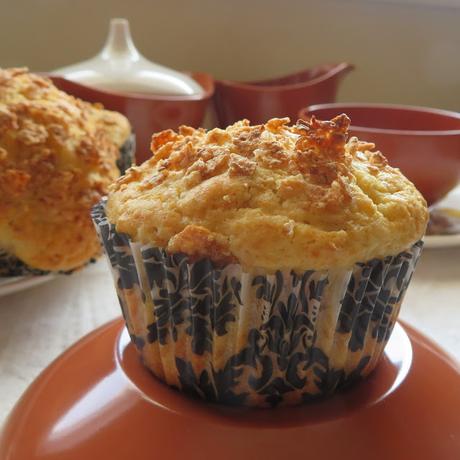 A muffin is a quick bread after all. Its not meant to be a mini cake. We have cupcakes for that. They are not meant to be cupcakes.
Muffins are as easy to make as stirring together wet and dry ingredients and spooning them into paper-lined muffin pans, or well buttered muffin pans.  Its not rocket science.  Anyone can make a good muffin.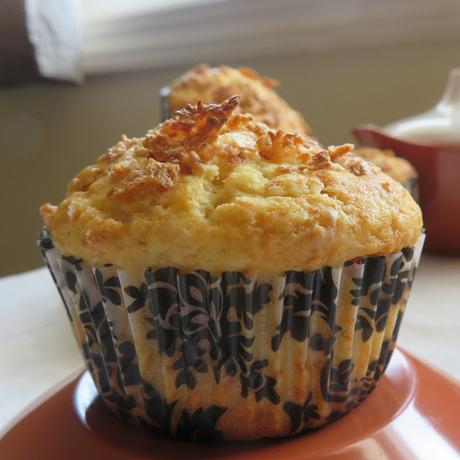 Having said that here are my hints and tips for making sure that your muffins turn out beautifully every time:
1. Mix wet and dry ingredients separately.
To prevent the mix from being overworked, first mix the wet ingredients together in one bowl and mix the dry ingredients in another. Make a well in the dry ingredients, carefully pour in the wet ingredients, then stir the mix a couple of times to roughly combine. 
 2. Don't over mix your muffins.
The most important rule of muffin making is to not over stir the mix. What you really want is to just moisten the ingredients. Do not stir or beat the batter until it is smooth and lump free. You want the final mix to be lumpy, and thick with a few floury streaks.
 3. Add your flavors last. 
While spices should be added with all the other dry ingredients, additions like fruit and nuts should be added last. Give the batter one more light-handed stir once you've added them in just to combine.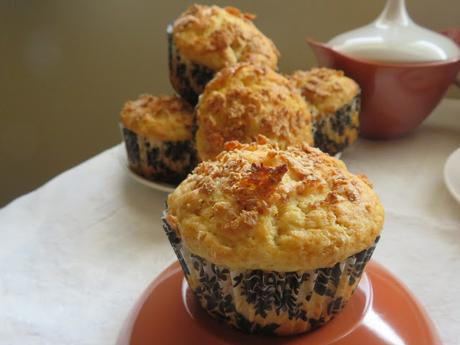 4. Line the pans.
You can choose to either grease the muffin tin or line it with paper liners. If you choose to forgo the liners, make sure you grease the base and sides of the cups with oil spray or a little melted butter. If you're not going to eat the muffins for a while, do use paper liners as these will keep the muffins fresher for longer. 
 5. Don't overfill your pans.
Aim to fill the cups ¾ full to get muffins with nice round tops and to prevent them from spilling out over the top of the cups.  Often if your tins are over filled the muffins will rise to the top and then collapse on themselves. 
6. For extra interest, add a flavorful sprinkle on top.
  Once the muffin cups are all filled, you can choose to sprinkle the tops with more fruit, nuts or a crumble topping, even sanding sugar or cinnamon sugar, for even more taste and or crunch. As the muffins rise these toppings will cook into the tops of the muffin.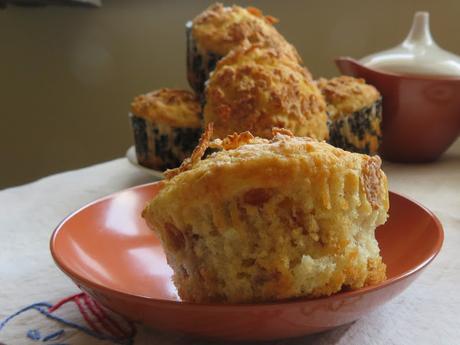 7. Protect your baking pan.
  If there isn't enough batter to fill all the cups, half fill the empty ones with water. This will help the muffins bake evenly and will help to protect your pan from buckling. 
8. Cooling them down.
Once you remove the muffins from the oven, let them sit in their pan for a few minutes before removing to a wire rack. This is especially important for muffins that aren't in a paper liner, as it will help them from falling apart. However, remove them after five minutes otherwise you risk them going soggy as they cool in the pan. 
9. Freeze extras for later.
Muffins freeze beautifully, so if you can't enjoy them all on the day they're baked, wrap them in plastic wrap  tightly,  and put them in the freezer for later. They will keep for about 3 months and reheat wonderfully in the microwave for about 30 seconds on high from frozen.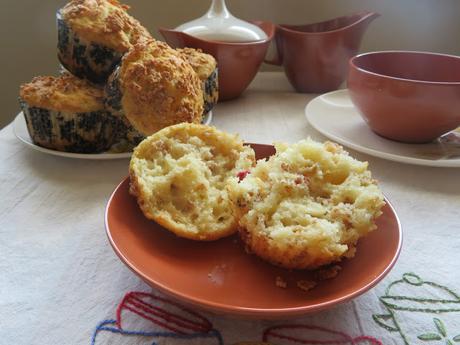 One of the main things is not to overmix them really.  They should be lumpy.  Over-mixed muffins often end up tough and heavy.  Or they won't rise as well as they should do.
Perfect muffins should have a crispy top, a moist interior and loads of little holes which invite butter.  I know second time I have talked about buttering muffins.  I can't help it. I love butter on warm muffins.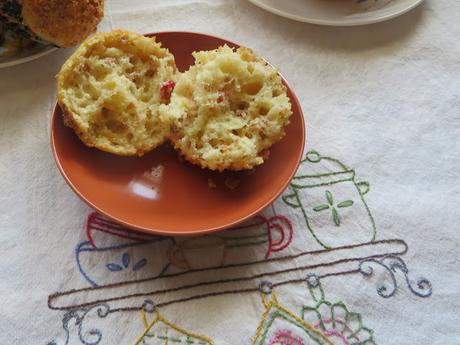 I also love muffins that are interesting, which is why I added more cereal to the tops of these.  I used the Special K with red berries, but I did not put any berries on top. Its been my experience that these will burn unappealingly.
You don't want that, but for a bit of crunch some of the cereal crushed and sprinkled on top is great!
These are the PERFECT breakfast muffins. Quick to make. Easy. Delicious. I highly recommend. That's one of my hand embroidered tea towels they are sitting on top of. A part of my preparations for my new home once I get it.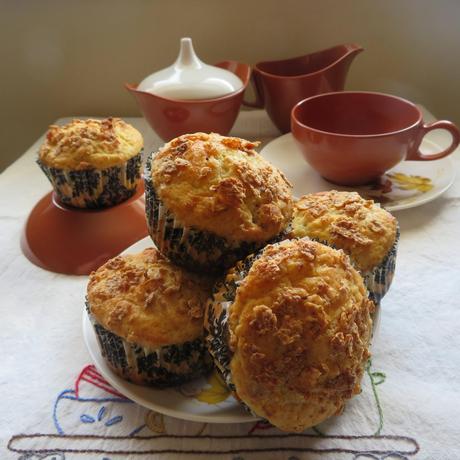 Special K Breakfast Muffins
Yield:
6 muffins
Author:
Marie Rayner
Prep time: 5 Min
Cook time: 25 Min
Total time: 30 Min
Simple and delicious and filled with fiber. You can use plain Special K or the one with berries, etc.
Ingredients
1/4 cup (20g) crushed special k cereal
3/4 cup (105g) all purpose plain flour
2 tsp baking powder
1/4 cup (50g) sugar
1/4 cup (60g) melted butter
1 large free range egg, lightly beaten
1tsp vanilla extract
1/2 cup (120ml) milk
additional crushed cereal to sprinkle on top (optional)
Instructions
Preheat the oven to 180*C/350*F/ gas mark 4. 6 muffin cups lined with paper cases.
Measure the cereal, flour and sugar into a bowl along with the baking powder. Whisk together the milk, egg, melted butter and vanilla. Add all at once to the dry ingredients and stir together just to combine.
Spoon into prepared muffin cups. Sprinkle some additional crushed cereal on top to decorate if desired.
Bake for about 25 minutes until well risen and a toothpick inserted in the center comes out clean.
Serve warm.
Did you make this recipe?
Tag @marierayner5530 on instagram and hashtag it #marierayner5530Created using
The Recipes Generator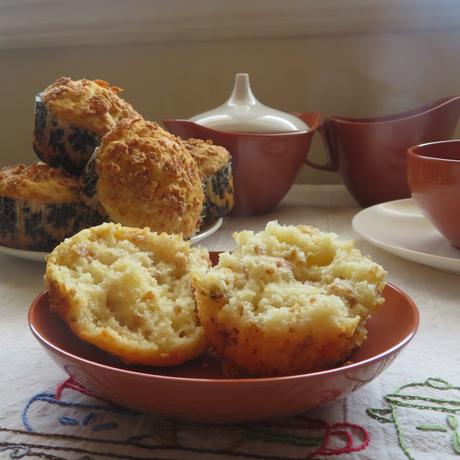 This content (written and photography) is the sole property of The English Kitchen. Any reposting or misuse is not permitted. If you are reading this elsewhere, please know that it is stolen content and you may report it to me at mariealicejoan at aol dot com. 
Follow my blog with Bloglovin