Special Delivery – Movie Review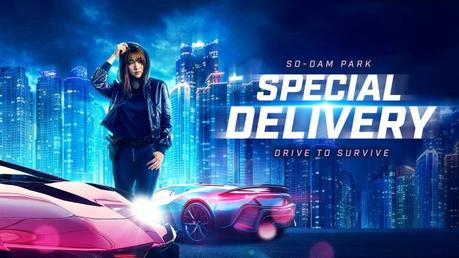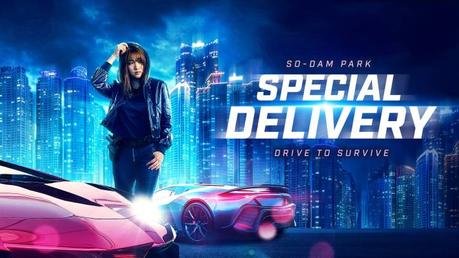 Director: Dae-min Park (Seondal: The Man Who Sells the River)
Writer: Dae-min Park (Screenplay)
Cast
So-dam Park (Parasite)
Heo Dong-won (Squid Game)
Kim Eui-sung (Train to Busan)
Sae-byeok Song
Yeom Hye-ran (Memories of Murder)
Plot: "I deliver everything that the post office service does not handle." Eun-ha, who is a normal junkyard employee, secretly works as a delivery clerk who deals with unusual delivery requests.
Runtime: 1 Hour 49 Minutes
There may be spoilers in the rest of the review
Story: Special Delivery starts as daredevil driver Eun-ha (Park) highlights her special skill set. She will take passengers anywhere for a price, she can escape any situation she faces. Meanwhile, Du-sik has stolen something from a ruthless mob boss Kyeong-pil (Song) and is looking to run with his son Seo-won (Jung).
The escape is with Eun-ha and after Du-sik is cornered, he sends his son to the car, forcing Eun-ha to do the right thing. Eun-ha now stuck with the Seo-won needs to find a solution, showing a different side to her character. This leads to her taking on the gangsters herself to save the boy.
Verdict on Special Delivery
Characters
Eun-ha is a specialist driver that completes any driving job, used as a getaway driver often. She is one of the best in Seoul, if not the best, remaining calm through any difficult situation. Her latest job takes an even more dangerous turn than normal, as she must protect a young boy from criminals who killed his father. She must take a break from her cold personality to save and connect with the young boy.
Kyeong-pil is the gangster and police captain that is searching for the boy. He killed his father and knows that this deal will make him millions. This will see him trying to remain in control of the investigation while using his connections to hunt down Eun-ha.
Seo-won is a young boy that is trying to escape with his father, only to be left alone and needs to trust Eun-ha. He has been through a lot and faces his biggest test in life yet.
Along the way, we get to meet the different gangsters who help in the hunt and the people that will support Eun-ha in doing the right thing.
Performances
So-dam Park is brilliant in the leading role, she is a mix of the tough and cool. We can see snippets of Baby Driver and Frank Martin (The Transporter) in her performance, while still bringing enough to be her own figure.
Sae-byeok Song as the ruthless detective turned gangster is great. He brings the ruthless side to his character, as well as showing an unstable side that you feel could cause more problems in life to anyone who crosses him.
The rest of the cast are strong, they each get to shine for a moment or two along the way. Making their scenes have importance to the bigger picture.
Story
The story follows a specialist driver that will deliver anything or anyone on time. She ends up needing to protect a child after his father is killed by ruthless gangsters and corrupt cops.
In what could easily be compared to 'The Transporter' we see the driver in a criminal world, looking to do the right thing. Despite facing a large number of enemies, she knows what is on the line. It is played out like a lot of crime movies, needing to stay ahead of the other. This brings ramped-up tension to the story and an interesting backstory to see unfold from Eun-ha.
Themes
Special Delivery is an action thriller that includes some of the best car chases you will see this year. Once we are on a chase, it is non-stop action that has a relentless feel to it. When it comes down to the more hand-to-hand combat, we don't see that much early on, saving this for a later bigger moment in the film. The locations involved help give the action scenes a different feel each time. This really is the South Korean Transporter.
Where to Watch: Signature Entertainment presents Special Delivery on Digital Platforms on 22nd August
Final Thoughts – Special Delivery is an excellent, high-speed action treat that could easily fight it out with The Transporter.