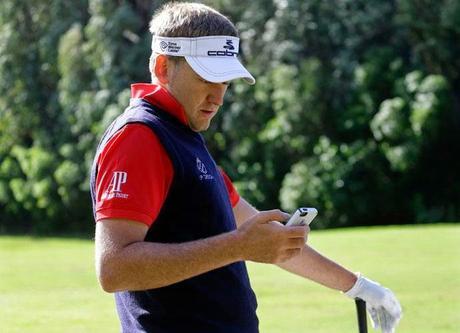 Probably the most notable of Twitter golfers to rhapsody on the social media channel,
Ian Poulter
, recently stung back about his decision to stay out of this year's BMW PGA Championship based on a less-than-stellar track record at the event.
Stewart Cink
, well-known for his use of Twitter, posts daily, most recently dishing about his bum rap at not playing in
The Masters
with a positive spin of vacationing in the Riviera Maya with his wife Lisa and returning home to watch the tournament on his brand, new 4K TV.
Do you think that player
social media
chat helps, or hurts golf? Do fans appreciate the openness and connectivity of their heroes, of reporters and golf's most outspoken characters or would they prefer a bit more ...
detachment.
Fans
must
love the connectivity because guys like Cink pull in huge audiences. Cink currently has 1.12 million followers while Poulter has a whopping 1.87 million devotees but, is the intimacy good for the sport or is it better to just see the facade put on for the viewing audience?
Yes, pro golfers
are
active on Twitter and reporters and large business concerns are also quick to criticize, and make public, the sports' highs...and low.
Golf Digest
recently pointed out that ESPN Sports Business reporter Darren Rovell's comments about the state of the game might not be a "complete picture", noting that "the true picture is larger than 140 characters."
Before the influx of social connectivity, there was an air of mystique about the game, players, their lives, their thoughts of tournaments and of other tour players (unless a writer was told some juicy off-the-cuff tidbits). Fast forward to our technological society complete with smartphones dangling from almost everyone's pocket and the sky's the limit for many of these players as well as for their fans to see and to comment upon.
In the case of fallen number-one world golfer Tiger Woods. fans got to see Woods' personal debacle unfold ...the clean crispy hero turned into failure before our eyes, thanks, in part, to media and social media.
If not for his public outing, Tiger might have broken all records by now.
The media helped take the untouchable Tiger out of his winning rhythm...but, never fear! The PGA Tour announced on their website that Woods told Nicklaus he would be playing in the Memorial...websites add even
more
social fodder to the social world.
Tiger to Nicklaus: "See you in May. I'll be at the Memorial." http://t.co/QJr5EqWdw4 pic.twitter.com/Fm6ByJk3Mx
— PGA TOUR (@PGATOUR) April 23, 2015
For Poulter, Dufner and others, the social connection gives them a chance to vent, helps their sponsors...and advertises to the public where to buy their books, clothing and more, further turning the machine.
Twitter seems to be the avenue of choice for celebrities, pro-sports stars
including golfers, PGA Tour and LPGA 
to connect with audiences because of its quick and easy platform,
which is why I have used this avenue in my examples
.
Where does it all go from here? We as a people are moving forward and it looks as if social connectivity is here to stay, at least until the next big thing comes along. What is your opinion? Do you follow and interact with your favorite golfers on social media? Do you think we are living in an age of too much information?
Comment on Twitter @
Golf4Beginners
 and at the bottom of this golf blog!
photo: golf.com