While I'm still pouring through all of your fan mail and emails about your favise stripper jams (kidding), I have decided now is that time to conclude my Speaking of Strippers series.
The musical genre for this post is pop music…my specialty!
'Can't Be Tamed' – Miley Cyrus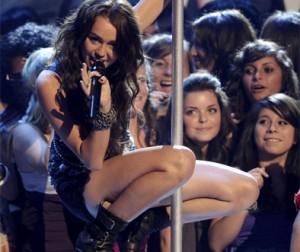 Photo Courtesy: starpulse.com
As we all know…Miss Cyrus is no stranger to pole dancing…so choosing a jam by this pop singer is a wise choice. The classy lady who chose Miley shall be called…Queen Bee and for those who don't know, she can get a bit crazy…just like Miley!
In another life, I could see Miley being a very popular/entertaining exotic dancer. Her real name is Destiny Hope for goodness sakes!
Side note: I would take it as a compliment if someone said I would be a very popular/entertaining exotic dancer. I think it's a skill you are born with.
As for Queen Bee's performance…I see the dance starting out in a birdcage…just like the music video. When the chorus hits…the money will be flying out of the customer's hands! Work it…like a glass of water.
Lyrics that exotic dancers would probably be proud of: "I go through guys like money flyin' out the hands/They try to change me but they realize they can't/And every tomorrow is a day I never plan/If you're gonna be my man understand/I can't be tamed"
Take a listen and remember…she's just being Miley.
'Umbrella' – Rihanna
Photo Courtesy: naijapidginenglish.com
The final song one of my friends chose incase she decides to change to a more exotic career is "Umbrella." This young lady picked the exotic dancer name…The Professor. Now that's legit.
"Umbrella" is a very upbeat song that allows for one very special prop onstage…an umbrella…duh. I imagine The Professor's routine including many umbrellas' and handing them out…a nice parting gift for the customers.
I picture the "Umbrella" routine not only encompassing umbrellas, but also a shit ton of glitter. I have a feeling that if you add real water to the routine…the results might be less than favorable. I'm just trying to protect The Professor since I'm unsure if this career offers benefits.
Lyrics that exotic dancers would probably be proud of: Now that it's raining more than ever/Know that we'll still have each other/You can stand under my umbrella/You can stand under my umbrella
Watch and learn from Rihanna.
Well, that concludes my Speaking of Strippers series. If you are looking for additional information on this career path, I highly recommend "How to Make Love Like a Porn Star" by Jenna Jameson. It will change your life.