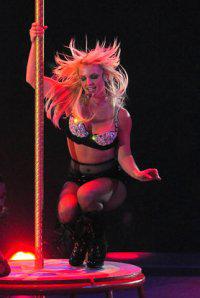 Photo Courtesy: movies-music-games.com
It seems that I have been leaning towards the scandalous with my posts this week. So why stop now, right?
It has always been a lingering thought in my mind (and a few of my friends) what jam I/we would choose to be our exotic dance theme song.
I have decided that this is the time in our relationship to share my chosen song as well as the songs a few friends of mine (note: names have been changed to protect the innocent). Please don't hesitate to share your jam…that includes the male exotic dancers too!
Beware: The following songs may inspire you to pole dance.
Ooh Ooh Baby – Britney Spears
Yup. You guessed it. It is I that has chosen a B. Spears jam to exotically dance to. Big surprise? I think not.
When this song comes on, I feel like it has the perfect rhythm for me to bop around on stage and collect some cash money. If you have seen my spiritual goddess on the "Femme Fatale" tour, you know Britney loves giving lap dances.
Remember when she gave DJ Pauly D a lap dance? I don't know who I would rather be in that scenario. On one hand, I would love to be in Brit's shoes because I would be all up in Pauly D's business. But on the other hand, I would love to be Pauly D because how many people in this world can say "Hey, Britney Spears gave me a lap dance!" Decisions, decision.
I'm seriously considering installing a pole in my living room in order to learn how to swing properly. Any tips or tricks are welcome.
The lyrics to "Ooh Ooh Baby"  also provide a scandalous exotic dancer-like undertone:
"Ooh, ooh baby/Touch me and i come alive/I can feel you on my lips/I can feel you deep inside"
Britney – I hear you girl.
Stay tuned for some more jams in my Speaking of Strippers saga!