Rebellion or Insurrection
  - 18 U.S.C. § 2383
"Whoever incites, sets on foot, assists, or engages in any rebellion or insurrection against the authority of the United States or the laws thereof, or gives aid or comfort thereto, shall be fined under this title or imprisoned not more than ten years, or both; and shall be incapable of holding any office under the United States."
Seditious conspiracy
  - 18 U.S.C. § 2384
"If two or more persons in any State or Territory, or in any place subject to the jurisdiction of the United States, conspire to overthrow, put down, or to destroy by force the Government of the United States, or to levy war against them, or to oppose by force the authority thereof, or by force to prevent, hinder, or delay the execution of any law of the United States, or by force to seize, take, or possess any property of the United States contrary to the authority thereof, they shall each be fined under this title or imprisoned not more than twenty years, or both."
That sums it up.
Claiming you're a social club, while engaging in paramilitary training, and accumulating firearms and explosives, including illegal materials and weapons for the purpose of insurrection is not credible. It's stupid, and it shows how easily this lot of warrior wannabes cave in on their big talk when they're held accountable for it.
I have no great faith in their courage in combat if they are such lying chicken-livered woosies in a court room.
But it goes to the heart of the idiots who are so ill-educated and ill-informed as to fail to understand what a militia - a REAL militia is and is not.  It's been defined, in the constitution, in court decisions and in law, most notably the Militia Act of 1903.
It is badly misunderstood, including by delusional people who actually find it plausible that invading forces have turned tail in the face of the firearms held by Billy-Bob Tractor Cap and his idiot son John, to borrow a colorful phrase used by a friend of mine long ago in referring to the poorly founded assumptions of some of our less cerebral fellow-citizens.  From an earlier story in the NYTimes, linked in this story:
"The court filing said the group, which called itself the Hutaree, planned to kill an unidentified law enforcement officer and then bomb the funeral caravan using improvised explosive devices based on designs used against American troops by insurgents in Iraq.
"This is an example of radical and extremist fringe groups which can be found throughout our society," Andrew Arena, the F.B.I. special agent in charge in Detroit, said in a statement. "The F.B.I. takes such extremist groups seriously, especially those who would target innocent citizens and the law enforcement officers who protect the citizens of the United States."
The Hutaree — a word Mr. Stone apparently made up to mean Christian warriors — saw the local police as "foot soldiers" for the federal government, which the group viewed as its enemy, along with other participants in what the group's members deemed to be a "New World Order" working on behalf of the Antichrist, the indictment said. "
Here is the story, courtesy of the great 'Gray Lady', the
New York Times
:
Michigan Militia Defended as 'Social Club' at Trial of 7
Published: February 13, 2012
Monthly training sessions for the group, which called itself the
Hutaree
, were so casual that they were often called off for rain, snow or cold, the lawyers said in opening arguments. They said conversations involving the group's leader, David B. Stone Sr., and other defendants about the police and the government were nothing more than harmless "venting" protected by the First Amendment.
"David Stone was exercising his God-given right to blow off steam and open his mouth," his lawyer, William W. Swor, told jurors.
"These individuals, led by David Stone, wanted a war," said Christopher Graveline, an assistant United States attorney. "They wanted to start the war, and the war to them meant 'patriots' rising up against the government."
Nine members of the Hutaree were arrested in March 2010, days after Mr. Stone declared, "It's go hour," in a voice mail to an undercover federal agent who had been training with the group, Mr. Graveline said. The seven now on trial are charged with seditious conspiracy, attempting to use weapons of mass destruction and various firearm charges. If convicted, they could be sentenced to life in prison.
Mr. Stone, 47, his son Joshua, 24, and two other men, Thomas Piatek and Michael Meeks, have been in jail since their arrest. Mr. Stone's wife, Tina Stone, his son David Jr., 22, and a third man, Kristopher Sickles, have been free on bail with electronic monitoring devices since May 2010.
One of the nine arrested, Joshua Clough, pleaded guilty in December to a firearm charge that carries a minimum sentence of five years in prison. Another defendant, Jacob Ward, was ruled incompetent to stand trial and is undergoing treatment.
Mr. Graveline said the authorities have seized about 100 firearms, including some illegal short-barrel rifles and machine guns, and 148,000 rounds of ammunition from the defendants' homes. He showed jurors one table covered with guns and held up other examples of evidence collected, including flak jackets,
ghillie suits
used to camouflage snipers, Kevlar helmets, night-vision goggles and bomb-making instructions.
Much of the evidence was taken from Mr. Stone's home in rural Lenawee County, about 70 miles southwest of Detroit, where he lived in a conspicuous pair of run-down trailers with appliances and other debris in the front yard. The Hutaree members used the woods behind the trailers for training, sometimes conducting nighttime drills in which the goal was to get as close to neighboring homes as possible while avoiding detection, Mr. Graveline said.
Mr. Swor countered that the training exercises were part of the defendants' survivalist lifestyles and said the weaponry had accumulated over three decades, not suddenly as part of preparations for an impending attack.
Much of the information that led to the arrests was gathered over a 20-month period by the undercover agent and a paid confidential informer. Todd Shanker, a lawyer representing David Stone Jr., asserted that those two men tried to incite the defendants to act violently but that the Hutaree members did nothing illegal.
"It's not against the law to prepare to defend your family and to defend your communities," Mr. Shanker said. "These are not dark-hearted individuals."
Mr. Shanker said recordings secretly captured by the undercover agent only contain "hypothetical, almost fantasy statements when they're in the comfort of their friends and want to vent."
Mr. Swor described Mr. Stone as a preacher's son who was raised in an "apocalyptic tradition" and studied the Book of Revelation. Mr. Stone, who invented the name Hutaree because he thought it sounded like something from the "Star Wars" movies his sons liked, believed he needed to be able to defend his family from the Antichrist, Mr. Swor said.
Lawyers for three of the defendants plan to give opening arguments Tuesday. The trial is expected to last six to eight weeks.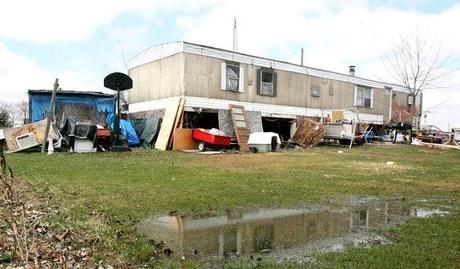 The Clayton, Mich., property of David B. Stone Sr., leader of the Hutaree, which officials say plotted to kill police officers.