BE PART OF THE LEGACY WITH THE SPAWN COLORING BOOK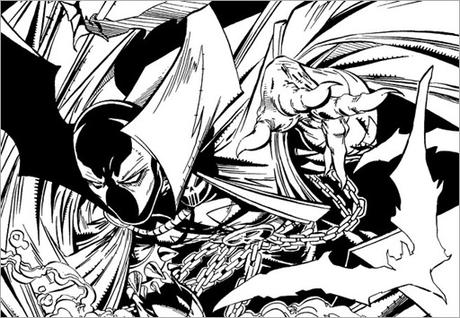 Image Comics is pleased to reveal sample coloring pages
Here is a sample of a few of the 47 total Todd McFarlane art pages from the Spawn Adult Coloring Book, on sale April 13th, 2016 from Image Comics.
Press Release
From Todd McFarlane—creator of comic book anti-hero SPAWN—comes the first ever SPAWN ADULT COLORING BOOK, available from Image Comics this May. Known for his hyper-detailed and complex art, this coloring book is a must-have for any SPAWN and comic book fan.
In 1992, the creation of SPAWN unleashed a brand new character to an unsuspecting public for the first time. With the release of its premiere issue, SPAWN broke the independent comic sales record, selling over one million issues, a record which still stands today. Decades later, with over 260 issues produced, SPAWN is one of the longest-running, independent comic books currently being published.
The SPAWN ADULT COLORING BOOK is a sampling of Todd McFarlane's kinetic artwork from the span of his lengthy, ongoing career. Featuring 47 unique and memorable covers and interior pages inked by the comic book legend himself, Todd wants YOU in the position of comic book colorist, designing a color scheme for some of Spawn's most memorable pages. Be part of the SPAWN legacy!
SPAWN COLORING BOOK (ISBN: 978-1-63215-785-0) hits comic book stores on Wednesday, April 13th and bookstores on Tuesday, April 19th, and will be available for $12.99. It can be ordered by retailers from Diamond Book Distributors with Diamond code FEB160614. It can be preordered now on Amazon, Barnes & Noble, Indiebound, and Indigo.