This Sparkling Blackberry Smash is dark and mysterious with Blavod black vodka, Crème de Mûre (blackberry liqueur), and Rosé Prosecco but it's the skull glass that really brings the Halloween spirit. This cocktail is also delicious and would be great all year round!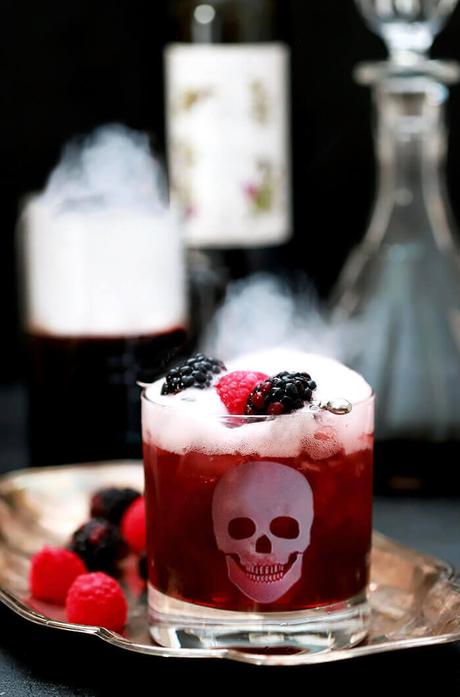 I won't mention this year that I'm not a huge fan of Halloween...ooops, nevermind. No big reason, just not my thing. I cannot stand scary movies and maybe the worst part of it is that I find orange offensive and especially hate it with black...what is wrong with me? That's why for this year I decided to make this Sparkling Blackberry Smash Cocktail for Halloween.
I've made some cupcakes and cookies that work but you will NEVER find me eating foods that look like fingers or worms or bugs...I grimace just writing that! And yes, I'll probably say the same thing next year, I'm redundant that way. So of course without the requisite orange business I have to go the path of red and that's easier with a cocktail. And the best thing about a cocktail is that even though I've found this fabulous glass with a skull, the drink actually works all year round.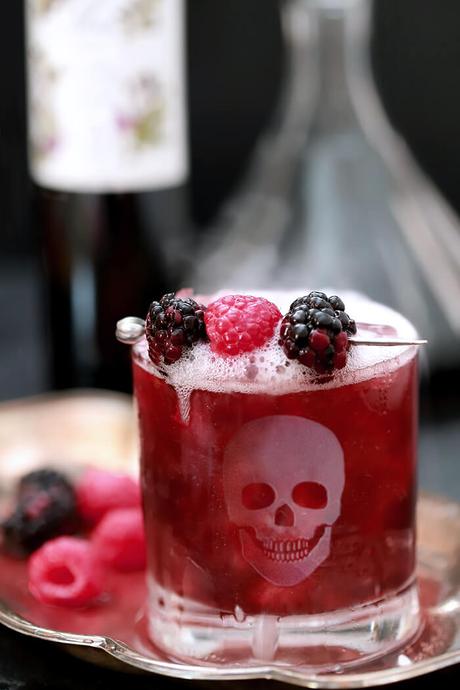 It's vodka and Crème de Mûre (blackberry liqueur) with some sparkling wine...a lovely drink really, with or without a skull! If you want to give it a try and find the Crème de Mûre difficult to source, substitute with Crème de Cassis made from blackcurrants which is close and a standard substitution for blackberry liqueur. I wish I had completed it before I posted this but I'm also making my own Blackberry Liqueur that I'll share soon. It is SO good and worthy of gifts for the holiday season. Soon...very soon.
I've made other cocktails using dry ice including the Ghost in the Graveyard from last year and the effect is fun; as a matter fact I'm working on another one that is a Halloween margarita that I'll publish next week. Like I said, not big on Halloween food but love fiddling with spooky cloud enveloped cocktails!
I could have included the instructions for dry ice in the recipe but I did not. Here's the deal. Dry ice can create a fun look for photos but it's also impractical for cocktails like this. Smashing the ice into particles that are small enough to work in a cocktail means it melts more quickly too so trying to make several cocktails and serve them with the smoky effect is next to impossible. Heck keeping enough of the look for a good photo was hard!
Notes on Dry Ice
Dry ice is solid CO2 gas and it goes straight from solid to gas without a liquid phase in the middle (this is called sublimation).
The smoke effect you see here is the solid dry ice evaporating.
If you do choose to use it for individual servings, you have to wait until the smoke effect stops, because then you know the dry ice has completely evaporated, and the drink is now completely safe to imbibe; even then it may be TOO cold so test carefully.
Try to buy the smallest pieces available and then cover the bag with a dish towel and crush it with the flat side of a meat mallet. ALWAYS wear gloves when handling dry ice.
ALWAYS use gloves when handling dry ice. Never touch it with bare hands. Make sure dry ice is used in a ventilated space. In a party setting, make sure the cocktails are used in an open setting to avoid CO2 build up.
If I were doing this for a party? I would combine the ingredients into a punch bowl with a large piece of the dry ice and have the same effect, but not for individual portions. Win-win.