Perfect for a party, these Spanish Tapas Chicken Thighs are delicious finger food that go well with a variety of small bites.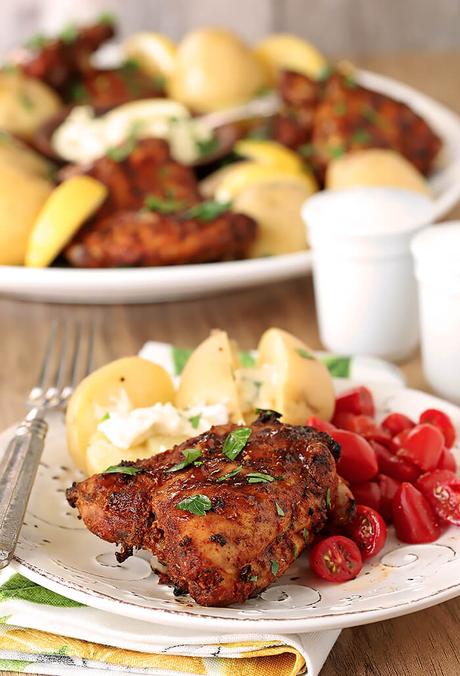 Today is World Tapas Day and my Progressive Eats group is joining in with a theme showcasing delicious tapas recipes. I'll be honest, I'm not a tapas expert, Spanish food is pretty foreign to me; I live in the world of American and Mexican food in Denver.
So I had to do some research on tapas and found myself drawn to these simple Spanish Tapas Chicken Thighs.
While I thought that Tapas somehow translated to finger foods, I found that it's more related to small plates of food that you might eat before a meal, not necessarily only those skewered dishes I saw in my head called Pintxo. Beyond the chicken, who would have ever guessed that boiled potatoes with garlic aioli would pass muster? Not me!
Traditionally eaten as bar food, I found this combination easy to plate up and everyone could serve themselves the Spanish Tapas Chicken Thighs and Boiled Potatoes with Garlic Aioli.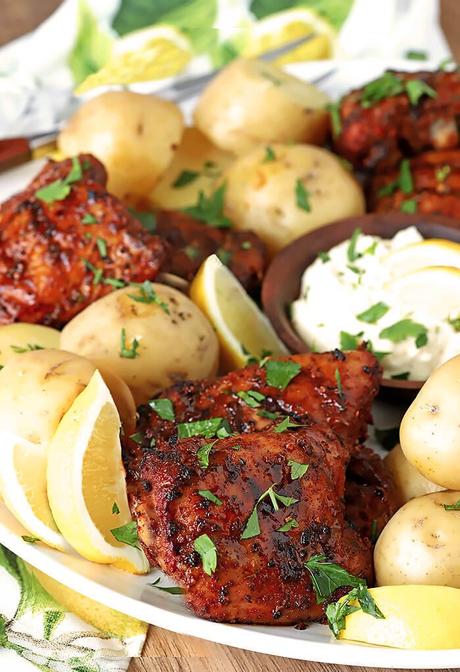 Even more than simply being associated with skewered foods, I found that in general tapas are considered foods that are simple and made with minimal ingredients but still tasty and full of flavor.
Still I admit I took a bit of license with this dish. A couple of ifs. I would have preferred skewered chicken IF I had boneless chicken thighs but I did not.
I also decided to do two dishes, the second one an easy potato dish with garlic aioli. Would I have used all baby potatoes IF I had those? Yes I would; mine were mostly twice the size of baby potatoes so I had to halve or quarter them.
Still both of these dishes, while still labeled Tapas, were not what I envisioned when I thought of Spanish Tapas. That turned out to be a plus; when served, these two put together were dinner!
I had to peruse several recipes to find ones that worked with what I had and as I often do; these are now pretty much a Heinz 57 version; a combination of different steps from multiple recipes.
Chicken tenders or boneless chicken thighs were more often suggested but I decided to use bone-in chicken thighs.Not only is meat better if cooked on the bone but these have always been a finger food in our family. Funny too but when I serve the boneless version, we use a knife and fork on those; not what I wanted for this get together.
Recipes indicating either 2 garlic cloves or 5 saw me swing the pendulum to that higher number. And sure I liked the one with the most Smoked Paprika too! All in all though, the end result was spicy and so flavorful but not in any way 'hot' despite the fiery color.
I've included the ingredients for the garlic aioli which was an accompaniment for the potatoes because it's also suggested as a condiment for the Spanish Tapas Chicken Thighs. It's simple and again, pretty garlicky, but it was perfect on potatoes; I may never again dowse them in butter!
There are a plethora of rubs used for this type of chicken with smoked paprika being the mainstay. I stuck to that and my rub also includes olive oil, lots of garlic, oregano, cumin, parsley, salt, and pepper. While you can marinate for only a couple of hours if time is at a premium, letting the chicken go overnight in this spice mixture will result in the best flavor.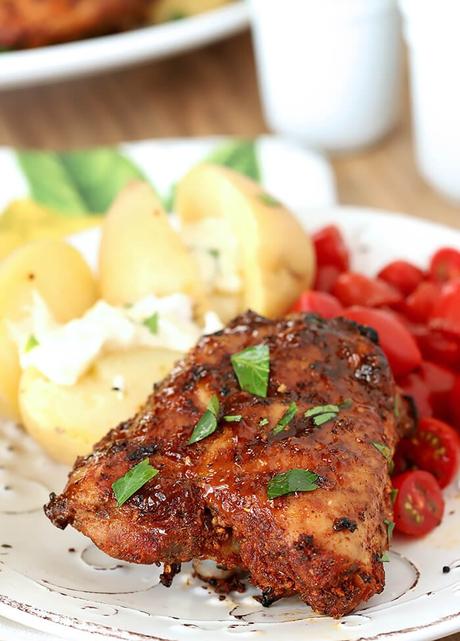 Those ingredients seemed evocative of something a bit fiery-like from Spain. One question I've already had asked...can you use regular instead of smoked paprika? Well, sure you could but it would not be in keeping with what the Spanish do; it's that smokiness that sets this rub apart from others I've made so I say it's worth buying.
The suggested condiments for the chicken is to use either sour cream or garlic aoili. Since the same condiment is suggested for the potatoes too, I've included that simple recipe.
If you want to try both together, the potatoes are simple halved or quartered, depending on size and boiled for about 20-25 minutes in salted water until a fork can slide through a piece easily. I used Yukon Gold potatoes, boiled in their jackets and served as it...the skin is so soft it doesn't need to be peeled off. See, easy...a tapas requirement!
I've made a garlic aioli not that long ago that was a bit more complicated than the one I used for the potatoes for this meal. The truth is that the garlic aioli can be used for both the potatoes and the chicken and despite the ease of preparation, it is heavenly. I might never butter another potato!

Welcome to Progressive Eats, our virtual version of a Progressive Dinner Party. This month's theme is Tapas Party! Our host is Coleen who blogs at The Redhead Baker.
If you're unfamiliar with the concept, a progressive dinner involves going from house to house, enjoying a different course at each location. With Progressive Eats it's a virtual party. A theme is chosen each month, members share recipes suitable for a delicious meal or party, and you can hop from blog to blog to check them out. Come along and see all of the delicious Spanish Tapas inspired dishes!
Tapas Party
Cocktail
Appetizer
Main Courses
Side Dish
Dessert
PIN IT! 'Spanish Tapas Chicken Thighs'