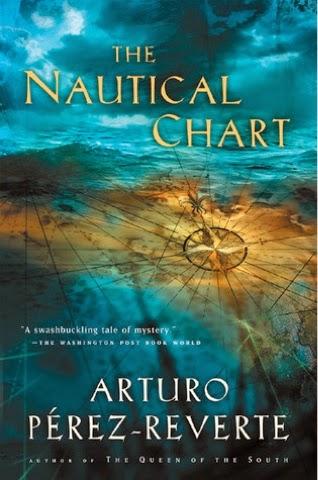 The story opens in Barcelona, with our hero Manuel Coy attending an auction. It isn't that he has money to spend, or a particular item he yearns to possess. It's that he's bored, and restless, and a little lost ever since being suspended for grounding the forty-thousand-ton-container-ship, Isla Negra, on his watch.
Right away, I was entranced by Coy. How it is that a sailor can resemble a cowboy, and here I'm comparing Coy to Owen Wister's The Virginian, I'm not quite sure. But they both have an integrity defined by what they judge to be right. They're both independent, and brave, and loathe to follow rules for rules' sake. 
Coy's attention is caught between two bidders, who each seem to be fighting for an Atlas Maritimo de las Costas de Espana, the work of Urrutia Salcedo. One bidder is a beautiful blonde, covered with freckles; the other is a man in a ponytail who ultimately succumbs after her bid at five times the opening price.
What is it about this map, this woman, this gray pony-tailed man who have grabbed Coy's attention? He is determined to find out, as he travels from Barcelona in search for the woman, 

Tanger Soto, who works for the Museo Naval in Madrid.


Apparently a Jesuit ship, the Dei Gloria, was attacked by a xebec corsair on February 4, 1767. The pirate ship did not expect the Dei Gloria to fight back, which it did, and ultimately both sank. But the Urrutia map seems to hold the location where the Dei Gloria lays, and it is this ship that the woman wants desperately to find. 
Why? And why is the gray ponytailed man in pursuit of her and the ship himself? This is the core of the mystery, a mystery which becomes more and more intriguing as one continues through the novel. But, more fascinating to me is the character of Coy. He is a mystery in and of himself, a man of the sea and a reader as well.
The books that he reads are all relevant to ships. Sailing. Sea. He tells us he has gone through a Conrad period, a Stevenson period, and a Melville period. But soon after that passage, I began recording the titles and authors that Perez-Reverez includes in this spectacular novel. Because if they're important enough to mention in his work of fiction, they're important to me to know more about.
The titles Perez-Reverte has included in The Nautical Chart are:
Thunderball by Ian FlemingThe Alexandria Quartet by DurrellMutiny on The Bounty by Charles Nordhoff and James Norman HallMen Against the Sea by Charles Nordhoff and James Normal HallPitcairn's Island by Charles Nordhoff and James Norman HallThe Death Ship by B. TravenThe Inheritors by William GoldingThe Mirror of The Sea by Joseph ConradHeart of Darkness by Joseph Conrad Green Fire by Peter William RainerThe Maltese Falcon by Dashiell HammettThe Dain Curse by Dashiell HammettThe Adventures of Tintin by (Belgian cartoonist) HergeThe Secret of the Unicorn by HergeRed Rackam's Treasure by HergeTreasure Island by Robert Louis StevensonMoby Dick by Herman Melville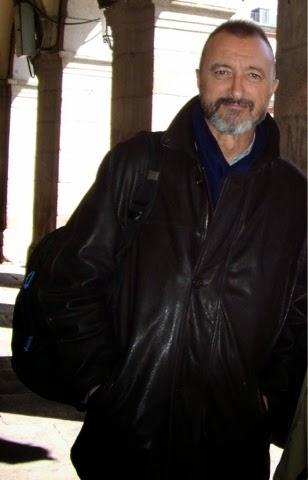 Internationally acclaimed author Arturo Perez-Reverte was born on November 25, 1951 in Spain, where he lives. He has been a member of the Spanish Royal Academy since 2003. His best selling books have been translated into nineteen languages in thirty countries and have sold millions of copies.