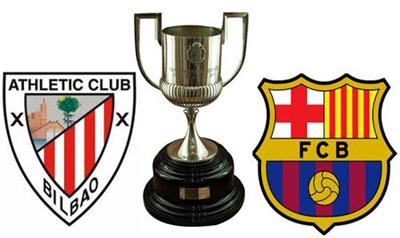 There is a buzz in the air in Barcelona and with reason. Barca plays Athletic Bilbao tomorrow evening in the Spanish Cup Final or La Copa del Rey. This would be a fitting end to Pep's glittering career at Barcelona if the Catalans can pull this one off against the Lions of Bilbao!
Both teams are up for the duel and it won't be a walkover for either side, I think. Maybe 6 months ago my money would have been on Guardiola's team to lift the trophy but with the way the Basque boys are playing at the moment, it is anybody's game.
History of la Copa del Rey
The Copa del Rey happens to be one of the oldest events in the sporting calendar in Spain and it began in 1903. This was an era when football wasn't that popular in Spain, believe it or not.
Over the course of history, the trophy has changed names, just like Spain has changed politically speaking.
Before the second republic the trophy was known as La Copa del Rey or the King's Cup. After that it was known as la Copa del Presidente de la República or The President of the Republic's Cup. In the days of Franco it became La Copa del Generalísimo before reverting back to its original name of La Copa del Rey since King Juan Carlos of Spain is considered head of state.
King Juan Carlos is present at the final and has been since he came to power during the 1976/1977 season. He also presents the coveted trophy to the match winners.
As always, there is a little bit of uproar regarding the monarchy and the two teams this year happen to be from the Basque country and the region of Catalonia. It also comes at a time when the monarchy in Spain aren't enjoying the relationship with its subjects it once had as it is still trying to recover from the Iñaki Urdangarin scandal and the King's untimely visit to Botswana to hunt elephants.
These two teams have won the most trophies between them. Barcelona has won it a staggering 25 times to Athletic Bilbao's 23. Without a shadow of a doubt, it will be a truly great match between these two great Spanish clubs.