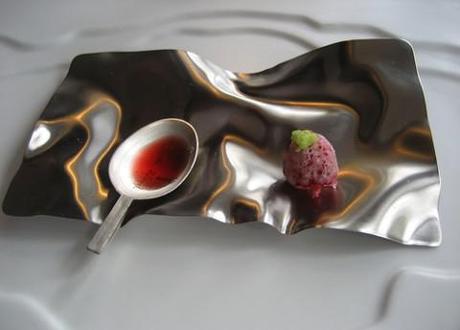 Raspberry fondant with wasabi vinegar at El Bulli. Photo credit: FotoosVanRobin, http://flic.kr/p/Ljy1w
El Bulli, designated the world's best restaurant five years in a row, is to close at the end of July. According to the website, the Michelin 3-star restaurant will reopen  as the "elbullifoundation". Head chef Ferran Adrià won plaudits for his unusual approach: the ever-changing menu featured dishes such as "caviar" made from apple juice, steamed shrimps with tea and parmesan frozen air with muesli; Gourmet Magazine called him the "Salvador Dalí of the kitchen". Located in Catalonia, Spain, El Bulli opened for limited six-month "seasons" every year, to allow Adrià time for creating new concoctions.
"A row of four cherry-sized rabbit brains." The Telegraph.
A tearful farewell. Writing in The Guardian, Allan Jenkins revealed that the food at El Bulli's farewell feast "magicked a hot tear" to his eye: "We ate a Felliniesque, insane 50 dishes culled from Adrià's 'greatest hits', the oldest from more than 20 years before, the newest only finalised that morning (the menu was revised six times)," he said, presumably typing through his tears.
"'Pancake' made from the skin on top of hot milk." El Bulli dish, The Telegraph.
Tragedy. Over at The Telegraph, Xanthe Clay was similarly moved. "So El Bulli, the restaurant where chef Ferran Adrià was acclaimed the greatest in the world, is closing. The tragedy is that its legacy will stay with us," she wrote. Clay recalled an "unforgettable" visit that took in 36 courses, including a "huge slab of foam 'sponge'" and "a row of four cherry-sized rabbit brains". Yum. But for Clay, the problem with El Bulli was that its inspirational quality: "The dishes of pure genius have spawned imitations all over the world. And without the flair of Adrià, they have been frankly pretty grim," she said.
"Bacon in sage tuile." Fake El Bulli dish, Slate.com.
Guess the dish. Not everyone has greeted the news with teary-eyed reverence: Jeremy Singer-Vine at Slate.com has come up with a random El Bulli dish generator game, which asks readers to choose the real Adria creation from three options. Philistines may say that the game sounds rather more enjoyable than eating at the restaurant.
El Bulli: The Film. Anyone still in culinary mourning can get their El Bulli fix from a German documentary that looks behind the scenes at the restaurant. The restaurant also published various books,  for those who wish to make pine nut marshmallows at home.
What next? The restaurant is due to morph into the El Bulli Foundation, although it's not clear when this will happen, with conflicting statements ranging from 2012 to 2014. Neither is it clear exactly what the Foundation will be: according to the website, it will be "the archive of elbullirestaurant" and a "centre for creativity"; and most definitely not "a cookery school".
More on food and drink

Is cocaine more popular than beer?
A culinary revolution in Damascus
Elderly boozers should be stopped