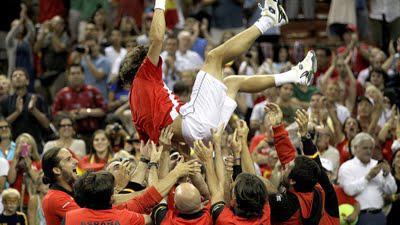 Spain's Davis Cup Team Celebrates Ferrer's Victory
What an incredible weekend for tennis! I just got back from Austin where I was one of the lucky 18,000-ish fans who got to witness Spain's decisive victory over the United States in Davis Cup quarterfinal play. And, as big a fan as I am of the U.S., I have to say - Spain deserved it. Those guys are incredible!
So here's my take on this weekend:
First, Davis Cup is AWESOME!
I had no idea how intense this would be. Davis Cup play, where its country vs. country, is the most adrenaline-pumping tennis ever. I know - I've been to the U.S. Men's Clay Court Championships several times and watched some major guys play. I've been to the ATP season-ending Master's Cup and seen THE major guys play. I've watched college tennis and I've been to high school championships. I've cheered my own team mates through some very tight, competitive matches where I supposedly had a stake in the outcome. But nothing compares to Davis Cup. This was more like going to a World Series game. Or maybe the Super Bowl.
Second, when you go to Davis Cup, you better be prepared to cheer and support your team.
Because this weekend was all about fireworks, smoke machines, thunder sticks, red, white and blue anything and everything, pom poms, stunt-performing cheerleaders, a break-dancing American eagle mascot, a house band, a house DJ (!), lots and lots of flags - both American and Spanish, and, of course, face paint. At lunch on Sunday, two women proudly showed my husband and I their star-spangled five inch platform shoes that would usually look more appropriate in a strip club except that it was Davis Cup weekend so we thought they were fantastic.
Third, my new favorite player is definitely Spain's David Ferrer.
  In the space of three days, the guy beat both of the top-ranked American men - Mardy Fish and Andy Roddick. And, having witnessed it myself, I can tell you - he kicked Roddick's butt. Andy looked like he was Ferrer's practice partner. Yikes. As my husband and I sat watching Ferrer's matches, we just kept coming back to one word for his style of play - scrappy. He's a relatively little guy at 5'9" but he is anywhere and everywhere on the court. There was never a time when he looked like he had given up on a shot - no matter how impossible it appeared to be to get to he always had an answer. Easy prediction - Ferrer will go way deep in this year's U.S. Open.
Finally, the Spanish team absolutely rocked.
So they look like a bunch of male models to start with, which is pretty great all by itself. But they were so dang enthusiastic and excited.  Just for one example, Feliciano Lopez was supposed to play doubles against the Bryan Brothers with Fernando Verdasco on Day 2. But after his nearly 4 hour match against Mardy Fish, Spanish captain Albert Costa made the right call and subbed in doubles specialist Marcel Granollers for Lopez. However, not only was Lopez not tired from the previous day, he was absolutely coming out of his seat throughout the entire doubles match, enthusiastically providing back-seat coaching to Granollers and Verdasco from the sidelines. And Granollers and Verdasco, who had never ever played doubles together before, took the first set off the Bryans! That's the kind of stuff you talk about for the rest of your life.   
I LOVED my Davis Cup experience and really hope I get to see another weekend of that kind of tennis enthusiasm some time soon.  

© Kim Selzman 2011 All Rights Reserved