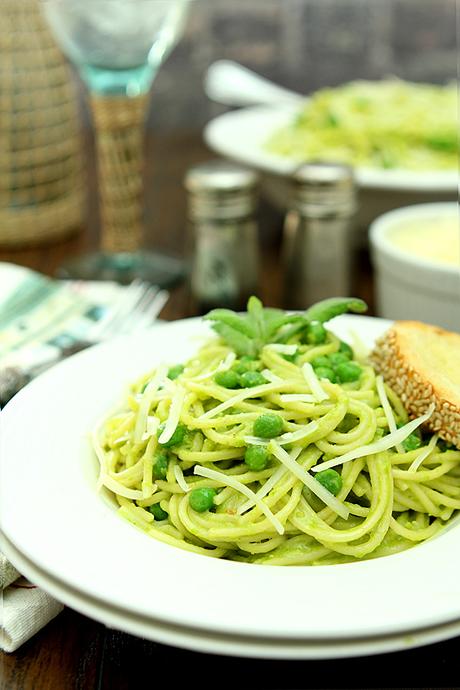 We were given peas as our challenge from The Food Network for this week's #SensationalSides. Funny but the truth is I just normally have peas as peas. There are the ONE frozen food that I always have on hand in my freezer and they are a favorite; both for the flavor, the color, and the ease of preparation. I checked my archives and I've made Crispy Shallots Fried Rice that includes peas and a dish I now remember that we loved; Peas with Bacon and Crispy Leeks. So I thought there was room for another pea-centric dish and I'm so glad I gave this a try; I can't tell you how much I loved this Spaghetti with Pea and Pine Nut Pesto.
I've made a fair amount of basil pesto; even substituting out the pine nuts for toasted walnuts ever since pine nuts became as expensive as gold. But for this dish, I thought it worthy of hauling my stash out of the freezer and using the real deal. Luckily I got away with only using a quarter cup so this delicious dish won't break the bank. If I didn't have them? I would have no problem using the toasted walnuts here too.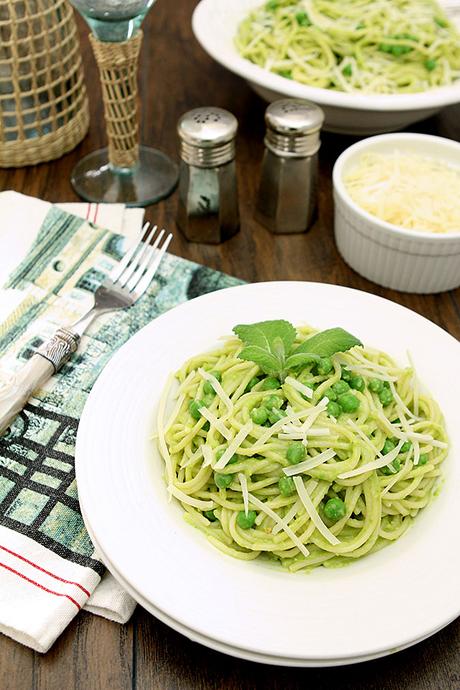 I'm writing this post late for me; it's this morning and I'm looking out the window and yet another late spring snow. My cat is in his cat tree by the window and my neighbor's dog Spot is nestled into the blanket on the chair in my office. This dish is sort of a nice transition dish considering it's spring AND snowing. Light and pretty and filled with peas which seem to shout spring veggie but still warm and comforting enough for me to enjoy it while we wait for spring to peek around the corner at the base of the Rocky Mountains. It takes longer to get here and yes, I'm ready!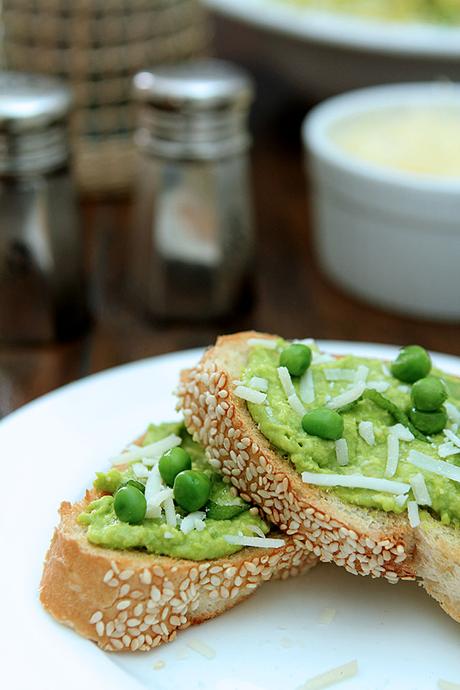 When I decided to make a Pea Pesto, I did what I often do and did a quick search online when I was finished and found almost the same exact recipe online, this time on The Smitten Kitchen website. Try making something totally new and different that no one has ever thought of...it's almost impossible! But Deb did have a great idea I thought I would use especially since I finished the pesto last night and it was too late to even think about actually making the dish and photographing it. She suggested using it on crostini, i.e. garlic bread that I spread with a bit of olive oil and toasted. That became dinner and OK, yes, I had it for breakfast again this morning. I love this stuff!! I almost hesitate to say but at least for the moment I love it more than basil pesto. That is saying a lot so you'll just have to trust me and make it yourself and see what I mean; you will not be sorry, promise!
15 minPrep Time
10 minCook Time
25 minTotal Time

Save Recipe
Ingredients
Instructions