When I opened up my package of soysilk yarn, I really did not know the makeup of this fiber.  From reading others' remarks about the cowl that looked good in the pictures on Ravelry, it was necessary to knit up
this cowl shell
with a yarn that had lots of drape.  Silk and silk blends were mentioned, but the designer of the
Cowl Shell
(Myrna Batten) used Oasis brand, a 100% soysilk fiber.
South West Trading Company says
SOYSILK® brand fiber is made from the residue of soybeans from tofu manufacturing.  This process is 100-percent natural and free of any petrochemicals, making it an extremely environmentally friendly product.  Soy is a completely renewable resource – coming from the earth and being wholly biodegradable.   As early as the 1940s, textile experts dreamed of a fiber made from soy.  (In fact, Henry Ford had a suit made of soy as an early prototype.)  SOYSILK® brand fiber offers superior moisture absorption and ventilation properties along with beautiful draping, softness and warmth.
It took two weeks to knit this up and I am very pleased with the cowl.  And it is environmentally green as it contains natural anti-bacterial agents which can restrain the growth of certain types of bacteria and is therefore considered a very sanitary fiber.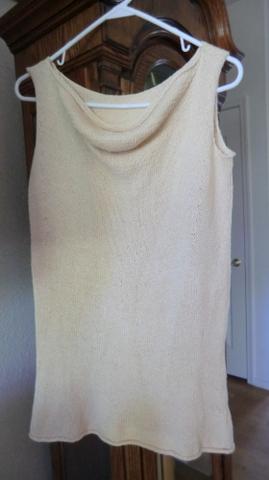 It has the softness and smoothness of cashmere but isn't hazardous to the environment. The fiber also has the same moisture absorption as cotton but with better moisture transmission, making it more comfortable and sanitary (from here).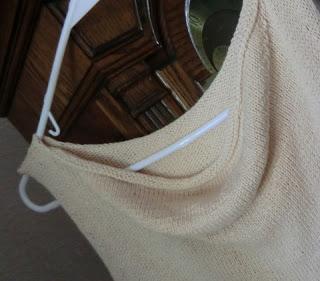 The soysilk fiber (actually 100% soy) drapes nicely.  Now I'm on to knitting up another one in this variegated color: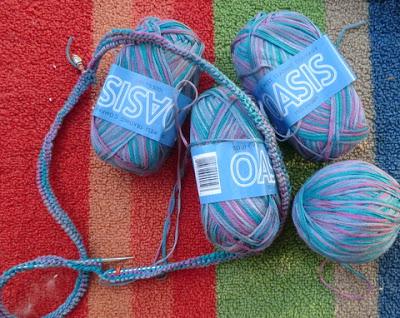 This is on my Works in Progress for Wednesday.  Go
here
to see others' projects that Tami hosts!