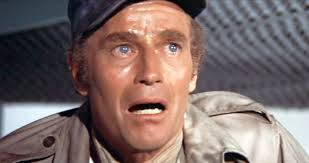 The Seventies inspired a glut of dystopian science fiction, most of it overwrought and forgettable. Soylent Green (1973) ranks among the better ones, memorable for its iconic ending and grungy Future World.
It's 2022 and New York is an overpopulated hellhole. Detective Thorn (Charlton Heston) investigates the murder of wealthy industrialist Simonson (Joseph Cotten) connected with Soylent corporation, which supplies most of the world's food. Along with his aged partner Solomon (Edward G. Robinson), Thorn uncover a dastardly secret behind Simonson's death, and Soylent's operations. Higher-ups don't want Thorn to investigate, which only increases his suspicions.
Loosely based on a Harry Harrison book, Soylent Green offers a Paul Ehrlich view of the distant future. Pollution and overpopulation reduce Earth to a crowded, smoggy tinderbox, the streets and tenements crawling with the starving and unemployed. Foods, electricity and basic goods cost hundreds of dollars, with only the super-rich above the squalor. The movie's most affecting strands show Thorn relishing his brush with indulgence, pilfering food from Simonson's house and enjoying a crude beef stew with Sol.
Richard Fleischer's direction seems hampered by budget, which works to the film's benefit: the movie's grungy mise-en-scene seems more convincing than the hyper-stylized visuals of Blade Runner. The sweaty look and feel matches with memorably bizarre elements, like bulldozers subduing starving rioters and the rich apartments staffed with in-house concubines. Fleischer makes a jarring move to operatic emotion, with Sol's elaborate euthanasia watching footage of an Earth gone by. To Sol, it reconnects him to his past; to a tear-stricken Thorn, his only glimpse at a world long gone.
Charlton Heston plays to his strengths as a two-fisted antihero, selfish and unscrupulous but dogged enough to win our sympathy. Edward G. Robinson's poignant performance provides a beautiful cap on his storied career; he died a few days after filming wrapped. Joseph Cotten and Chuck Connors are underused, but Leigh Taylor-Young is appealingly likeable as an in. Brock Peters plays Thorn's cranky boss.
Much of Soylent Green seems crude and strident, preventing it from achieving classic status. Even if its dread prophecies haven't come to pass, its crushing atmosphere remains impressive.