I like taho—sweet silken tofu with syrup and tapioca balls peddled on the street in the morning. But, even before this whole covid mess, I rarely got to drink (or is it eat?) taho because I was seldom out on the street early. Now that covid has kept me in the house most of the time, the chances of finding taho was very slim. Until I saw a friend's facebook story of taho and we got a taho conversation rolling which led to her suggesting I try Happy Soy for the reason that it was located in my city (Mandaue City). (In other words, the delivery fee won't, hopefully, be more than the taho itself. She herself hadn't tried Happy Soy!)
Taho peddled on the street can be had for 5 or 10 pesos a cup. A very small cup. Happy Soy's classic taho costs Php 60, are in 12 oz cups, and organic to boot! The dark brown sugar syrup is not too sweet, the taho oh so silky.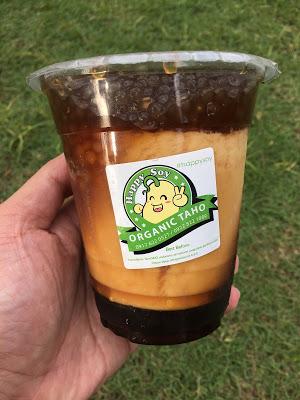 Classic taho in a 12 oz. cup
They also sell taho in even bigger servings. A 900-gram tub (good for 5-6 persons) of classic taho costs Php300. It includes a 330ml bottle of dark brown sugar syrup and 12 oz. cup of sago. Plus a free 12 oz. cup of good-to-go taho. 900 grams not enough for you? They also have a bucket of taho good for 8 to 10 persons for Php450!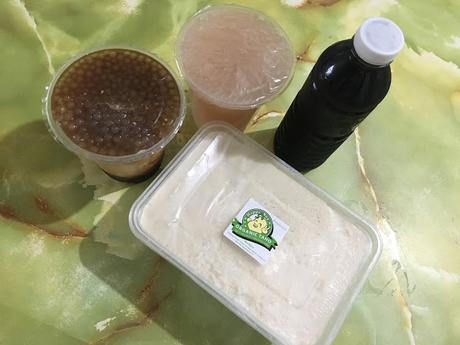 900-gram tub of taho and a free 12 oz good-to-go taho
Happy Soy
 also has taho in other syrup flavors for Php 70 per 12 oz. cup. The syrup flavors are strawberry, blueberry, banana, and wintermelon. (I have yet to try these.)
The shelf life of Happy Soy's taho is one week (in chiller). But, I don't think you have to worry about that, because I guarantee, a tub won't last a day. Case in point: My family and I consumed three tubs of taho in less than three days! It was so good!!