My wife and I visited the Sovereign Estate Winery near Waconia, Minnesota. We were greeted by the winemaker, Thijs Verschuuren. Although he has a Dutch name, he is from France, and he came to the US after working in many wineries and vineyards in France. He poured our wine samples, and we enjoyed hearing the winemaker's comments during the tasting.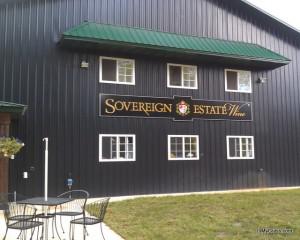 This is a very new winery, and they have only produced wine for the 2010 vintage. Although they have their own vineyard, the vines were too young to produce a crop last year. Consequently, they purchased grapes from other sources for their wine. With the exception of one wine, they had to go out of state to get the grapes. This year, they will be getting their first harvest from their vineyard, with larger harvests anticipated in the future.
They currently have five wines, and the tasting included all five. They are all from the 2010 vintage.
The first was the Traminette. They describe it as "A crisp and citrusy wine with essences of apple blossom and rose." There was definitely lots of floral, which isn't really my favorite (I prefer the fruit), but it was well made (as were all the wines).
The next one was the Talon Crest. This is made from Seyval Blanc. "A semi dry and lucious white wine with apricot notes and fresh grass and violets." This wine had some prominent fruit. We ended up buying a bottle of this wine, and I will be doing a full review in the future.
Next, we moved to the red wines. The first red wine was Tenuta di Sovrano, which is Italian for "Sovereign Estate." This is an Italian-style wine made from Sangiovese. They describe it as medium bodied with "spicy clove, cedar, and plum notes." It is a lighter wine, with flavors of fruit and spice.
The next red wine was the Cabernet Franc. Cabernet Franc is one of the parents of Cabernet Sauvignon, and has some similar characteristics. This wine is described as a "full bodied dry wine in the classic French style" with flavors of "black pepper, currant, and cocoa." This wine did remind me of Cabernet Sauvignon, with darker fruits and notes of cocoa. We bought a bottle of this wine as well.
The last wine was the St. Therese Rosé, which is the only wine they currently have that was made from Minnesota grapes. It is a sweet rosé made from Frontenac grapes. They describe it as a fragrant wine "with wild strawberry and creamy vanillas." It is a light rosé with flavors of strawberries. It is sweet, but well balanced with acidity. This is how a sweet rosé should be.
They also were serving Sangria made from their wines, and that was included in the wine tasting.
After the wine tasting, we browsed the shop for a while, and we purchased a bottle of imported Italian olive oil and some chocolates in addition to the wine. We also met Paul Savaryn, one of the owners. His wife, Terri, was also there. We later talked with Ben Banks, who gave us a short tour of the winery, which was being prepared for this year's harvest. Winery tours are not typically available to the public, and I appreciate Ben taking the time from his busy day to give us a private tour.
If you're in the area, I'd recommend stopping by. In addition to wine samples, you can also buy wine by the glass. The wine shop also has other items for purchase, including imported extra virgin olive oil, chocolates, wine glasses, and other food and serving items.