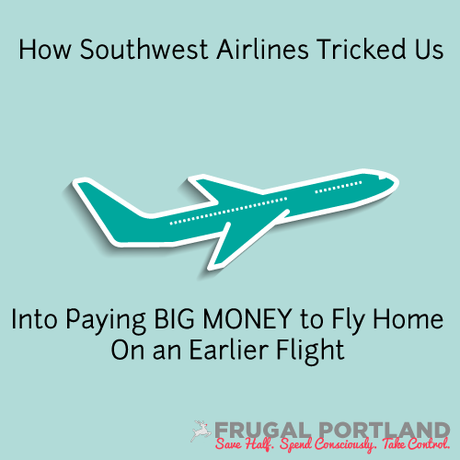 Brent and I are members of Southwest's Rapid Rewards program. Brent is a lifetime fan of the airline, which makes sense, given that he's … you know, from the Southwest. I didn't fly it much before dating him, but that's only because the airline has a teeny tiny presence at my airport, and the pricing structure weeds out those of us who don't usually buy tickets months in advance. It was never cheaper for me. But it is now. Earlier this year, we did a bit of credit card hacking (if by hacking you mean spending a bunch of money on wedding-related things and paying for them in advance instead of paying a deposit plus the balance later) and earned a free companion pass through the end of 2015, making all our flights exceptionally reasonable, at least through the end of next year. We somehow managed to get tickets to Oakland for our honeymoon (because we know how to party!) for somewhere under $100 for both of us. Brent booked the tickets well in advance (because he's Brent and that's what Brents do), for us to leave the day after our wedding and return the following Saturday. Our flight Monday was no problem. We were pretty much on vacation 24 hours after saying "I do/me too," which was exactly what I wanted. However, the flight on Saturday was just too late. We were set to fly home on the 6:40 flight or something, which would have gotten us in at 8pm, but after an amazing lunch in San Francisco, we were tired and ready to take an earlier flight. So, knowing what we know (which, spoiler alert, wasn't enough!) about Southwest, we decided to try our luck at flying standby on an earlier flight. There was a flight that left at 3pm that would get us home at 5, which would have meant we'd have plenty of time to rest, relax, and recharge for our real lives instead of eating airport food and hanging out in the Oakland airport (which is always the risk you run when deciding to fly standby).
Heading to the Airport
We checked our bags, and asked the person at the counter if we could be put on standby for the earlier flight. No problem, she said, and the flight isn't really full, so your chances are good. Great! We went through security, and when we heard our names called, we ran to the counter. She asked us for our credit cards because she needed to charge us something like $3, which we were told was the difference between the airport tax when we purchased the tickets and today. Awesome! I called my sister and told her about the change of plan. "No problem," she responded. "See you soon!" We had a safe and uneventful flight, and got home early. That's when we noticed something weird.

Southwest Airlines Charges 25,000 Points to Fly Standby
"Weird," Brent said, when he turned on his phone. "I have an email from Southwest's Rapid Rewards." He opened it. We'd been charged 25,000 points to fly standby. Now, if you don't know about Rapid Rewards, 25,000 points is a round-trip ticket anywhere Southwest flies. We were really upset. I mean, seriously! They can't just charge us that without telling us! And, I probably don't have to tell you, but if at any point during our trip, they'd mentioned, even casually, hey, that's definitely something we can do, but we have to charge you, you better believe we would have finished our books in the Oakland airport! But nobody told us. So we flew. And we lost the chance to fly anywhere we wanted. Essentially, we exchanged two hours of our lives for a trip anywhere in the country (or a few select places out of the country).
Customer Service Wasn't Helpful
Brent called customer service first thing Monday morning, and didn't get any help. The person he talked to wasn't empowered to help calm down this cranky customer. So, he took it a step further, and sent an email to the VP of Customer Service. As of October 11, 2014, he hasn't gotten any response. The entire copy of Brent's email is below the fold, highlighting just how upset he got with the service he received. I'm still a little salty about all of this. It certainly leaves a bad taste in my mouth for this airline, and were it not for the free companion fare I get for the next 14 months, I might not be so inclined to fly their friendly skies. The moral of this story is that it is your responsibility to ask if there are any charges associated with flying standby. Even with the airline who doesn't charge you to change your airfare.
The Copy of Brent's Email
Dear Mr. Ruppel,
Normally, I don't go out of my way to escalate customer service complaints all the way up the chain to the VP's inbox, but I feel it necessary to reach out directly to you to discuss a recent incident involving Southwest Airlines.
At this point, my problem has less to do with the actual incident than it does with the formal customer service protocols in place to deal with individual customer issues, but I will summarize the initial complaint briefly for you for context.
On Saturday, September 20th on our return trip to Portland from Oakland, my wife Kathleen and I arrived at the airport early enough to try to squeeze in on a flight that took off about two hours earlier than our scheduled flight. We asked to be put on the Stand-by list at the check-in counter. We went to the gate for the earlier flight, heard our names called, and landed safely in Portland a few hours early only to discover that my Rapid Rewards account had been charged more than 25,000 points for the "upgrade."
Suffice it to say that nobody at OAK bothered to mention this as an upgrade that would cost the Rapid Rewards equivalent of a round trip fare just about anywhere your airline flies. If the customer service rep at the ticketing counter or the gate agent had mentioned this, we certainly would have opted to wait for our regularly scheduled flight leaving just a couple hours later.
To me, this seemed like a pretty cut-and-dry customer service hiccup that could have been easily remedied by refunding the points, so I was surprised at the runaround I have been given by your Customer Relations staff.
I called your CR department the first opportunity I had on Monday, September 22nd and spoke with Moises. He and I had a nice discussion. I was especially satisfied when I point blank asked him "Listen, does it seem reasonable to you that somebody would cash in 25,000 Rapid Rewards points to get on a flight that leaves two hours earlier?"
Moises admitted to me that, no, that does not seem a likely thing for most people to do if they are informed of the cost of such a flight change. The context made sense to him, and Moises then told me a supervisor would reach out in the next day or so to try to resolve the issue. Satisfied that Moises was listening to me, and that this was being escalated through formal management channels, I hung up and went about my day.
This morning on my way to work, I received a call from Laura. My belief was that Laura was in a decision-making position above Moises and could help me solve this situation that occurred because of a miscommunication in the field.
Now here is my first major problem with this CR experience. I later learned that Moises and Laura are peers, and that you are, in fact, their first-level manager. This is shocking because I was deliberately led to believe that the person calling me to help resolve this issue would be higher up than Moises in the decision-making process.
So, believing I was speaking with a higher-level decision maker, I laid out the situation to Laura, and she subsequently stuck a script that made me feel like I was simply a "case" to manage rather than an actual human being.
The statement I took most offense to: Laura repeated over and over was that she couldn't "speak to what happened" at the airport because she wasn't there. The very tone and phrasing of it implied that
A) I might have been lyingB) The burden is somehow on me to produce evidence supporting my claim.
This puts me on the defensive and It makes me feel like I'm on some sort of trial.
Regardless, in support of my argument, I said "Look, it's not reasonable that somebody would cash in 25,000 points to get home two hours earlier."
Laura insisted, more than once, that people do choose to do this every day.
Now, among your 3,600 flights and hundreds of thousands of passengers every single day, it's not hard to believe that some small percentage of your customers do choose to make such an extravagant purchase every day of the week. But it's insulting to expect me to accept this as typical customer behavior.
I immediately felt like Laura was not listening to me.
She then further demonstrated refusal to interact with me on a one-to-one level when she said her "hands were tied" and there was nothing she could do, and that there was nobody else for me to speak with because she was the final level of customer relations escalation.
This frustrates me beyond belief. Regardless of the formal policy in place at Southwest Airlines, Laura is still the one in this instance who made a decision to stop the process at her doorstep.
I saw two potential reasons for this attitude with customers.
1) Laura is not empowered to refund the points, but the formal customer relations protocols tell her she must not do anything further. Further escalation on her part means dealing with blowback from management. Weighing the options, ending a call with an angry customer is outweighed dealing with an angry manager.
If this is the case, then I'm very disappointed in Southwest's systematic handling of customer service issues. In this particular scenario, Laura must feel the hierarchical pressure from above her doesn't even allow her to bring this concern directly to her manager. Seeing as you are a Vice President of one of the largest airlines in the world, I would hope that your customer relations representatives would be empowered to make these case-by-case decisions so that you don't have to deal with people like me regularly.
But even if that's the case, Laura still could have made the decision to escalate this directly to you, and she made a conscious decision not to. Again if this is the case, I'm very disappointed that Laura works in a culture that doesn't provide her the tools to help your customers. Of course, that may not be the scenario
Which brings me to the alternative context.
2) Laura is empowered to make final customer service decisions such as refunding Rapid Rewards points, but it was her decision not to do so..
In this case, this is an egregious violation of the customer/service provider trust by insisting there was nothing she could do.
She then tried to diffuse the situation with apologies, which served only to make me more upset because, when you follow an apology up with, "there's nothing I can do," it feels very, very hollow.
The truth is it doesn't matter which of the two scenarios is true, the end result is unacceptable.
I have been flying Southwest Airlines my entire life. I live in Portland, Oregon, and have continued to fly Southwest despite the fact that there are more convenient non-stop options to multiple locations through other airlines. I have the Southwest Airlines Rapid Rewards Visa card. I have a Companion Pass. I have been striving to hit A-List this year so that I could look forward to even more fun travel on Southwest in 2015.
One of the hallmarks of great customer service is customers feeling like they have been treated with respect. I understand not every customer gets his desired outcome from a complaint, but being treated like just another problem to deal with is antithetical to what great customer service is about.
Sincerely,
Brent Celmins
Some After-the-fact Thoughts from Brent
I'm not mad anymore. Just sad. Honestly, airlines have been treating customers like garbage for decades, why should I be surprised that Southwest has joined the horde ? It should be expected, frankly. They're now carrying as many passengers as United on an annual basis.
The saddest thing about it is Southwest can afford to anger me because they are still the most convenient, most affordable airline to fly when I head to Phoenix, Los Angeles, or Silicon Valley (my three most common destinations). It would be one thing if Alaska or US Airways had an amazing flight experience worth the extra money. But, really, it's all the same crap. Just a different paint job on the outside of the plane.
Sometimes you eat the bear, sometimes the bear eats you.