Southside! Birmingham's got a secret! Are you ready for Southside? Boycott the ordinary and discover something new! Be cultured, eat well and dance the night away, because I kid you not this corner of Birmingham has that something special going on! Southside won't wait forever ...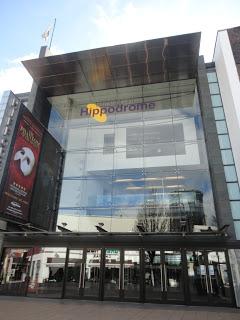 Birmingham's Hippodrome Theatre hosts a magnitude of performances which range from pantomime right through to the ballet. This theater stands on Hurst Street, bordering three of the integral parts of Southside Birmingham. I've seen numerous performances at this establishment, such as the revamped version of the musical 'Starlight Express'. 
The Hippodrome Theatre always attracts the best names for its annual Christmas pantomime. 2010 brought Hollywood glamour to the Hippodrome in the form of 'Joan Collins', performing as the panto villain in the pantomime favorite 'Dick Whittington'. Another famous face to tread the boards for pantomime at the Hippodrome was actor 'John Barrowman'. What top star will grace the stage for this years pantomime? 
I have booked my tickets to see Birmingham Royal Ballet's upcoming performance of 'Copellia' for an evening early in June. I have seen a ballet once before when I was younger, but I couldn't understand why the people on the stage were silent as they danced! Anyway, it's clear to see that Birmingham really does have it all! The Birmingham Royal Ballet have been wowing audiences for a number of years at the Birmingham Hippodrome Theatre and all in the confides of Southside! 
Meet the 'Arcadian' a mixed shopping and lifestyle complex, bringing the day and night into one place. Whether you need to grab a spot of shopping, grab some lunch or enjoy the twilight its all available at 'Arcadian'.
Choose Day In Supermarket to cater to all your Oriental shopping needs, from vacuum packed chicken's feet to loose leaf po-nee tea. Forget Tesco or Asda because these supermarkets do it better, I have seen things that amazed me! My dear friend Kelly opened my eyes to this supermarket. Caffe Chino bakes the best Oriental cakes I have ever tasted. If you are on the look out for 'Bubble Tea' Caffe Chino is a definite winner because this cutesy cafe serves the best 'Bubble Tea' I have tasted since my final visit to Chinatown in New York City. 
If dinner is on your mind then 'Arcadian' has the perfect solution for you to take advantage of. Go Japanese by having a meal at 'Miyako Teppanyaki' or live a Bombay dream by sampling a curry at 'Festival Balti' the choice is yours! When the sun goes down 'Arcadian' starts the party, get the party started by sampling some drinks at one of the many nightclubs and bars on offer. Get your drink on at 'Mono Bar' or Indi Bar' and dance until dawn!
Dinner has been served! Southside, Birmingham is home to the city's 'Chinese Quarter'. Birmingham's 'Chinese Quarter' brings a healthy slice of eastern promise, there's just something about these communities that I love! This avenue of beautiful restaurants and Oriental amenities has everything you need for the perfect time in Southside. 
Sing your heart out at karaoke, try you luck at a spot of gambling or enjoy a sumptuous meal at one of the many restaurants within the quarter. I sampled the delights of 'Chung Ying' a family run Cantonese restaurant, which is located on the corner of 'Wrottesley Street' in the heart of the 'Chinese Quarter'. Choosing to try some 'Dim Sum' I opted for the Chicken's Feet in Black Bean Sauce, having never tried this dish I was pleasantly surprised by the infusion of tastes from the Chicken's Feet. For my main course I enjoyed Sweet and Sour King Prawn with Egg Fried Rice, a sweet but flavoursome twist to my usual Oriental dining choice. 'Chung Ying' is very good value for money and certainly satisfies those tastebuds!
I could kick myself as I have been at university, living in Birmingham for over two years now and have only just discovered the delights of what Cantonese cuisine is truly like in Birmingham's 'Chinese Quarter'. I can't wait to have another fantastic meal at 'Chung Ying' Birmingham.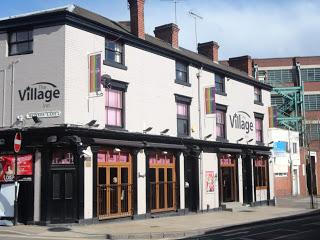 Southside is home to Birmingham's 'Gay Village!' In my eyes I have saved the best until last! The 'Gay Village' is made up of a range of colourful Gay orientated bars, nightclubs and restaurants. If you want to paint this city Pink then this side of town is for you! 
Pictured to the right is 'The Village Inn' a all-singing and all-dancing Drag Gay Club. If only for one night you must come to 'The Village Inn' to work it on the dancefloor and have a laugh at the superb Drag Acts that perform at 'The Village Inn'. I will be honest I don't frequent Birmingham's Gay Scene very often, but when I do it's a very eventful state of affairs. It was just last Friday night that myself and my flatmate Lyndsey enjoyed a camptastic night at 'The Village Inn'. We grooved to my kind of anthems, but when the DJ played 'Independent Woman' by Destiny's Child that made us turn the party upside down! I think I could get used to working it to Beyonce and her sisters on a Friday night at 'The Village Inn' more often! 
Birmingham's 'Gay Village' is constantly making itself that little bit more beautiful, by unveiling a new venue each week which attracts the beautiful people to party as one family and be fabulous together. It's testament to say that one nightclub has stood the test of time has to be 'The Nightingale' as this club keeps on reinventing itself and each time it does this everyone is wowed by what top acts this Gay Superclub attracts. During my first semester at university myself and my friends watched 'The Vengaboys' perform their dance anthems and unveil their comeback song, it was for sure a night to remember!
Southside, Birmingham ... You Know It Makes Sense !!!
Joseph Harrison