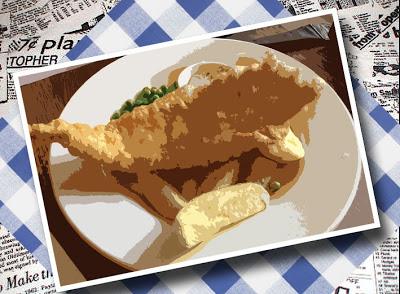 We're dedicating the rest of February to finding the best fish and chip shop in London. 
The London Walks guides have cogitated and debated, and here are their recommendations…


Please feel free to get your own vinegary fingerprints all over the debate. 

Email us at the usual address, leave a comment below or Tweet us @londonwalks.
In the meantime, for more Foodie London stuff go to www.foodieslondon.com. Deep fried in the deep south, here's Chris…
No contest. Superfish Waterloo. Massive portion, prawns (well, three) to start. Full of cabbies.
As a South Londoner, I should recommend Olleys at Herne Hill. Same price to take away as to eat in at Superfish. Their pea fritters are a poem though.


Olleys, 

65-67 Norwood Rd, 

London 

SE24 9AA


Chris Chris is a classicist, weaver, and  another professionally qualified Blue Badge and City of London Guide working right at the top of her form. She's very bright and a little bit mischievous. Shake – don't stir - those ingredients and what you get is a lot of fun. Anything else? Yes, this: she could anthem for England with that voice of hers. Lend an ear – here – and you'll, er, see what I mean. Okay, if see is what you want, click here. Which is by way of saying, Chris is the guide who features in the wonderful little video trailer of our Bath Tour.


A London Walk costs £9 – £7 concession. To join a London Walk, simply meet your guide at the designated tube station at the appointed time. Details of all London Walks can be found at

www.walks.com

.