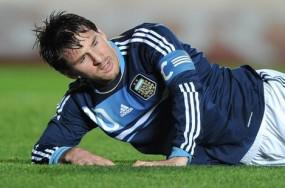 BY:  FRANK TIGANI
This year's edition of the Copa America has produced a first in the history of the tournament. For the first time Uruguay and Paraguay will face off in the final as both Brazil and Argentina were eliminated in the quarter finals.
In fact this record still stands if one considers the South American Championships, the tournament that was replaced by the new format of the Copa America in 1975. History was made in Argentina this past month, though certainly not the kind that the host nation or neighbours Brazil were hoping for.
Though both nations suffered similar fates, the significance of their respective failures to their home fans could not be more contrasting. For Argentina as hosts much was expected. Serge Batista's side were arguably the strongest team on paper with talents like Carlos Tevez, Sergio Aguero, Javier Mascherano and Gonzalo Higuain. In addition, they boasted the world's best player in Lionel Messi. Hence, for a proud football nation that has not won any major prize since 1993 their failure to progress further on home soil is seen as a major disappointment.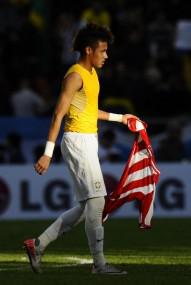 For Brazil, though the team was lambasted by the local media upon their return home and deservedly so, it is well known that for the Samba kings their real goal is preparing a winning team for 2014. The experience that the likes of Ganso and Neymar have gained will serve them and their nation well when they host football's biggest show in three years.
Argentina's failure, therefore, is discernibly a greater disappointment than that of Selecao. They were a nation waiting in expectation, waiting to see Lionel Messi emulate the feats of Diego Maradona, waiting and hoping for their first piece of silverware in eighteen years.
But it was not to be for the Albiceleste. Batista's men only managed one win in four less than inspiring performances. Star players Tevez, Lavezzi and Aguero failed to form an effective attack line while Lionel Messi, despite providing a few assists, failed to live up to his billing as the world's best player.
Numerous explanations as to what went wrong with Argentina could be put forward. One possibly line of thought is that the team was built around just one player who often fails to perform at this level. This player is Lionel Messi. Absolutely phenomenal at club level for Barca, Messi has consistently failed to deliver on the international stage. For this reason one wonders why Batista decided to build the team's system around him. Yet, given his incredible displays for the Catalan side, Batista could be forgiven for trying to get the best out of his number ten by designing the team in a similar fashion to Barcelona. Moving forward, however, Batista must recreate his Argentina in a way that attempts to get the best out of all the players at his disposal and not just one.
In regards to Brazil and why they failed to shine much of the blame can be confidently laid upon the inexperience of the players, especially the attacking quartet. Only Robinho had the experience possible to lead the attacking line, however, he has consistently shown to lack the ability to do so and this was once again evident throughout Brazil's campaign.
Ganso, Neymar and Pato together have the potential to become an incredibly dangerous combination. However, the former two (21 and 18 years of age respectively) simply lacked the experience and maturity to leverage their talents at international level and this is one reason behind the failed campaign of the Selecao. Pato is much more experienced in comparison after establishing himself at Milan, however, he too needs more time to mature at international level before being able to make a difference.
Despite the extensive criticism the Selecao received from their local media, the truth is that even before the tournament started by their standards not much was expected, a semi-berth would have probably sufficed. It was generally known that this team lacked the experienced necessary to claim the title and it was clear from the outset that this was not a concern of Mano Menezes. After all, he excluded likes of Kaka, Ronaldinho and Hernanes who are three players that would have provided an able replacement of Ganso if he failed to perform in addition to possessing the experience to guide Brazil forward.
With Brazil and Argentina's elimination the door is now open for one of Paraguay or Uruguay to take South America's most coveted international prize. Of these two teams, only Uruguay have reason to believe that this history making moment marks a change in fortunes. Led by Diego Forlan and Luis Suarez, this team has backed up their impressive performance in South Africa to suggest that this once great football nation is slowly edging back.
For Argentina and Brazil, their failure is nothing more than a just a one off disappointment. It does not suggest a decline in their fortunes is dawning. These two giants of the game still possess some of the best football talent in the world and come Brazil 2014 expect these two great rivals to once again flex their muscles. Argentina will do their upmost to upset the Samba party by attempting to win their third world cup while Brazil will hope to do one better than last time when they hosted the World Cup when they lost, ironically, to Uruguay.