I had done a country loaf before using poolish method.  Today I shall try another method.
This Classic Tartine Country Loaf looks not too "holey" which is just the way I like it.
Thanks BA for sharing this recipe.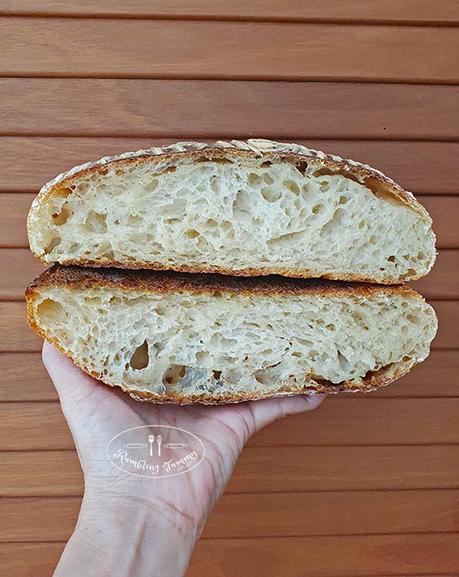 Learning experience:
As expected, the dough is very soft and hard to handle.  Overall, glad it turned out well except that I need to learn how to score more often.
The crust is really good and the texture is chewy.
Source
What you need:


350g flour 100%

70g sourdough starter (20%)

263g water (75%)

7g salt (2%)


Method


Refresh the starter in the morning (7am).  This takes about 3 - 4 hours for mine in room temperature.




Concurrently, mix the bread flour with salt and water. Cover and leave to autolyse at room temperature.




After 3 hours, measure out 70g of sourdough starter and mix into the autolysed flour until full incorporated.




Transfer the dough to a lightly oiled container.  Let it rest for 30 mins.

Start the stop watch. At the same time, set the timer for 30 minutes.

Do the 1st stretch and fold (S&F). Set timer for 30 mins.

2nd S&F and set timer for 30 minutes.

3rd S & F.  Set aside to rest for 2 hours. 

Pre-shape and let the dough rest for 15 minutes.

Final shape and place in banneton.  Wrap a bag over it.

Continue room temp fermentation for 2 hours. 

Then place in the fridge to retard overnight. 

Preheat the Dutch oven in the oven at 250C for 30 minutes. 

Just before 30 minutes, tip the dough out onto a parchment paper.  Score the dough. Place the dough in the Dutch oven and reduce temperature to 240C. 

Bake covered for 25 minutes, covered.

Reduce to 230C without the cover and continue to bake for 15 mins.

Note:

For wholemeal proportion:

280g bread flour (80%)

70g Wholewheat flour (20%) 

Enjoy!

If you have enjoyed this post by
Rumbling Tummy
, be sure to follow her on
Facebook
, Instagram, Pinterest,
Twitter