It has been more than a year I last baked sourdough bread.  Each time, I only drool on my friend W's successful bake.  Was too lazy to revive my starter that had been sleeping in the fridge so I got some from her since hers is super active.
My family is not a big fan of raisin, and hubby loves Cinnabon.  So here is my version of my Sourdough Cinnamon Bun.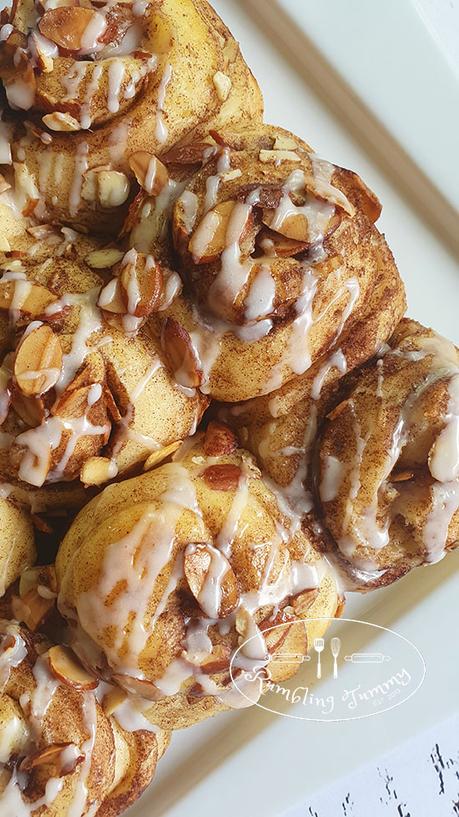 Ran out of pecan so can only replace with Almond slices.
For this process, it took me 3 days to bake. I think with proper planning, it is possible to have more such bakes.  I just need to figure it out.  In the meantime, I shall take advantage of this stay home period to brush up my skill.
Learning experience:
Recording the time so that I know how to plan for my next bake using JJ. 
I started feeding JJ in the night and it was very much alive the next month.  The stiff starter begins.  By afternoon, it was looking good enough for me to begin.  Dump everything in and mix until smooth. 
The next day I was able to bake for tea. 
It was so good that my neighbor said she enjoyed it from start to the end.  My family even had 2 servings straight (a rare one especially my gal who is eating way too little these days).
Thanks, W for sharing your "baby" with me.
What you need:
Liquid starter


50g flour

50g water

50g sourdough starter




Feed and let it sit overnight.


Stiff starter


10g liquid starter

40g plain flour

20g water




Mix well and let it rise for about 2 hours


Main dough


300g bread flour

55g milk

50g butter

50g sugar

1 tsp salt

10g honey

100g egg (about 1½ egg)


Method:


In a mixing bowl, combine all the ingredients together except butter




Mix well and until smooth. 




Add in butter and continue to knead until butter fully incorporated.




Shape and transfer to a container, do a stretch and fold for every 30s min.  Leave in room temperature for 3 hours.




Transfer to the fridge for 10 hrs.




Remove from fridge and let it rest for 30 mins.




Do another stretch and shape the dough.




Roll the dough out into a rectangle,  sprinkle cinnamon sugar and nuts.  Roll up and cut into 9 pcs.




Place inside a lined square pan.




Proof it till doubles or even triple.




Bake at 180°C for 20-30 mins


Enjoy!


If you have enjoyed this post by Rumbling Tummy, be sure to follow her on Facebook, Instagram, Pinterest, Twitter