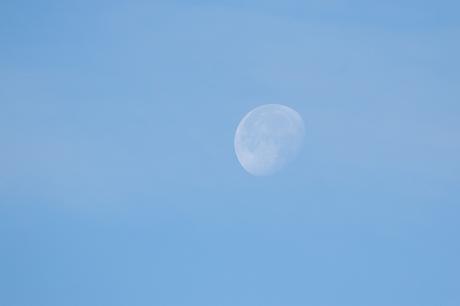 The soundscape of the patch was one of autumn today, the metallic trill of multiple Skylarks as they passed overhead on their journey to places unknown, the soft "tseep" of Redwings as the small winter thrushes moved through en mass, the occasional throaty rattle of Crows as they squabble over the remaining acorns, calls of the smaller birds, rather then tuneful songs of spring and summer, with the low, brilliant sunshine lighting the Ouse Valley in a golden glow autumn was definitely the feel of the day.
Soundscapes and Memories
Walking through the church yard and the old lock my mind was wandering with thoughts of nature memories, and dreams of hiking the Appalachian trail (if only I had a spare 5-7 months) or walking coast to coast in the UK, until I arrived by the banks of the Ouse.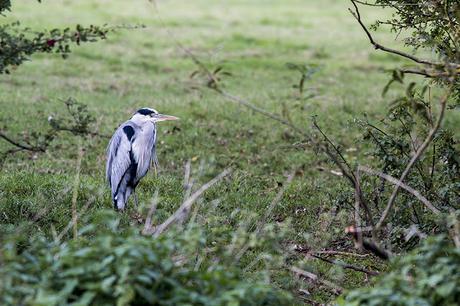 Grey Heron Stalking the Banks of the River Ouse
I found myself standing by the gently flowing waters of a slightly swollen Ouse, contemplating life, and watching a slow, ponderous, Grey Heron as it stalked the bank, I could have stayed, transfixed, just letting the world go about its business, while listening to  the Grey Wagtails as they  flew about the aqueduct looking for some free mud and an autumn fly for a meal and watching a pair of fighting Moorhen, when my reverie was broken by the azure flash of a Kingfisher darting up river in the hunt for a safe perch to fish from.
The jolt of excitement I still get from seeing a Kingfisher fills me with the same joy and memories of my first at Minsmere over 25 years ago. It's funny how that works, some birds will always give you a feeling of happiness, while others, even exciting birds will fade in the memory banks. I think I get more philosophical when I'm tired.
Chats
Crossing into the scrubby, wildflower meadow a small passerine caught my eye as it hopped up onto the tallest of the plants, a stunning 1st winter Stonechat. Regular readers will recall my minor
obsession with Stonechats
last winter as a 
pair set up residence for the colder months
. Today was no different, again, like Kingfisher, these small flycatchers are one of those birds that no matter how many I see I will always be happy to see another.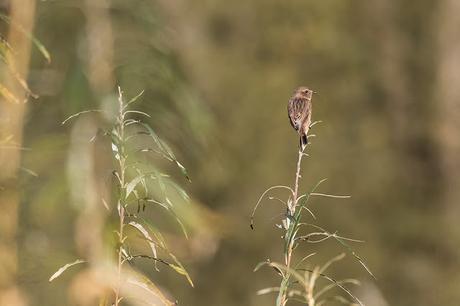 1st Winter Stonechat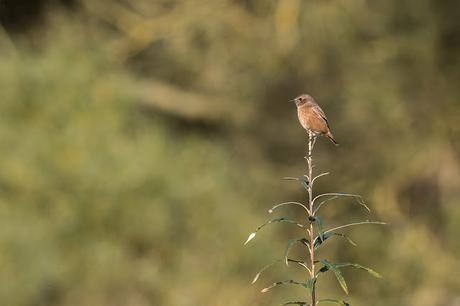 1st Winter Stonechat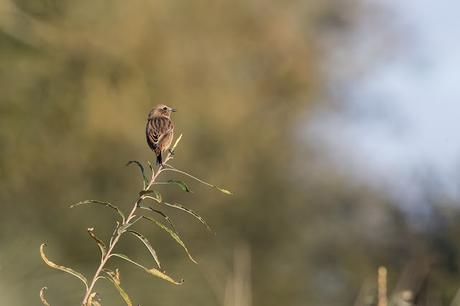 Another Stonechat photo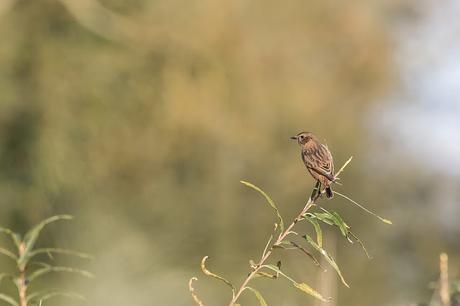 Stonechat on the Floodplain Forest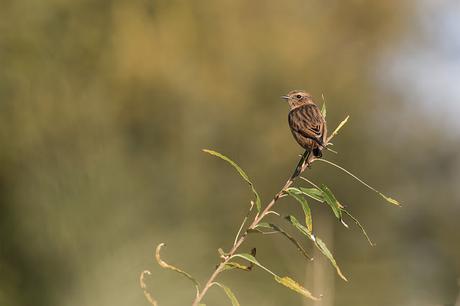 1st Winter Stonechat at Manor Farm
Eventually the Stonechat left me and headed off across the fields to find a less intrusive location and so I headed onto the Floodplain Forest Nature reserve to see what else might be lurking.
Sadness
Sadly the tree felling is continuing and the disturbance is having a real effect on bird numbers, the pits are devoid of life at times, a few Green Sandpiper and a growing number of Lapwing aside, the numbers of Wigeon and Teal are well down and goose numbers are well down.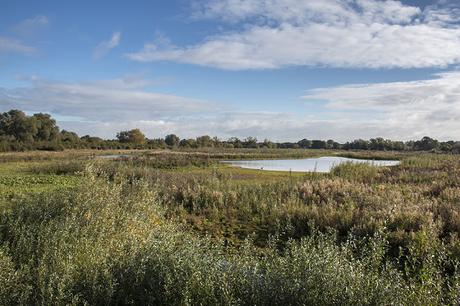 Autumnal photo of the Floodplain Forest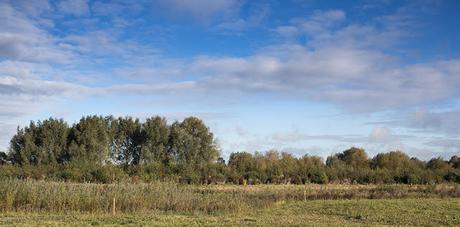 A Second autumnal photo
A second sadness is in the state of the three hides, sadly the local vandals have been in action and all three hides currently have damage, with door latches, handles, window catches and shelves all having suffered damage of late. It is terrible that people feel the need to damage buildings in this way and I hope the culprits are eventually found. One thing I would like to see is if they are caught they are made to work on the reserve, fixing what damage they caused and improving the site, hopefully then they will feel some type of ownership and be less likely to commit more damage.
Extra Photos
To finish off here are a few more photos from today.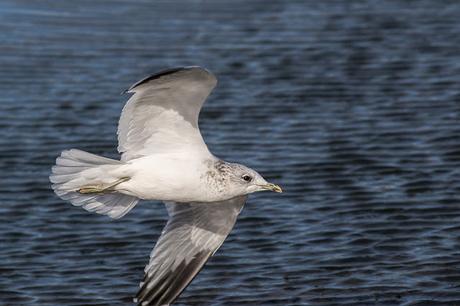 Common Gull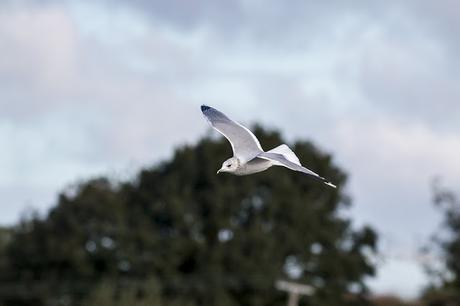 Common Gull in Flight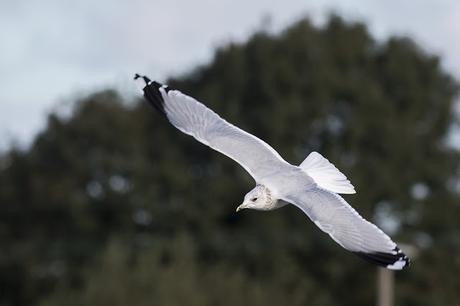 Another Common Gull in Flight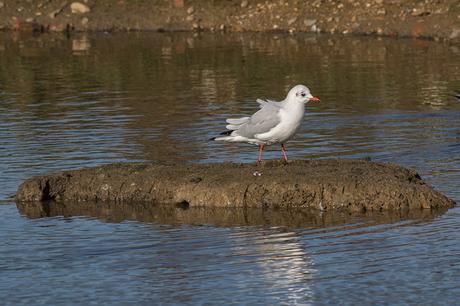 Black Headed Gull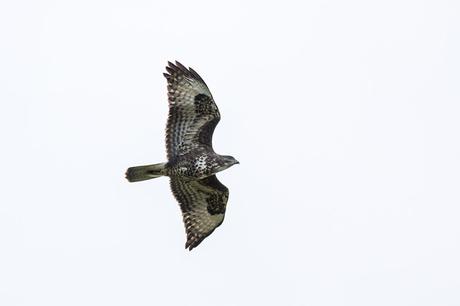 Common Buzzard
If you enjoyed this post, or found it useful, then please do share it with your friends using the links below
Please feel free to leave me a comment, I really appreciate the interaction and will reply as soon as I can. I apologize for any issues with posting comments, but sometimes Google's blogger platform plays up. ALL comments are moderated for SPAM, so please don't bother if the comment is unrelated to the post it will likely be deleted.