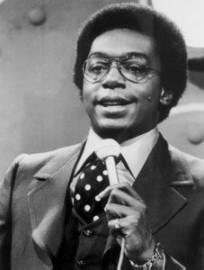 Young Don Cornelius. Photo credit: Pants Pants http://www.flickr.com/photos/reefflop/1647938/
Don Cornelius, the creator and producer of American dance variety show Soul Train, was found at his mansion in California in the early hours of Wednesday morning with a self-inflicted gunshot wound to the head. He was later pronounced dead at the Cedars-Sinai Medical Clinic. He was 75.
Soul Train ran for 35 years, starting in Chicago as a local programme and later airing nationally to become the longest continuously running syndicated programme on TV. As host of the show, Cornelius was, according to The Washington Post, "the epitome of cool", known for his deep baritone voice and stylish dress sense. He stepped down in 1993 (quoted in The New York Times as saying, "I took myself off because I just felt that 22 years was enough and that the audience was changing and I wasn't") but continued to act as executive producer.
Don Cornelius was born on 27 September 1937. He served in the Marines in Korea then worked as an insurance salesman, before following his childhood dream to become a radio DJ. He used $400 from his own pocket to launch Soul Train in 1970. He also set up the Soul Train Awards and has a star on the Hollywood Walk of Fame. He is survived by his children from his first marriage.
The presenter became known for his catchphrase at the end of every show: "…you can bet your last money, it's all gonna be a stone gas, honey! I'm Don Cornelius, and as always in parting, we wish you love, peace and soul!"
The Soul Train effect.  The Daily Mail credited Cornelius with helping to break down racial barriers and "broaden the reach of black culture." As The Washington Post said, it is now "hard to grasp the magnitude" of Soul Train's impact as a "pioneering outlet for a culture whose access to television was strictly limited." Soul Train showcased R&B's biggest stars, from Marvin Gaye to James Brown, and provided crossover white artists like David Bowie and Elton John with a platform to reach a black audience. Cornelius invited civil rights leaders including Martin Luther King on to the show, but according to John Pareles on The New York Times, "for the most part Mr. Cornelius didn't preach about civil rights or the marvels of African-American art. He was manifesting them."
"He brought soul music and dance to the world in a way that it had never been shown and he was a cultural game changer on a global level," said the civil rights campaigner Rev Al Sharpton, who appeared on the show when he was 19.
Twitter tributes: #SoulTrain has been trending in America with some big names paying their respects –"It meant more to me to perform on #SoulTrain to win a Grammy .. Loved U So Much Don," tweeted MC Hammer, "Thank U RIP #DonCornelius". Rihanna offered "R.I.P Don C", Paula Abdul sent ""All my love, prayers & condolences go to the family, friends & loved ones of #DonCornelius, creator of #SoulTrain" and ex-basketball player Earvin 'Magic' Johnson wrote "Soul Train taught the world how to dance!"
Later life.  Sadly Cornelius' more recent years were blighted by domestic disturbance. In October 2008 he was arrested on felony domestic abuse charges, and pleaded not guilty to spousal abuse against his estranged wife, Russian model Victoria Avila-Cornelius, who filed multiple restraining orders against him. He later changed his plea to no contes' and was placed on 36 months' probation. During the 2009 divorce proceedings, Cornelius was quoted as saying, "I have significant health issues. I want to finalize this divorce before I die." He was believed to have suffered a stroke and undergone brain surgery, leaving him in significant pain. The Daily Mail reported that he will leave his "hated" ex-wife around $300,000 in life insurance. Kevin Powell lamented his involvement with violence on The Guardian; "The ultimate tragedy is that I doubt whether this man ever completely grasped how much joy and sunshine he had brought to others in his lifetime."
Peace, love and soul.  In recent years he may have hit the headlines more for his troubled private life than his contributions to music and media, but the legacy of Don Cornelius will only be positive. Aretha Franklin told People, "It's just so sad, stunning and downright shocking… a huge and momentous loss to the African-American community and the world at large." Patti LaBelle said "The contributions he made to music and our culture are second to none." These sentiments were echoed by Don's good friend Quincy Jones, "His contributions to television, music and our culture as a whole will never be matched. My heart goes out to Don's family and loved ones."
Peace, love and soul.  In recent years he may have hit the headlines more for his troubled private life than his contributions to music and media, but the legacy of Don Cornelius will only be positive. Aretha Franklin said in a statement, "It's just so sad, stunning and downright shocking… a huge and momentous loss to the African-American community and the world at large." Patti LaBelle called him "simply a genius", "the contributions he made to music and our culture are second to none." These sentiments were echoed by music producer Quincy Jones, "His contributions to television, music and our culture as a whole will never be matched. My heart goes out to Don's family and loved ones."