Anthony's Restaurant Rating:
72/100 X
Welcoming:8/10 Menu Choices: 8/10 Food Presentation: 8/10
Food Temperature: 8/10 Food Taste: 18/20 Service: 0/10
Ambiance/Music: 6/10 Architecture/Interior: 7/10 Air Quality: 9/10
Total: 72/100

More about:
Soufrat el Oumara
Calm and serene, in the middle of the mountains, the heart of the land of the emirs lays Deir el Oumara. The newly opened hotel has taken an old school and transformed it into a boutique hotel. A forty-minute drive from Beirut, nested in the heart of the traditional capital of the Chouf, Deir al Oumara waits for you and your loved ones to share this longstanding mountain story. Just follow the signs at the entrance of Deir al Qamar.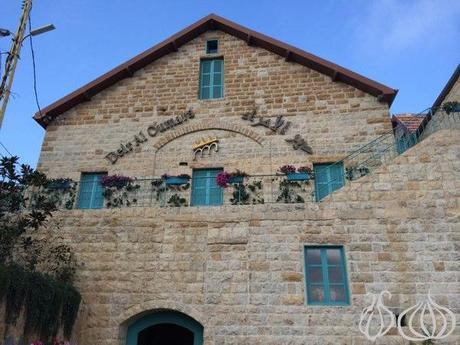 Down the road, before the Saraya, you'll reach a big mansion constructed of old stones. An authentic house, left as is, that now hosts rooms and suits.
Access the lobby and its high ceiling will take you to the winter restaurant under the stone arcade before reaching the outer court with a view of all the rooms and the valley in the background.
Born from the simplest idea, to take traditional Lebanese culture and hospitality, so deeply rooted in the Chouf's customs, the hotel merges heritage with today's hospitality standards, Deir al Oumara was created as a one of a kind, a refreshing escape, away from the hustle and bustle of our busy cities.
Deir al Oumara is a charming Lebanese mountain hotel nestled in the heart of Deir al Qamar. The building, originally built in 1827 by Emir Beshir the Second for his first advisor before being transformed into a boarding school in 1908, is today classified as 'Historic Hotel'. This heritage is meticulously cared for by the key keepers of the property and can't help but inform the guests' journey.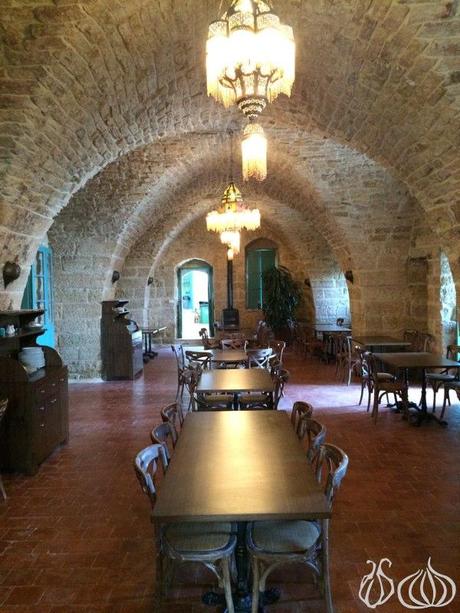 So we sat to have a late lunch at Soufrat al Oumara…
Soufrat El Oumara welcomes you all day until 11pm, serving a large selection of local dishes
The menu:
Cold mezze
Hot mezze
Platters
Beverages
Desserts
Arguileh

Beer, nuts, fresh crunchy carrots and two bags of bread -whole wheat and white- landed in front of us while we waited to be served.
Allow me to tell you about the service at Soufrat El Oumara. A hotel that's understaffed is taken care of by three kids. Two were busy folding napkins for two hours and one girl, sad and tired struggled to serve us by herself. Thank God, the trays didn't end up on our heads that day. She got the food and somehow found a way to transfer the plates on to the tables without dropping them on the floor. The waiters really knew nothing about their job. I wondered if we were at a scout camp or at a restaurant: no welcoming, no menu recommendation, no attention, plates never cleaned, plates not changed… want more?. The manager, who has worked in renowned hotels, should take action immediately while the F&B manager, stood on premises counting the tiles… Maybe some training has to be implemented as of tomorrow morning.

Food is simply excellent:
Tabbouleh LBP8,000: A fine tabbouleh, exactly as it should be. Fresh ingredients with a lemony hint while the Borghol, which was added few minutes before serving, crunched smoothly under our teeth. A great start, a beautiful first impression.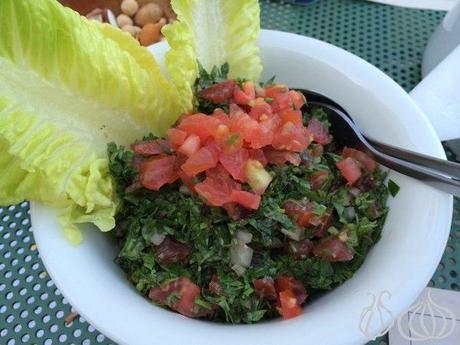 Dolma mille-feuille LBP8,500: I just ordered it out of curiosity and I'm glad I did so. Looking like a mille-feuille, three pieces of sliced vegetables are layered on top of each other; carrots and zucchini, stuffed with the same filling used to fill grapevine leaves. Thinly sliced vegetables with a certain finesse, you feel like you're eating a Carpaccio. After a slight crunch, the lemony flavors of the filling erupt, leaving a smile on your face.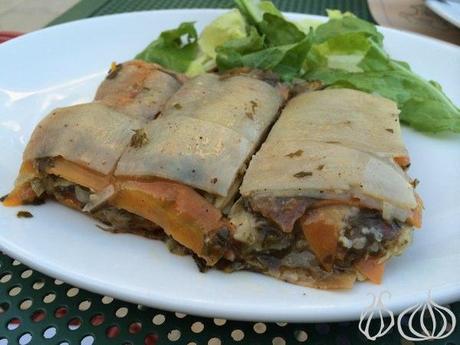 Warak Enab bel Zeit LBP7,000: As good as you'd expect, with a fine homey feel, a generous portion of stuffed grapevine leaves is served warm and melts under your teeth in style. The chef managed to find the perfect equilibrium of flavors creating a sumptuous plate.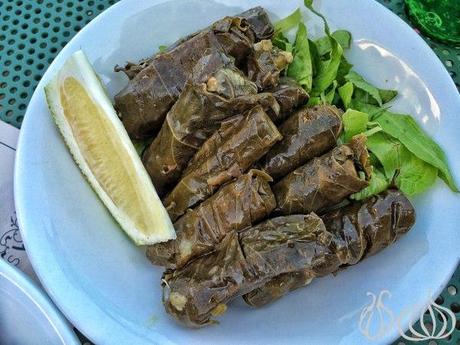 Hommos bel Lahmeh LBP10,500: Awesome to say the least. A large plate of hummus, topped with tender bits of meat mixed with fried cashew nuts and pine nuts. Unsalted nuts with a tender meat, thrown on the hummus with their fried oil turning the dish into a hot plate of love bites. I've rarely eaten something that good in town… Better then the one found at famous restaurants.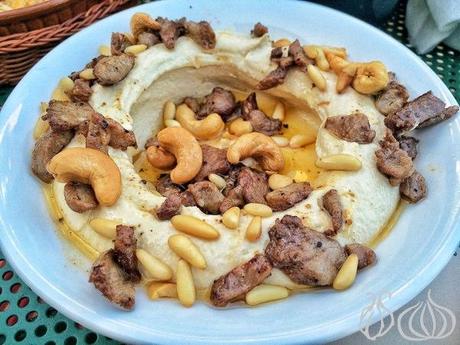 Rakakat LBP8,000: How hard it is to produce those fried rolls and how easy it is at the same time if you master the art of it. The order contains five pieces, served on a bed of shredded lettuce lying majestically with their shining gold color. Fresh and so crunchy on the outside, until the cheese touches your palate where it melts smoothly. A perfect innovation that's hot, fresh, crunchy and most importantly oil-free. The best part is the salty aftertaste that stays in your mouth for some time afterwards. Bravo!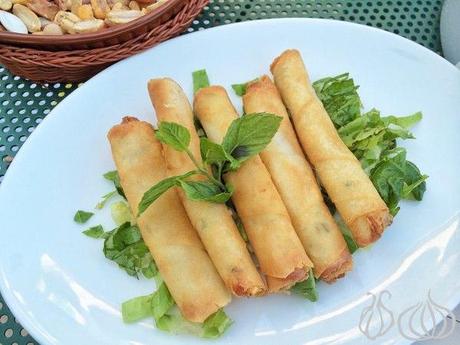 Fattet Hummus LBP11,000: Thank you for getting me a portion without garlic, giving me the chance to taste your exceptional fatteh. Fresh Laban mixed with melting chickpeas and covered with chunks of fried bread. A perfect combination of textures that made me moan instinctively… And not only that, the top is decorated with the same unsalted cashew nuts they use in the hummus, which makes this plate stand out of the others.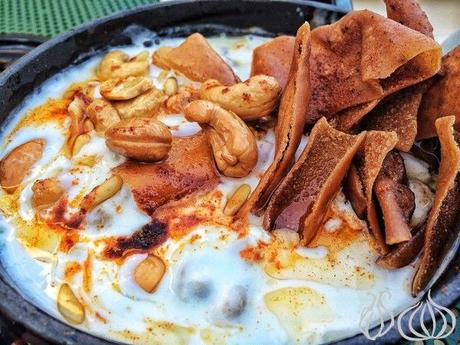 Kellaj LBP11,000: That's it, the plate not to miss. Just imagine, a "Kaaka Asrouniya" filled in my tender halloumi, smiles of premium ham and cheddar cheese. A tender bread, that isn't chewy like the ones sold on the roads filled with halloum cheese, kept moist even after toasting, layers of ham in the middle to bring everything together and melting cheddar cheese like they do it in tamer inca burgers. All this, covered with sesame seeds, the Kaaka is to die for. The ham, sesame seeds, cucumber pickles and cherry tomatoes really bring this dish to life.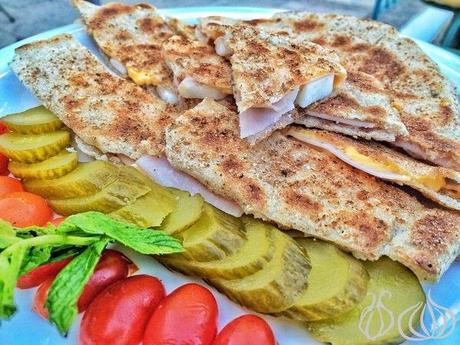 Makanek LBP12,000: Firm and condensed, the pomegranate molasses had a wonderful flavor as well as the meat quality. I liked the cherry tomatoes idea.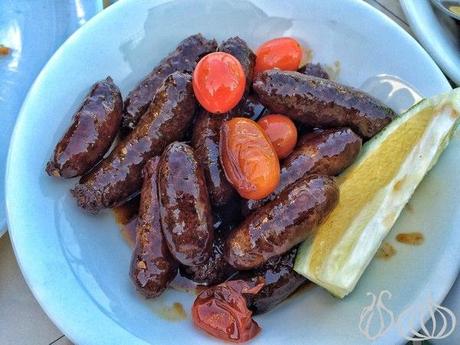 Dear waiters, learn the basics:
When we finish a drink, the least you can do, is to ask if we need a refill
Plates are changed at least once during a meal, when moving from the starters to the main plate. Never did.
Pass by the tables and ask if we need anything at least once every 10 minutes
Dirty napkins are usually removed, no?
Smile… Please smile. I beg you to smile ad reflect the village hospitality
Keep your problems at home: we're not doing therapy here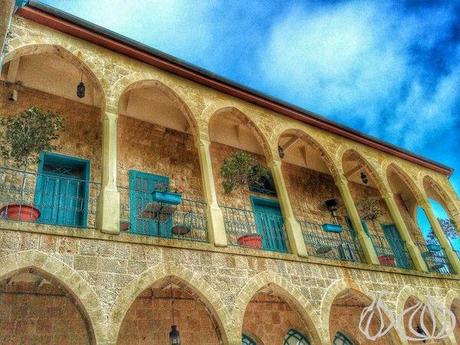 The minuses:
A meal starts with the simplest question ever: "Would you like a bottle of water?" We didn't have any that day
Asking for the bill, it was sent at once without asking us if we'd like desserts or coffee
The food at Soufrat Al Oumara is remarkable, but expect to wait 20 minutes for the order to be taken… And end up by paying at the cashier, because no one will even come asking if you'd like some desserts or coffee. I would have loved to try their desserts
Bravo for the food; I was positively amazed and will surely come back for it, I hope that some improvements will be made regarding  the service.
























Pages  [
1
]  [ 2 ]  [ 3 ]