I told you about the 3 ft sorakaya/ bottle gourd from my cousin's garden last week. The skin or the peel of that gourd was so tender I didn't feel like throwing it out. Also since I knew that it was grown without any harmful pesticides -- I wanted to make a chutney/ pachadi using it.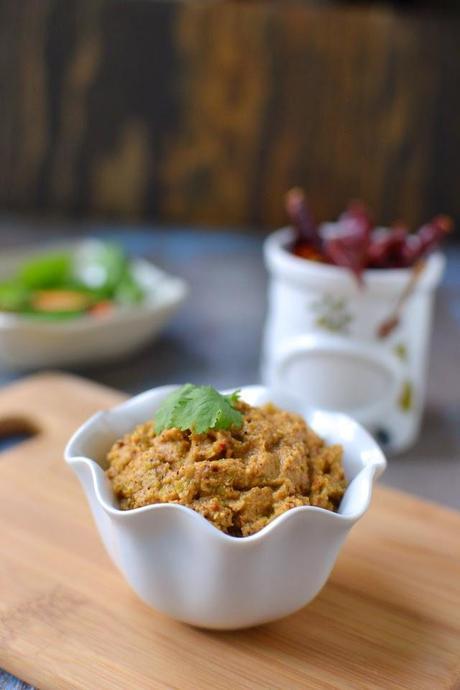 Peel of bottlegourd and ridgegourd (beerakaya) are often used to make chutneys. I usually throw the peel out because I'm not really sure what the vegetable went through before it came into my kitchen. But the peels are really healthy with good does of vitamins and also fiber. Finally with my cousin's organic bottle gourd I got to make this thokku pachadi (peel chutney). Had to ask my mom for the recipe, hence linking it to Valli's '
Cooking from Cookbook Challenge'
 event.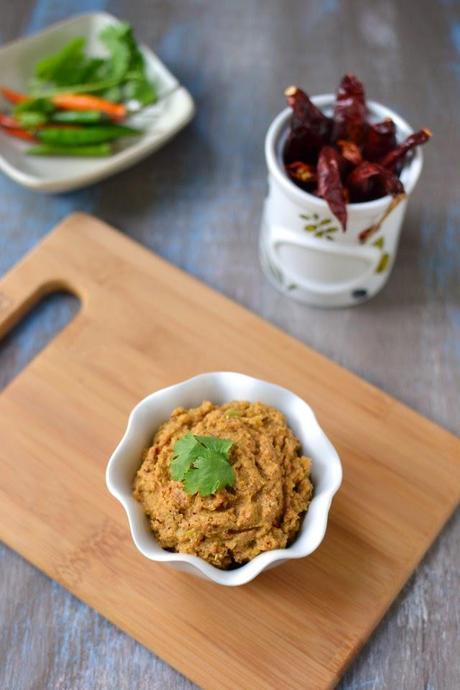 This beautiful spice bottle you see is a gift from a very lovely blog buddy,
Mir
. We had a picnic along with
Usha
,
Rajani
&
Nisha
to a local farm in NJ. It was so much fun picking veggies and chatting with these super friendly bunch. Mir carried around a bag that weighed a ton and I was wondering what she was lugging around in the farm. It was only at the end of the trip did we find out that she had gifts for all of us and she was carrying them all around the farm. I got this beautiful spice bottle that I'm now obsessed with and it will be seen it lot of my future food photos. Thank you very very much Mir for the lovely gift.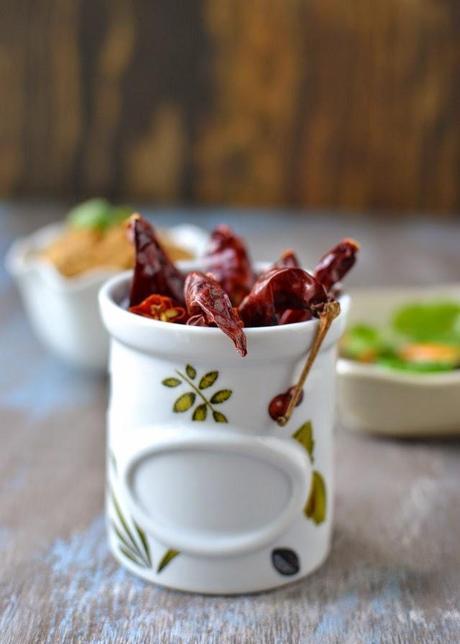 Ingredients
: Bottle gourd peel/ thokku - 1cup Tomato - 1 small, chopped Peanuts - 1tbsp Tamarind - 2tsp
Turmeric - ½tsp Green chilies - 2, slit Chana dal - 2tsp
Urad dal - 2tsp
Mustard seeds - 1tsp
Dry red chili - 2~3
Asafoetida/ Hing - ½tsp  Salt - to taste
Method
:
Heat 2tsp oil in a pan, add peanuts, chana dal, urad dal, mustard seeds and dry red chilies. Once the mustard seeds start to splutter and dals turn golden, add the hing, bottle gourd/ lauki peel, green chilies and tomato.
Cook covered till the peel is cooked through and tomato turns mushy.
Add turmeric, tamarind and salt. Mix well and turn off the heat. Cool and grind to a smooth paste. Serve with rice, dosa, idli or as a spread on sandwich.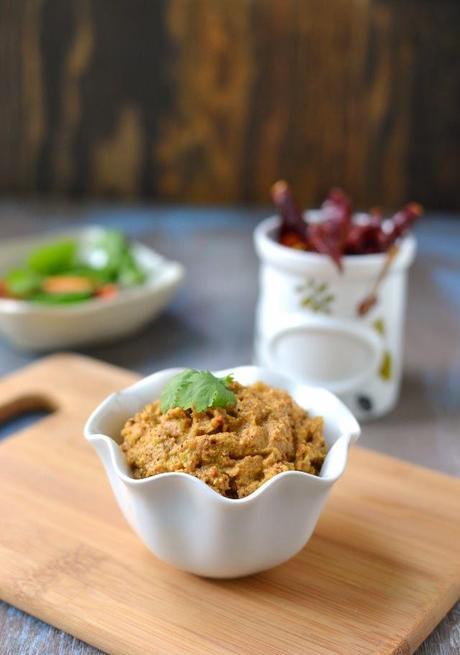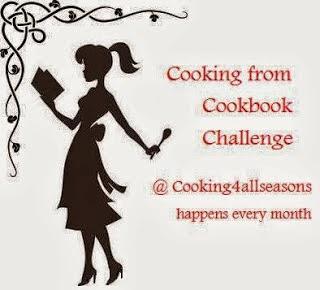 Linking this to Valli's '
Cooking from Cookbook Challenge: 
October -- Week 3
'.