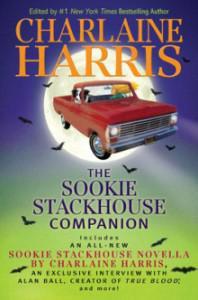 Fans of Charlaine Harris' Sookie Stackhouse novels have been anxiously awaiting the Sookie Stackhouse Companion book which was delayed due to the death of Harris' mother.  The wait is over!  The hardcover book hits bookstores tomorrow and has some exciting features:
Sookie gives readers a look at her family, friends, enemies, adventures and, of course, her lovers. Readers will tour Bon Temps, the small Louisiana town that Sookie calls home; visit the houses of her Gran and her some-time vampire lover, Bill; prowl around the werewolf and were-panther communities; browse through Sookie's best friend Tara's dress shop; belly up to the bar in Merlotte's, where Sookie works; get must-have Bon Temps recipes, including Caroline Bellefleur's famous chocolate cheesecake and Antoine's fried pickles; and test themselves with trivia questions from the series. The book includes an introduction by Harris, a map of Bon Temps, an interview with Alan Ball, the creator of True Blood, a concordance to the Sookie novels, and a never-before-published Sookie Stackhouse novella.
Click here to order your copy at a great price from Amazon and let us know what you think once you get it! 
Source:  theglobeandmail.com – Three New Books Worth A Look
Photo Credit: Charlaineharris.com