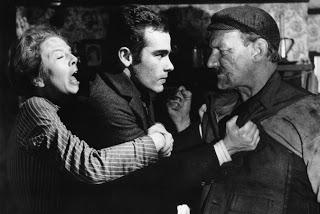 Jack Cardiff's Sons and Lovers (1960) is an affecting melodrama, adapted from D.H. Lawrence. While simplifying Lawrence's complex, morbid novel, Cardiff captures its despair and tormented characters with commendable clarity.
Paul Morel (Dean Stockwell) dreams of escaping his Edwardian English mining town. His father Walter (Trevor Howard) is a hard-drinking coal miner, mother Gertrude (Wendy Hiller) long-suffering and possessive. He carries on an unsatisfying flirtation with Miriam (Heather Sears), of whom Gertrude disapproves. Paul's artistic talent lands him a job in Nottingham, where he falls for liberated, but married Clara Dawes (Mary Ure). As Gertrude becomes ill, Paul wonders if he can ever break away from his family.
Sons and Lovers is a skewed coming-of-age drama. Gertrude isn't your standard domineering mother; she wishes Paul to utilize his talent, but worries about losing him. Thus Paul develops a complex that makes him unable to love women or assert independence. He can't connect to Walter, a boor who thinks mining makes him a real man. Son Arthur dies in the mines but Walter resents Gertrude's implications that he traps his sons. It's easier to escape a crude father than a smothering mother.
Lawrence expressed cynicism about bourgeois relationships, but Cardiff and adaptors T.E.B. Clarke and Gavin Lambert reject it altogether. Sons and Lovers suggests that romantic attachment is unhealthy: Miriam wants Paul to submit to her; feminist Clara finds him selfish. Paul can't commit anyway because he's under Gertrude's thumb. Even brother William (William Lucas), living in London, comes under the sway of a domineering fiancée. Paul only finds independence by rejecting women and striking out on his own.
Cardiff's stark direction invokes John Ford's How Green Was My Valley without the ennobling elements. Instead, photographer Freddie Francis plumps for moody deep focus and unadorned set pieces. There's a brutal fight between Paul and Clara's husband (Conrad Phillips), bathed in shadow and underscored by racing trains; a long take of Paul and Clara frolicking on a beach; a suffragette rally interrupted by hecklers and honking boats; Paul and Miriam skipping rocks on a frozen lake. Only Mario Nascimbere's lush score breaks the kitchen sink illusion.
Dean Stockwell is a handsome, forlorn everyman hero. Trevor Howard earned a Best Actor nomination, despite playing a supporting role. Even so, his unaffected performance is a rough-hewn gem. Wendy Hiller's even more compelling, brittle but fiercely possessive, tamping down her usual fire. Mary Ure's forward-thinking Clara contrasts with Heather Sears's awkward innocence. Ernest Thesiger and Donald Pleasance play minor roles.
Sons and Lovers doesn't offer much hope for romance, or meaningful connections. At film's end, Paul leaves home, hoping to make it on his own. He can't be tamed by Miriam or in thrall to Clara, but can't find his own identity without his mother. This disquieting void makes Sons and Lovers as bleak as an Angry Young Man drama.