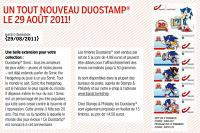 You may or may not remember the Mario stamps from earlier this year, but the belgian post has done it again, this time with the old rival: Sonic the Hedgehog will be getting his own series of stamps, because apparently this is the year of his 20th birthday.
As usual, this will be a limited edition, available in sheets of 5 or 15, and will launch August 29th. No word on whether these will actually make your mail arrive faster than with usual stamps.
Hey, this year's also the Legend of Zelda's 25th anniversary, maybe something's coming up... Oh, and Metal Gear's 25th anniversary, but tht might be pushing it...

Mario 5 sheet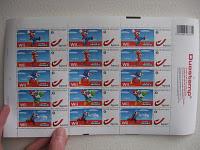 Mario 15 sheet